Paris Hilton and Lindsay Lohan's Feud Is Now a Buzzy Movie Script
Yes, it would involve Britney Spears, too.
---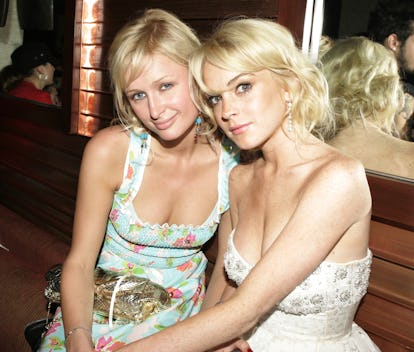 Photo by J. Vespa/WireImage/Getty Images
The tabloid-chronicled exploits of Paris Hilton and Lindsay Lohan in the mid Aughts, culminating in their infamous joint night out with Britney Spears, is already the stuff of Millennial legend. Now, the saga could possibly be making its way to the big screen, cementing its status as pop culture mythology. In fact, its just one of the tabloid saga-informed scripts to find its way on this year's edition of the Black List, an industry insider poll of the best un-produced scripts currently floating around Hollywood.
Written by Ariel Sayegh and titled Frenemy, the script is described as "A chronicle of the infamous Lindsay Lohan/Paris Hilton feud of 2004-2006 over who would be Britney Spears' best friend." More details aren't available, but that won't stop people from getting excited. We all remember the Lohan-Hilton war, but how many of us remember all the details? It somehow involved Hyde nightclub, the term "fire crotch," the Spears joyride, and the immortal "I didn't say that" meme. The feud has occasionally continued to flare since, briefly reemerging as recently as last summer. Hilton has also since claimed that Lohan actually crashed that night out with Spears.
Notably, the film has not attracted an actual production deal yet, but we can dream.
Though, it's not even the highest-ranking script about either tabloid figures or doomed pop stars on this year's list.
There's also a script called Gusher, written by Abigail Briley Bean—a biopic of the late Anna Nicole Smith. St. Simons, written Greg Wayne, is a seemingly surreal take on the youth of beloved fitness personality Richard Simmons (it involves a scene where he is visited by a ghost named "Barbra Streisand" as a child). There are also two films on the list about fictional pop stars: one who is being targeted by a stalker in 1990s Los Angeles and another who attempts to make her return to the stage after a car crash, only to suspect she may have actually died.
The list this year also includes a surprising amount of films about astronauts (though, doesn't everyone want to get off the planet right now?), a not-surprising amount of scripts about current social issues, and more than a few inspired by real-life events (including the stories of both the creation of Vice magazine and Beanie Babies).
But it's the film at the top of this year's list that certainly stands out. Headhunter, written by Sophie Dawson, is about a cannibal who picks his victims based on how popular they are on Instagram.
Now in its 16th year, the Black List survey not only has a pretty successful track record of identifying scripts that go on to become films—often pretty major films at that. Award winners like Argo; I, Tonya; Juno; Slumdog Millionaire, and The Wolf of Wall Street are just some of the films featured on previous lists.
Sometimes films involving stories of celebrities on the list can take longer to develop if they end up becoming films at all (for obvious reasons). Bohemian Rhapsody made the list back in 2007, but it took about 11 years for it to be produced with Queen's blessing. A script called Best Actress about Bette Davis and Joan Crawford appeared on the list in 2009, but eight years later it was rewritten and reimagined as the Ryan Murphy miniseries Feud (perhaps the Lohan-Hilton script could work as a second season, if nothing else?). An unauthorized biopic of Madonna topped the list back in 2016, but when Madonna herself got wind of the situation (and predictably was not pleased) she just decided to call up Diablo Cody and co-write her own official biopic instead.
So who knows which particular scripts will actually become movies, but you can be certain that some of them will. Read the entirety of this year's Black List, here.
Related: Lindsay Lohan and Paris Hilton's Feud Continues as the Heiress Calls Her Former Friend a 'Pathological Liar'