Paris Jackson Will Play Jesus in a Film, So That's Something to Look Forward To
The film also co-stars Bella Thorne.
---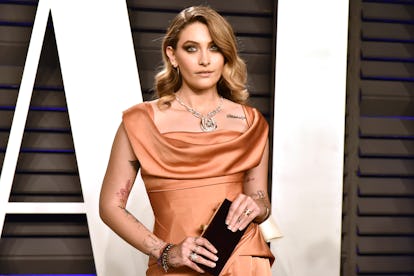 David Crotty/Patrick McMullan/Getty Images
Any youth pastor will tell you that Jesus was the original rock star, so we suppose it's only fitting he's getting a rock and roll biopic. Whether the country's youth pastors would approve of the casting of Paris Jackson as Jesus Christ, however, remains to be seen.
Producer Donovan Leitch tells Entertainment Weekly that the indie film, titled Habit, is a little bit rock and a little bit early Tarantino. First time director Janell Shirtcliff helmed the project, while actress Suki Kaiser wrote the script.
Jackson will co-star in the film, which has already been shot, with noted hyphenate wild child Bella Thorne. Thorne will play a young woman with a "Jesus fetish" who winds up pretending to be a nun after the fallout from a drug deal gone bad (in that ways, the film is also a little bit Sister Act as well). In addition to Jackson and Thorne, musicians Gavin Rossdale, Josie Ho and Alison Mosshart and Jamie Hince (both halves of the band The Kills) will have parts. Model and actress Andreja Pejic will also appear.
The Florida Project breakout Bria Vinaite also has a major part. In other words, the cast could also double as the entire front row of a Jeremy Scott show.
Jackson has tested the acting waters before. She co-starred in the film Gringo, and has guest starred on the TV series Star and Scream. Of course, provocative sacrilege seems a little bit more Madonna than it does Jackson's own pop star relatives, but maybe that's not a bad thing.
No release date has been set, but the film only just wrapped right before national social distancing orders were put in place.
Related: Watch Paris Jackson and Her Band Perform Live in Front of Her Grandmother Katherine Jackson
Get Paris Jackson's Punk Chic Fashion Week Look