Paris Jackson Takes After Michael Jackson When it Comes to Singing
It was a family affair when the young activist performed with her cousin this past weekend.
---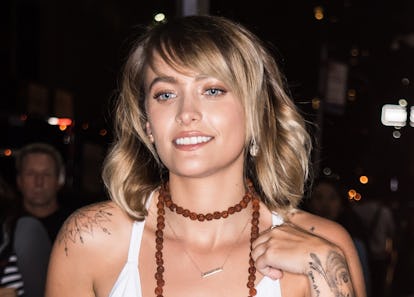 Gilbert Carrasquillo/GC Images
Are singing talents hereditary? It certainly seems to be the case with the Jackson family, and Paris Jackson is the latest to give a public audience a taste of her vocals when she performed at West Hollywood's Soho House over the weekend. Indeed, the daughter of pop legend Michael Jackson took the stage alongside another Jackson family member, her cousin Austin Brown, son to Rebbie Jackson, the eldest of the nine siblings. Together the two performed Brown's recent song "Smile," a love-centric, acoustic strummer that's bound to serve as a first dance song in someone's wedding. Listening to the two Jacksons perform, it's harder to tell which sounds more like Michael. Brown's voice is almost uncanny in closeness to the chart-topper, but, together with Jackson's daughter, the pair sing in near-perfect harmony.
"Nothing better than when your little cousin knows the words to your record 'Smile' and wants to sing it with you," Brown captioned a post on Instagram, that depicts the pair's performance, clearly unfazed by the members' only club's usual strict no-photo policy. "Love u so much @parisjackson thanks to everyone who came out to watch @mannythedrummer and I rock out."
While this isn't the first time Paris Jackson has sang for public consumption — the active Instagram user has posted clips of herself mid-song before — it is a rare sighting. In fact, Jackson has even said that music isn't something she's actively pursuing in an interview with Rolling Stone. Thus far, Jackson has become better known for her vocal activism and social justice crusading as well as her acting ambitions. "I was born with this platform," she told Rolling Stone. "Am I gonna waste it and hide away? Or am I going to make it bigger and use it for more important things?" Meanwhile, earlier this year, when she made her late night TV debut on The Tonight Show Starring Jimmy Fallon, Jackson opened up about how she's been preparing for an acting career for quite some time. "I've been taking classes since I was 13, and I enjoy it a lot," she said. "Now that I'm actually doing it I got bit by the bug."
As for what advice she's received from her father, Jackson shared with Rolling Stone that he told her, "If you wanna be bigger than me, you can," he'd tell her. "If you don't want to be at all, you can. But I just want you to be happy."
Related: Paris Jackson Isn't a Sample Size and She's Ok With That
See What's Tending in W Video: