Dance to the Musique
Paris nightlife gets a bad rap, but for party-hungry fashion insiders there are plenty of places to boogie.
---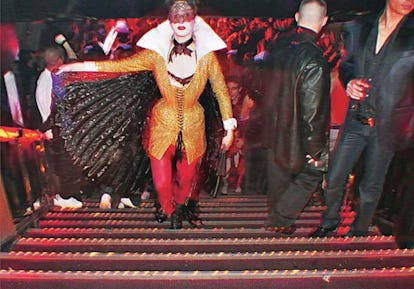 Some towns are known for their night-life: London famously swings, New York never sleeps, and Berlin has been a bastion of after-dark subversion since the Twenties. Paris, with its slow economy and rigid social mores, has not often figured in this glittery company. There have been bubbles of creative hedonism (the Saint-Germain-des-Prés neighborhood after the war; the Palace nightclub made chic by Karl Lagerfeld, Yves Saint Laurent and Kenzo in the late Seventies), but no one really comes to the City of Light planning to lose sleep.
However, if you know the right Parisians—i.e., members of the fashion tribe—you may yet see the sun rise over the Eiffel Tower, and not only during Fashion Week. Get in with this crew, and you'll make it past doormen into tiny boîtes like Mathis Bar, beloved by Kate Moss, and Le Baron, where Marc Jacobs and Stefano Pilati come out to play; you'll know where and when to find Club Sandwich, the monthly gay fete that's a second home to Matthias Vriens and Kris Van Assche; you'll settle in among the Henry Holland T-shirts at dance club Le Paris Paris and the Nina Ricci jeans at the summer parties at Jardins de Bagatelle. And you might not immediately understand why everyone stylish seems to go to scruffy rock 'n' roll bar the Pop In and divey Marais cafés Le Progrès and La Perle, but you'll be there all the same. It's an insular world, one run largely by moonlighting fashion publicists who are loyal to established venues, but it's anything but boring.
The crowd at a Balenciaga party at Le Baron, including co-owner André, third from left
"The fun people in France are the ones who work in fashion," says Marcel Marongiu, designer for Guy Laroche, who was raised in Stockholm and lived in London before moving to Paris in the beginning of the Nineties. "It's a fickle, delicate industry, which is why people who work in it can have a bit of a bitchy edge. But it means they know how to enjoy themselves best too."
Rasmus Michau, half of the team that throws the Bagatelle party and cofounder of Hmm!, a branding agency that works with Cartier, Cacharel and Chanel, explains that fashion's high profile among Parisian clubgoers—hosts and guests alike—is largely a result of economics. "Since Paris is the capital of fashion, that's who you see out," he says. Of course, there is a fashion-nightlife link in other cities too, but at New York's Bungalow 8 or London's Boujis you're as likely to frolic with film, media or finance types as with fashion folks. Not so in Paris, where, according to Pascal Monfort, a trend analyst at Nike Studio, the sporting-goods giant's style-forecasting hub, and in his spare time the frontman for satirical punk band the Shoppings, "If you don't have fashion people at your party, no one else cool will come."
Perhaps surprisingly, the typical fashion fetes here are not frosty posing contests; instead, the spirit ranges from warm familiarity to all-out goofiness. Almost none of the venues are slick or brand-new, and the dress code, even among the chicest natives, tends to favor vintage separates, Repetto flats and scruff. "At Le Baron, it's really about letting your hair down and being with people who are like family," says Lionel Bensemoun, the club's co-owner, pointing to a hilarious Internet clip of Björk at Le Baron, drunkenly hollering the song "No Limit." And if there's often drama at the door (no one gets in who's not a friend), once you cross the threshold, the snootiness subsides—yes, even if you're one table over from Mick, Sofia or Agyness. One of the best-known recent parties there (besides the countless after-show soirées that take place during Fashion Week) was the Sunday rock 'n' roll karaoke night, when a scrum of chic youngsters competed with campy renditions of Johnny Hallyday cheese, and everyone who participated won a prize.
"We're not as all-business as they are in London or the States," notes Nadège Winter, head of communications for the boutique Colette, whose deliberately dorky Colette Dance Class has been a fixture at Le Paris Paris since November 2005. Just try to maintain pretension while learning the steps from "Thriller" or trying to krump. "People really don't take themselves seriously," Winter says. They typically put a lot more thought into their outfits at Club Sandwich, which often has a themed dress code; stylists might borrow head-to-toe Chanel from yesterday's shoot, and the drag queens manage to find of-the-moment footwear in really large sizes. But according to Marc Zaffuto, a photographer and PR consultant who started the party with men's-model agent Emmanuel d'Orazio two years ago (they have since moved it from tiny Club Neo to the larger La Scala to accommodate the crowds), "No one is here to do business. We are here to have fun, fun, fun, and there is no networking allowed."
Not to say that New Yorkers can't have fun, but in the States (and in London) the line between party guests and party throwers is more clearly defined than in Paris, largely due to a lack of financial incentive to cross over. In Paris the fact that it's almost impossible to make a living as a DJ or a party host helps keep the vibe loose. And the pros are all hyphenates of some sort. "When I started DJ-ing in 2001," says fashion publicist Fabien Guyon, who plays monthly indie rock and punk sets at the Hedi Slimane–frequented Pop In, "the attitude among many club owners was, 'Oh, you work in fashion and have a personality—so put it on the floor!'" Guyon had few competitors for the gig, because "these places don't pay much," he says. "We treat them as places to have parties and invite our friends. Besides, it's very Parisian not to be an expert in one thing, but to do everything." This is, after all, the city that gave birth to such lifestyle labels as APC, which, like Colette, peddles music compilations as well as clothes; Kitsuné, which started as a record company and morphed into a fashion line; and April 77, a clothing company–cum–record label–cum–fanzine blog–cum–events company.
Perhaps the potentate of this ecumenical kingdom is none other than Le Baron's other owner, the one-name André, who is an artist, a hotelier (he helped open the ever buzzy Hotel Amour in 2006), the owner of a shop at the Palais de Tokyo museum, a former producer of a line of trousers with Gilles Dufour, a coproducer of last year's documentary Lagerfeld Confidentiel, and the developer of a men's wear collection that has yet to debut. "I'm really not a businessman," André says. "I just make hotels where I want to sleep, clothes I want to wear and clubs where I want to hang out." It's a pretty freewheeling approach to the 9-to-5 (or, in his case, the 4-to-2), but in Paris, it works.
"Of course we throw parties to extend our brand, but we don't really sell more dresses the day after we have a party," says Winter. "We just want to have fun. In Paris, we don't have the eccentricity or extravagance of London or New York, but we can get out on the dance floor."
photos: Club Sandwich: Mathieu Baumer; Le Paris Paris: Sebastien Lattanzio; le Baron: Stephane Feugere