Parmigianino's La Schiava Turca Arrives
W's arts and culture director must-sees for May.
---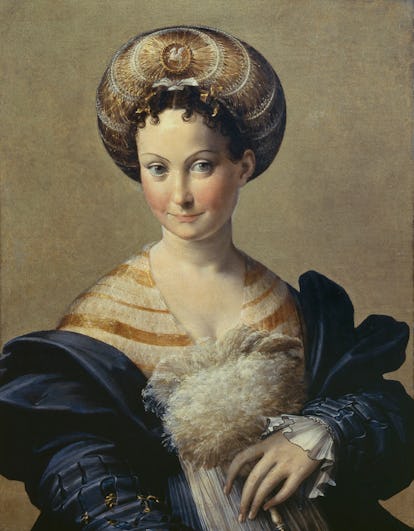 We have only to scan Instagram to see that ideals of female beauty change from one minute to the next, never mind over the centuries. But it's good to be reminded that certain qualities endure. Now an exhibition at the Frick Collection in New York devoted to a single painting—Parmigianino's masterpiece La Schiava Turca (The Turkish Slave), circa 1530, which has never been on view in the U.S.— lets us consider one very specific expression of beauty long before the arrival of the camera. Parmigianino lived only 37 years, but his eloquent portraits led his contemporaries to dub him Raphael Reborn. La Schiava portrays a young noblewoman, whose elegant headdress was mistaken for a turban, since scholars initially assumed the subject to be a Turkish slave. In fact, the round balzo on her head was a fashion accessory invented by or for Isabella d'Este and worn by northern Italian women of social position. But the sitter's identity remains unknown; some have even suggested that she was dreamed up by the artist altogether. Decide for yourself. (She's at the Frick through July 20 and then at San Francisco's Legion of Honor from July 26 through October 5). Another must-see this month is the HBO film The Normal Heart, Larry Kramer's adaptation of his 1985 landmark play about the start of the AIDS crisis in the early 1980s. Directed by Glee's Ryan Murphy, the movie stars Mark Ruffalo, along with Julia Roberts in the role of a wheelchair-bound doctor who was one of the first in the medical community to sound the alarm. Watching this film, one can't help but think how utterly remote the possibility of same-sex marriage, gay adoption, and gay-themed shows on television seemed at the time.