Party Battles: "Suicide Squad" vs Watermill's Squad
In different corners of New York, the worlds of art and Hollywood convened for blockbuster parties, sans Kanye West.
---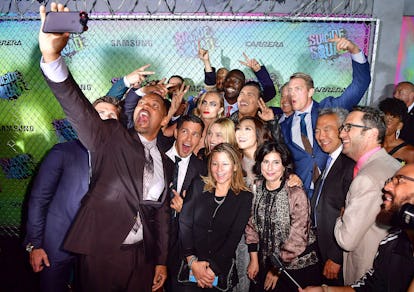 Photo by James Devaney/WireImage
The Watermill Center Benefit, also known as the Hamptons' tentpole event of summer, was supposed to draw Kanye West last weekend, much as it had attracted the likes of Lady Gaga in the past. Alas, West did turn up, leaving Robert Wilson's shenanigans for Caroline Vreeland, Erik Ripert, and Jay McInerney to take in. Meanwhile, the press tour de force of "Suicide Squad" (Margot Robbie, Cara Delevingne, et al.) touched down in New York on Monday night, taking over the Beacon Theater and, later, Moynihan Station. Whatever your #squadgoals, here's a breakdown of the two events, here.
Location, Location, Location Watermill: The art center's permanent home in the Hamptons. "Suicide Squad": The Beacon Theater, followed by an after party on Moynihan Station.
Host with the Most Watermill: Creative director Robert Wilson. "Suicide Squad": Writer and director David Ayer.
Tribes Watermill: East End glitterati. "Suicide Squad": Comic book fans.
The A-list Watermill: Maxwell Osborne, Jay McInerney, Caroline Vreeland, Alex Soros. "Suicide Squad": Margot Robbie, Jared Leto, Will Smith, Viola Davis.
Conspicuously absent Watermill: Kanye West, who backed out of a collaboration with Wilson the day before the event. Suicide Squad: Willow Smith, though her brother and dad walked the red carpet.
Hilarious Interloper Watermill: Ja Rule! "Suicide Squad": Elon Musk!
Star on the Rise Watermill: The center's summer program hosts 100 emerging artists from 28 countries, all of whom create work for the benefit. "Suicide Squad": Karen Fukuhara, who counts the film as her first on screen role.
Resident Fashion Designer Watermill: Osborne, Jill Stuart, Nicole Miller. "Suicide Squad": Gucci's Alessandro Michele.
Don't Call it a Comeback Watermill: Ja Rule might have lost the bidding war on a Max Gimblett piece, he performed "Always on Time" at the after party. "Suicide Squad": What people will inevitably say about Ayer after his next film, because its reviews couldn't possibly top the abysmal notices he got for this.
Hot Couple Alert Watermill: Simon and Michaela de Pury. "Suicide Squad": Cara Delevingne was spotted canoodling with St. Vincent.
Political Statement Watermill: Pussy Riot's anti-Trump installation. "Suicide Squad": "Fuck Marvel!" one audience member reportedly shouted.
Best Dressed Watermill: Constance Jablonski in Baja East. "Suicide Squad": Margot Robbie in Alexander McQueen.
Party Battles: Suicide Squad vs. Watermill Squad
Margot Robbie attends the world premiere of "Suicide Squad" at The Beacon Theatre on August 1, 2016 in New York City.

Photo by Taylor Hill/FilmMagic
Ja Rule at the Watermill Center Benefit 2016.

Zach Hilty/BFA.com
Amanda Hearst, Hassan Pierre, Kate Foley and Max Osterweis at the Watermill Center Benefit 2016.

Carl Timpone/BFA.com
Viola Davis attends the "Suicide Squad" world premiere at The Beacon Theatre on August 1, 2016 in New York City.

Photo by Mireya Acierto/FilmMagic
Maxwell Osborne, Alex Soros and Adam Spoont at the Watermill Center Benefit 2016.

Zach Hilty/BFA.com
Gucci designer Alessandro Michele attends the "Suicide Squad" world premiere at The Beacon Theatre on August 1, 2016 in New York City.

Photo by Jim Spellman/WireImage
Karen Fukuhara attends the "Suicide Squad" premiere at The Beacon Theatre on August 1, 2016 in New York City.

Photo by James Devaney/WireImage
Mia Moretti at the Watermill Center Benefit 2016.

Zach Hilty/BFA.com
Cara Delevingne attends the world premiere of "Suicide Squad" at The Beacon Theatre on August 1, 2016 in New York City.

Photo by Noam Galai/Getty Images
Caroline Vreeland at the Watermill Center Benefit 2016.

Zach Hilty/BFA.com
Jared Leto attends The World Premiere of Warner Bros. Pictures and Atlas Entertainment's "Suicide Squad" at The Beacon Theatreq on August 1, 2016 in New York City.

Photo by Paul Bruinooge/Patrick McMullan via Getty Images
Robert Wilson at the Watermill Center Benefit 2016.

Zach Hilty/BFA.com
Will Smith attends the "Suicide Squad" world premiere at The Beacon Theatre on August 1, 2016 in New York City.

Photo by Michael Stewart/WireImage
Tracy Stern at the Watermill Center Benefit 2016.

Carl Timpone/BFA.com
Jaden Smith attends the "Suicide Squad" premiere at The Beacon Theatre on August 1, 2016 in New York City.

Photo by James Devaney/WireImage
Stacy Engman at the Watermill Center Benefit 2016.

Carl Timpone/BFA.com