Get Ready for Pat McGrath Magic, Part III
The mega makeup artist is about to release the third installment of her cult cosmetics line.
---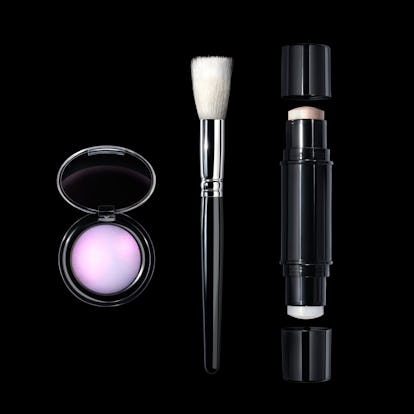 "Look at how gorgeous you look!" Pat McGrath said as she dabbed her dual-ended Shiny Stick along my temples and cheekbones while I sat, frozen in her makeup artistry presence at the Crosby Street Hotel on a recent afternoon. When Pat speaks, you succumb to her words, and I'm happy to report that my complexion did indeed possess a new glow, not to mention more noticeable cheekbones.
The Stick is the star of McGrath's long-awaited third installment of her eponymous makeup line, which is called Skin Fetish 003 and also contains a luminous gel pigment and buffer brush. Two incarnations, Version Nude and Version Golden, cover all skin tones, and placement experimentation is strongly encouraged—"On your chin, your browbone, your shoulder blades…anywhere you want that glow," she told me.
Like her previous Gold 001 pigment and four-color Phantom 002 kits, Fetish is a limited edition offering and it's sure to sell out in a heartbeat when it launches April 26 at high noon.
Photos: Pat McGrath's Answer to Holiday Makeup: Shimmering Fuchsia
Photo courtesy Pat McGrath.
Photo courtesy Pat McGrath.
Photo courtesy Pat McGrath.
Patmcgrath.com and Sephora.com, $72.