Ooh La La: A French Corsetière on the Art of Seduction
A descendant of the woman who invented the modern bra, Patricia Cadolle has a lot to say about the seductive powers of lingerie and French lace.
---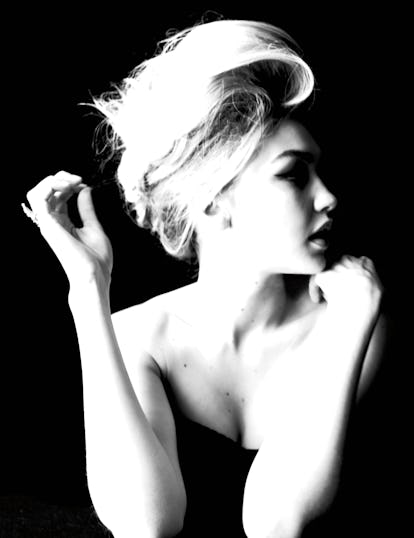 As the fashion flock heads to Paris Fashion Week, there's one spot off the beaten path that they may not think to visit: the famed lingerie maison Cadolle. But for six generations now, the maison has been creating the sensuous "architecture" worn underneath the ready-to–wear that is almost couture-like in its quality. At its helm is corsetière Patricia Cadolle, who is still working out of the same building near the Place Vendôme where she grew up under the watchful eye of her predecessors, learning from the very front row the fine art of seducing with French lace.
You are a descendant of Herminie Cadolle, the woman who invented the modern bra. What was it like growing up a Cadolle? So far as I remember, lingerie is for me as natural as breathing: I grew up in the family building, located on the rue Saint Honoré in Paris, where my grandmother Alice Cadolle ruled the Made to Measure salons with my mother Poupie. I used to go to the ateliers after school, spending my free time looking for pins on the fitting rooms' floor and hiding behind the curtains to look at famous customers coming in. So for me, deshabilles, garters belts and bras have always been part of my life. After graduating at EMLYON Business School, I left France for New York, and started to work in a lingerie showroom specialized in importing European lingerie for multibrand stores. The owner of the showroom, Mrs. Fotene Katsanos, had been previously the lingerie buyer at Bergdorf Goodman and she taught me everything about the U.S. lingerie market, which is quite different from the European one. Finally I joined the family business and I worked in all the different departments–sales, production, communication, retail–before starting to design the collection.
What's your trick to designing the most beautiful lingerie? Designing lingerie means knowing how a female body feels–on the one hand it needs support, on the other hand it needs freedom. I consider lingerie architecture; it is a mix of designing new shapes though respecting mechanical codes. Then you just have to be in love and inspiration comes immediately!
What inspires you when you are designing? My inspiration comes directly from my customers. I am working at our store on rue Cambon as much as possible, to meet my "Parisiennes" as I call them. Their ideas, their dreams, their lives, their fantasies sometimes, are like a booster of imagination. I feel blessed because in a lingerie fitting room, where women get undressed, they reveal their secret stories. I also have often in mind the beautiful actress Monica Bellucci as an inspiration.
Let's talk fabric – what is your favorite to use? I am fond of French laces, I use them as much as I can, either with bright colors and crazy designs, or with a nude-flat-look, depending the mood of the day. In the end there will always be some lace details somewhere…
Your pieces are couture-like – how much time goes into making them? It takes months between the first sketch to the final products in store. We are very focused on the fit, so we have several fittings, three to four times to get the perfect result. Also, lingerie has to be designed in (at least!) nine sizes: 32B will be very different from 36DD, and it has to be the same bra!