Mix Master
Patricia Urquiola's diverse design practice melds architectural rigor with a witty eye.
---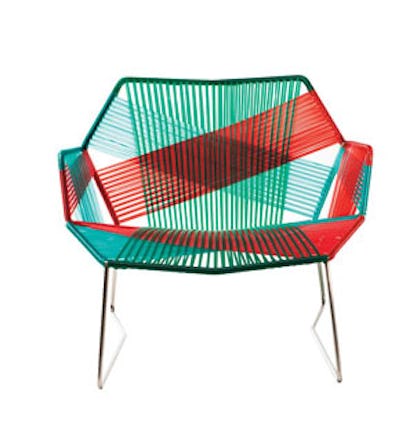 LISTENING TO ARCHITECT and designer Patricia Urquiola describe her schedule is enough to make even a workaholic feel like a slacker. During a recent two-day marathon, she traveled four hours from her home in Milan to the offices of Moroso furniture in Udine. She spent the next day collaborating on a new collection of furniture for the brand, as well as on its display booth for Salone Internazionale del Mobile, before heading for Venice to sleep. The following morning she was in Murano working on an art installation to be shown at the Biennale, and by that afternoon had relocated to a factory in Padua, where she was overseeing the creation of a new textile for a line of outdoor furniture.
Since opening her firm in 2001—her longtime life partner, Alberto Zontone, handles the business side—Urquiola has become an influential force in the design world, dreaming up everything from delicate metallic lighting for Flos and luxurious bathroom fixtures for Axor to modern, playful furniture for Kartell, B&B Italia, and Moroso, among others. (Her Fjord armchair and foot stool are in the Museum of Modern Art's permanent collection.) She also designs interiors for residential and commercial clients; last year she completed work on the W hotel in Vieques and the Mandarin Oriental in Barcelona. "She is very tough and sure of herself," says Patrizia Moroso, who, in addition to collaborating with Urquiola on furniture, hired her to design her home. "Her brain is always moving from one thing to another. She's not rigid."
Patricia Urquiola
Urquiola, 50, didn't set out to create such a wide- ranging practice. A native of Oviedo, Spain, she was pursuing a degree in architecture at Milan Polytechnic when she took a class with architect and industrial designer Achille Castiglioni. "I was not interested in design until I met Castiglioni, who was both a designer and architect," she explains. "In Milan there were no boundaries between the two." The combination of disciplines is a powerful one, accounting for the clean, organic lines and sense of wit and emotion that permeate her creations, including a tabletop that resembles a tree trunk and her Antibodi chair, which sprouts origami-like petals from its surface. In the end, though, it is what Urquiola deems the "mental comfort" of her clients that most drives her process. "Having a piece in a museum is, of course, fantastic," she says. "But the moment I feel happiest is when I go in your house and see a little bit of me there."
Photo courtesy of the subjects.