For Artist and BLM Co-Founder Patrisse Cullors, Art and Activism Always Intersect
The artist, educator, author, and activist reflects on performing via Zoom and reacts to being called a "witch" by the Christian right.
Photographs by Danielle Degrasse-Alston
---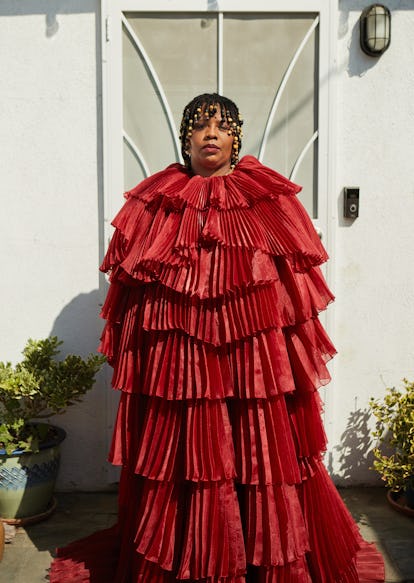 Makeup by Latoya De'Shaun.
For our annual "The Originals" portfolio, we asked creatives—pioneers in the fields of art, design, fashion, comedy, activism and more—to share their insights on staying true to themselves and pushing the creative envelope in a chaotic year. Read all the Q+As from this year's group here.
What does originality mean to you?
It's hard to hear that question and not hear "individuality." I don't believe anything's original. I think there is authenticity, I think there's integrity—but "original" feels too absolute for me.
You went from doing your performance piece "A Prayer to the Iyami" live at the Broad in Los Angeles to performing "A Prayer to the Runner" over Zoom. How did those experiences differ, and how were they similar?
I spent a lot of time trying to figure out what the audience's perspective of "A Prayer to the Runner" was. How do you relay a feeling, a message, and elicit a response over Zoom? There's nothing like being in front of a live audience and feeling the extension of human beings around you when you're doing live performance work. But there was something very powerful about being alone and knowing that I still had an audience, only behind a screen.
In what ways does your activism inform your art, and vice versa?
I don't see them as different; my art and my activism are an extension of my values and how I want to be in the world. The activism could be in policy development, zoning, or a ballot measure, and my art practice is often in conversation with whatever those initiatives are.
How do rituals relate to your art?
I'm a big fan of creating ceremonies that are about healing. I've asked audience members to wear all white to a performance or to come dance with me and do the electric slide for an hour or two. We are all feeling very similarly, especially in this moment: depressed, upset, frustrated. What will help us release those things? Our body releases endorphins if we are moving, we are shaking things out of our system. I'm not an entertainer; I'm a facilitator, allowing for the audience to go through their own personal journey.
What are you working on currently?
Right now, BLM leaders—especially me—are being called witches by the Christian Right. They are claiming that we practice witchcraft and that we're aligning ourselves with satanic worship. So my next work is going to be on the persecution of witches and women who have been labeled as witches. There are still whole communities in Western Africa where women are banished to "witch camps." I'm doing a deep dive into that. I don't know yet how that will translate into performance, but I'm very interested in how women are labeled witches and what the implications are.
Describe your feelings on the 2020 election.
I'm feeling sober and optimistic. While the country has a ways to go and more work to do to uproot white supremacy, I believe it is powerful that so many local victories happened throughout the country. For example, in my hometown we voted out Jackie Lacey, we restored the voting rights for formerly incarcerated people, and we created an alternative to incarceration budget for Los Angeles County. Our movement is growing, more organized, and shaping the country for the better.
Now that voting polls have closed, what are the next action steps that citizens should take? What causes should we focus on now?
We have work to do. Firstly, we should all take a bow for the tremendous amount of work done. Secondly, folks should start gearing up for the primary elections, work to organize communities toward reinvesting in community solutions and away from policing and incarceration, and join an organization that you are inspired by. And we should focus on the Breathe Act, which is a national modern-day civil rights legislation to improve the lives of Black people and people of color.