New Lovers of Paul Chan
The Hugo Boss Prize-winning artist talks about his exhibition at the Guggenheim.
---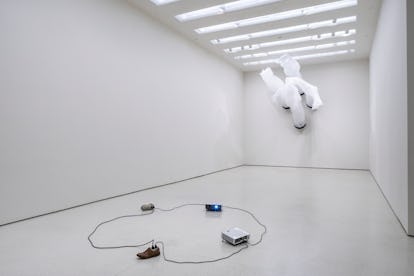 Less than four months after landing the prestigious Hugo Boss Prize—which provides the winner with $100,000 and an exhibition at the Guggenheim in New York—the artist Paul Chan opened his show in one of the smaller galleries off the museum's main rotunda on Friday, March 6. Entering Nonprojections for New Lovers, the first thing one feels is a breeze. Its source: the large fans that are part of Tetra Gummi Phone, a new artwork made up of tubes of nylon fabric billowing out from the wall. Chan, who is known mostly for politically charged digital animations, set out to rethink the idea of projected images in preparing for this show. "I wanted to find compositions that crystallize how I feel about moving images today," he explains. In works from 2013 titled Play Doh and All Jennies, video projectors on the floor emanate subtle light that hits no surface, so that one can't see the images loaded on them; they appear to be powered by cement-filled shoes scattered about. Also included in the show are paperbacks from New Lovers, a new series of erotica released by the artist's publishing house Badlands Unlimited. For Chan, the shoes, the books, and the fabric are all "nonprojections"—that is, projections stripped of actual images. The shoes stir up imagined narratives about their wearers; the erotica allows the reader to project their own sexual fantasies onto the text; and the fabric is projected into the gallery through air. "When we read a good book, or even a really bad book, images are conjured in our minds," Chan says. "And who knows where they are? They are not in front of us. They are like ghostly apparitions, but they feel as real as anything. I think those kinds of projections may be the ones I hold onto more now."
"The Hugo Boss Prize 2014: Paul Chan, Nonprojections for New Lovers" is on view through May 13, 2015, at the Guggenheim in New York.
Paul Chan Paul Chan blends politics and literature in his multimedia work, which has included everything from video installations to a publishing imprint. He has staged a public telling of Waiting for Godot in New Orleans' Lower Ninth Ward post-Katrina and made video projections referencing the Marquis de Sade that were shown at the 53rd Venice Biennale.
Sheela Gowda Indian artist Sheela Gowda's installations and sculptures often begin with potent symbols of her country: incense, cow dung, ceremonial dyes, oil drums and coils of string arranged to resemble thick black hair. Ideas of craft and traditional domestic work also come into play, highlighting the oppression of women in a patriarchal society.
Camille Henrot Camille Henrot approaches art like an anthropologist, digging through images from the digital age. Her Grosse Fatigue, a rapid-fire succession of images against the background of spoken-word poem, earned her the Silver Lion award at the 55th Venice Biennale in 2013.
Hassan Khan Hassan Khan uses his hometown of Cairo as his source material, whether by recording its street musicians or staging a performance in an apartment building publicized entirely by word of mouth.
Charline von Heyl Abstract artist Charline von Heyl's multimedia compositions begin with a question, she told W Magazine: "How do I build a painting that I haven't ever made before?" She blends drawing, painting, collage, and printing techniques like woodcut, silkscreen, and lithography to create a wide-ranging visual language that constantly offers up new surprises.