Paul Johnson Is the Hardest Working Man in Design
The furniture dealer doesn't believe in easy chairs.
---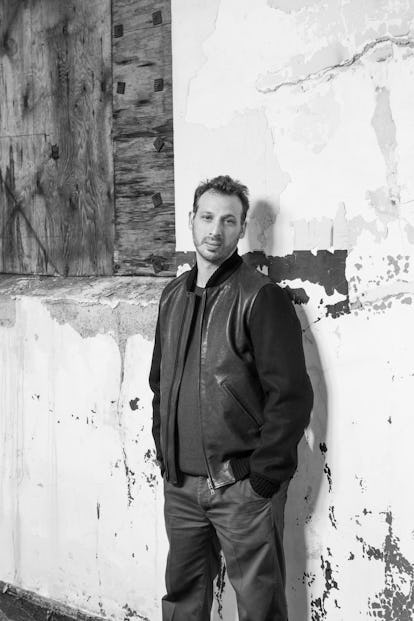 "This is it," Paul Johnson says, standing in the nave of Woods Cathedral, a 100-year-old church in the La Salle Gardens neighborhood of Detroit. It has been raining steadily for hours, and a large puddle is making its way across the floor. Expanses of plaster have fallen away from the ceiling, some 40 feet above, and, everywhere, the paint is peeling; most of the windows have been boarded up. But the building, all 50,000 square feet of it, is in far better shape than when Johnson bought it, sight unseen, for $6,700 at a tax auction in September 2014. At that point, it didn't even have a roof. Abandoned since around 2007, the church had served variously as an underground venue for the local techno scene, a playground for vandals, and a platform for a giant altar-like guerrilla artwork assembled from discarded chairs, pianos, televisions, sofas, tables, pews, and assorted junk, appropriately titled Sunday Mass.
A dealer of high-end vintage and contemporary design based in New York, Johnson, 41, has long had an appreciation for things that others tend to steer clear of—and not only because he can get them for cheap. Johnson grew up in a family of seven kids in Toronto, where his father owned a successful office-furniture company. After getting a business degree at the University of Western Ontario, Johnson moved to New York, in 1999, and enrolled in the design-management program at Pratt Institute but dropped out after a year, as he likes to tell people, "to study the flea market." If he had a mentor then, it was the artist and legendary "picker" Robert Loughlin, who in the '80s turned Andy Warhol and Jean-Michel Basquiat, among others, onto retro design. "Pickers are people who find stuff," says Sandy Rower, the grandson of the artist Alexander Calder and one of Johnson's biggest clients. "They know what that stuff is, and they buy it from people who don't know what it is, and sell it to retailers." While most pickers had their niches, "Loughlin had an insane eye—he could pick anything," Johnson recalls.
In 2002, while picking for the vintage-furniture shop Las Venus, Johnson came across a credenza by Paul Evans, whose aggressive, handmade metal furniture stood in contrast with the clean lines of midcentury modernists like George Nelson and Charles and Ray Eames, who were very much in vogue. "Everybody hated Evans at the time," Johnson says, adding that he knew the Eames craze was going to play itself out eventually. "I would drive around the whole country, sleeping in my van, looking for any piece of Evans I could find. People would ask me, 'You want that shit? It's yours.' " At the Las Venus outpost at ABC Carpet & Home, in New York, he put together an installation devoted entirely to Evans's "Cityscape" series—sleek, mirrored pieces inspired by the Manhattan skyline. The collector and gallerist Adam Lindemann, who had just bought a house upstate, in Woodstock, happened to walk in. "I asked Paul to fill the whole house," Lindemann recalls.
Vintage is still a big part of Johnson's business, and pieces by established masters like Evans, George Nakashima, and J.B. Blunk now command five or even six figures at auction. In the early 2000s, however, Johnson started working with the architects Rafael de Cárdenas, and Benjamin Aranda and Chris Lasch, to develop their own furniture; now he spends about 70 percent of his time on contemporary design. Still, his taste and, more significantly, his M.O., have remained largely the same since his flea market days. His current stable—most notably, the young British star Max Lamb, the Korean designer Kwangho Lee, and Chris Schanck and Jack Craig, both based in Detroit—are like Paul Evans 2.0. Their materials, including bronze, marble, and geode, tend to be refined, but their output can be quite raw.
Schanck's Alufoil pieces—welded-metal-pipe bases sprayed with foam and then meticulously carved and foiled by hand before receiving a glossy lacquer finish—are phenomenally labor intensive, and each one is unique. The work was recently discovered by the architect Peter Marino, who commissioned Alufoil benches for Dior boutiques around the globe. And early last year, the designer William Sofield removed a Claude and François-Xavier Lalanne desk and chair from the Tom Ford boutique on New York's Madison Avenue and replaced them with an Alufoil console. Schanck drove all the way from Detroit in his truck to deliver it personally. "It's crazy," he says about dethroning the Lalannes. "I'm not sure how I feel about that."
Johnson has had formal gallery spaces (in 2007, he opened Johnson Trading Gallery, on Greenwich Street in Manhattan); he has taken triple booths at the Design Miami/Basel fair; and he has collaborated on shows with the contemporary art gallerists Thaddaeus Ropac and Almine Rech. These days, his clients tend to be the type of people who have Richard Serras in their yards. And yet, after spending time with him, you get a sense that if tomorrow Johnson had to sleep in his van, he would probably be okay with that. (His wife, Hyunjung Lee, a designer and Kwangho Lee's former studio mate in Seoul, and their two young children, would perhaps be less okay with it.) "Loughlin always told me, 'You are not one of them—don't confuse it,' " Johnson says, referring to the caliber of person who can drop 10 grand on a chair without thinking twice. Currently, Johnson operates out of two spaces, a warehouse in a former movie theater in Queens, which is open only by appointment, and a storefront on Franklin Street, in TriBeCa. He opened the latter without fanfare in April of last year, publicizing it only on Instagram, with the hashtag jtgtribecagaragesale. Almost a year later, it still doesn't have a sign on the door. "I've had shows where we didn't even send out invitations," Johnson says with pride.
He did, however, manage to send out a notice for "Man, Rock, Drill," a solo exhibition of new work by Lamb in the TriBeCa space in early November. Just days before the opening, Lamb was camped out in Queens, working around the clock on the collection of marble tables, stools, and chairs. (For the past couple of nights, he had slept in the warehouse on moving blankets piled atop a $30,000 Nakashima bed frame.) Process-oriented to a fault, Lamb makes every piece himself from start to finish, and, in Johnson, he seems to have found a kindred spirit. "The way Paul operates his gallery is the way I operate my studio," Lamb says. "He does not want to present work that is guaranteed to sell—or he wouldn't be selling my work, or Chris's or Jack's."
Johnson first encountered Lamb in 2007, at Design Miami/Basel; the theme that year was performance, and Lamb was among a handful of designers who had been selected to create objects in front of an audience. Lamb, who was fresh out of school and working for Tom Dixon, reproduced his pewter stool, which he had originally cast on a beach. Johnson told him, "Quit your job—I'll buy 12 stools and we'll worry about selling them later. "
You might say that Woods Cathedral was a similar sort of impulse buy. "I wanted to get more involved in Detroit; I knew I needed to," says Johnson, who has since added a power sub-station and a warehouse to his holdings there. And just as those Max Lamb pewter stools found owners (Rower is the single largest collector of Lamb's work), starting in April, Woods Cathedral will have an occupant. Moran Bondaroff, the Los Angeles contemporary art gallery, will take it over for a year, kicking off a series of gallery residencies around the world. According to co-owner Al Moran, the idea was nascent until Johnson showed him photos of the church. "The space clinched it," he says. They made a gentleman's agreement that Johnson would fix the place up.
Johnson has also strongly encouraged his designers, no matter what city they work in, to build security for themselves by investing in their own studios. For the moment, Craig is working out of a side room in Woods Cathedral, where in late October it was already so cold we were forced to huddle around the torch he uses to melt PVC pipe. Johnson plans to turn the warehouse over to him—as soon as he figures out how to dispose of the fleet of abandoned vintage cars and other junk he discovered stashed inside it.
For his part, Rower says he wishes that Johnson were more of a businessman. "It's hard to buy from me, I've heard a lot of people say," Johnson admits. "I've never pitched anything. I have no right to tell anyone something is great—they have to think it's great. Then they will pay for it." In some crucial way, Johnson may always be a picker at heart. Recently, Rower became enthralled with 19th-century Venetian grotto furniture. After almost a two-year search, Johnson finally found him a trophy chair: a seashell on a pedestal base that looks like a relic from a Busby Berkeley under-the-sea extravaganza. "I made $350 on that sale, but I didn't care," Johnson says. "I was so proud just to have found it."
Photos: Paul Johnson Is the Hardest Working Man in Design
Paul Johnson at Woods Cathedral, the abandoned Detroit church he bought at a tax auction.
The nave of the cathedral.
The facade of the cathedral.
Jack Craig, in his studio at Woods Cathedral.
Jack Craig, in his studio at Woods Cathedral.
Max Lamb at work in Johnson's warehouse in Queens.
Pieces from Lamb's "Man, Rock, Drill" series.
Chris Schanck, with an Alufoil chair, in his Detroit studio.
The Detroit power substation Johnson acquired sight unseen.