Paul McCarthy's WS
In a deep, dark forest of his own design, artist Paul McCarthy spectacularly eviscerates the Snow White fairy tale at Park Avenue Armory.
---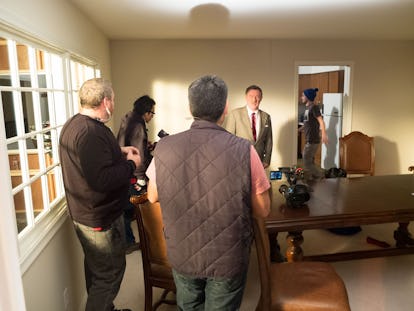 Earlier this spring, 85 tractor-trailers rolled out of a downtown Los Angeles warehouse bound for New York. They were hauling the building blocks of a colossal artificial forest, which the artist Paul McCarthy has now installed in Manhattan's Park Avenue Armory for WS, his major solo exhibition opening on Wednesday. As he's done in the past with Caribbean pirates and Santa Claus, the artist recast a (mostly) innocent childhood fantasy—in this case Snow White—through film, performance, and sculpture, creating a vividly grotesque nightmare barely recognizable to anyone weaned on Disney. (Don't bring the kids.)
On a May afternoon, the artist's son Damon McCarthy, 39, was overseeing the installation of the 8,800-square foot set in the Armory. The stage was maybe two-thirds finished, but the fake earth, foliage, and towering foam trees already seemed to fill the vast space. "My father feels this is his biggest accomplishment as an artist," Damon told me. It is certainly the largest in sheer size. In recent years, Paul McCarthy has emerged as a contemporary titan working on a scale as spectacular as that of Jeff Koons. (The New York Times called their latest dueling New York gallery shows "The Battle of the Big.") Damon, who manages the studio in L.A. and collaborates closely with his father, has been instrumental in helping realize this outsize vision.
"I like to push things in a different way," Damon said when I asked him about his role in the McCarthy family enterprise (his younger sister Mara operates the downtown L.A. gallery The Box). We were in a back office at the Armory, where he queued up footage of a performance shot in the L.A. warehouse space last year: A Walt Disney-like figure (Walt Paul, played by Paul McCarthy) romps about a house in the forest with several Snow Whites and a gang of drunken men who resemble grown-up frat bro versions of Sleepy, Sneezy & co. Beer, blood, bodily fluids, and genitals fly about the scene freely—it's Girls Gone Wild meets torture porn. When I mentioned that the creation of such imagery is not exactly a commonplace father-son bonding activity, Damon replied with a shrug, "I think we broke the typical father-son relationship at some point." (Probably the time Damon, then six, helped his father homebrew beer for a mechanical sculpture piece called Bavarian Kick.) In the decades since, they've become true collaborators. Shooting and then editing the month-long bacchanal from some 350 hours of video into a seven-hour, four-channel narrative that is at turns horrific, hilarious, and heartrending (it will play on huge screens above the set installation) is perhaps Damon's biggest contribution to WS, and to his father's work at large.
Early on in his career, Paul McCarthy documented his performances with an erratic handheld video camera in much the same way as Chris Burden, Mike Kelley, and Bruce Nauman, his counterparts in the L.A. art scene of the late '60s. Since he began collaborating with his father in 1996, Damon, who studied film at CalArts, has brought a certain imagination and refinement to the videos. (They've even begun poaching personnel from nearby Hollywood studios, including Disney.) "We still exist on the other side of the tracks from Hollywood, but we've gotten really good at everything in terms of film production," Damon explained. It's allowed his father, whose ambitions have never lacked for grandeur, to go even bigger. Recently, the elder McCarthy bought a thousand acres of land in the desert north of L.A., which he is converting into an American Cinecitta of sorts, where they plan to make a series of Westerns. When I suggest that the McCarthy family studio, which employs roughly 50 regulars, is starting to resemble early Warner Bros., Damon laughed and said, "Yes, except we don't hire just for a shoot. We've built a big production family. And we throw some really crazy Christmas parties."
"WS" is on view from June 19 – August 4, 2013, at the Park Ave Armory, 643 Park Ave in New York.
Photo: courtesy of the Park Avenue Armory