INTERGENERATIONAL RELATIONS
Drunk Paul Mescal Stars in a New Rolling Stones Music Video
Mescal stars in a Rolling Stones video for a song almost twice as old as he is.
---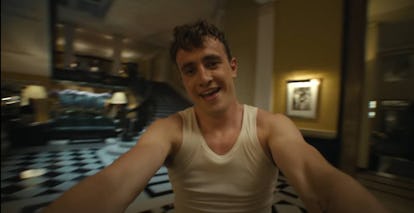 Intergenerational relations have been tense lately, but if there was thing that could temporarily assuage the strain between millennials and boomers it may be newly minted heartthrob and Normal People star Paul Mescal getting drunk and dancing in lockdown for a new Rolling Stones video.
The track itself, "Scarlet," is almost twice as old as Mescal himself. It's included on a reissue of the band's 1973 album Goats Head Soup, and is an at-long-last collaboration with Led Zeppelin guitarist Jimmy Page.
Though, the video itself is peak 2020.
It features Mescal alone, drunk, and dancing on video camera. "I'm a little bit drunk," says the Irish actor in the video's opening shot. "I'm very sorry. I love you, so I'm going to play a song." Mescal then precedes to trip over a couch, strips down to his undershirt, has his own lockdown dance party, and then cries a lot. It's an emotional journey familiar to most of us, thanks to these past few months.
He does not quite have moves like Jagger, but he's certainly had enough liquor to think he does.
Following an early career in theater, Mescal shot to international fame after starring in the television adaptation of Sally Rooney's "great millennial novel" Normal People. He won an Emmy nomination for his role, captured the attention of singer-songwriter Phoebe Bridgers, and now has a starring role in a Stones video for his efforts.
While his rise to fame has completely coincided with international lockdown thanks to the coronavirus pandemic, he certainly seems to be making the most of it.
Related: Normal People Stars Daisy Edgar-Jones and Paul Mescal Bring the Novel's Electricity to the Screen