Paul's Casablanca Is the Nightclub New York Has Been Waiting For
The impresario behind the Beatrice Inn and Paul's Baby Grand, along with partner Brian McPeck, open a new club in SoHo – in the old Sway space, no less – that promises to be a mainstay for the party people. If they can get in.
---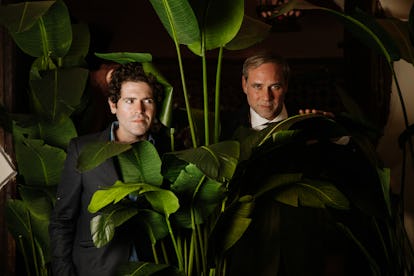 Photo by Pablo Enriquez.
In 2003, DJ and nightlife impresario Paul Sevigny hosted his first Smiths/Morrissey-themed party at Sway, a Moroccan-ornamented watering hole in the western stretch of SoHo. The night became a cult hit with the cool crowd, including Kate Moss and his sister Chloë. Thirteen years later, Sevigny and his partner Brian McPeck, have opened Paul's Casablanca in the very same space – retaining the Moroccan motifs by the way – with a party last Saturday that naturally drew a murderer's row of New York glitterati like Alexander Wang, Catherine McNeil, Francesco Clemente and Maurizio Cattelan.
"It's a bit of a homecoming," Sevigny said.
Sevigny's nightlife roots run deep. So deep in fact, that it's hard to believe that he was working on Wall Street in 1999 when he booked his first gig. "A friend of mine saw records at my house and was like 'I'm having a birthday party, why don't you come play some of your music?'" said the Connecticut-bred 45-year-old.
Photo by Pablo Enriquez|||
The gig was at Serena's, a bar at the Chelsea Hotel that hosted the movers, shakers, and night-prowlers of the era. The party was a huge success, the press rolled in, and Sevigny went on to host weekly parties there. Soon after, Sevigny met McPeck, the frontman of the electro-punk band A.R.E Weapons, who would later become his business partner. The two hit it off and Sevigny left Wall Street to manage McPeck's band in the early aughts.
"I was like who is this crazy dude who wants to manage my band?"' said McPeck, 40. "We were never that career minded, never thinking about management. Then I was like, he has the moves to do this." At the same time, Sevigny's nightlife career took off and he started to build a following thanks to various DJ gigs and parties he hosted at hotspots of the time like as Spa and Marquee.
Photo by Pablo Enriquez|||
After five years touring with A.R.E Weapons, Sevigny decided to open his own spot, The Beatrice Inn, which became a New York phenomenon and remains a legend for its impossible door, wild nights, and consistently killer crowd. After it shuttered in 2009, Sevigny re-opened Don Hills (where Iggy Pop and the Stooges performed on night one), followed by two clubs in Los Angeles, and finally Paul's Baby Grand, a flower-filled boîte in Tribeca, in 2013, where McPeck signed on as managing partner.
"I knew he'd be good at it, I mean, his nickname is Brain," said Sevigny, laughing, of partnering with McPeck. "It's a detail business. Anyone can open a club or restaurant, the successful people are the ones who pay attention to detail, which is what separates you from any other place."
But the guys maintain that their new venture will be different from Baby Grand, devoting each night to a different musical genre, from hip-hop to rock and roll, and of course, the Smiths, which they'll reinstate on Sunday nights.
"We're trying to create a place that's so fun, people want to go," said McPeck. "It's not rocket science, but there's an art to doing it."
Photo by Pablo Enriquez|||
Calling Card Look for the international flags on Spring Street.
Tribes If the opening night party cohosted with Purple magazine is an indication, then everyone from Alexander Wang to Maurizio Cattelan.
Music A different genre for every night, but come on Sundays for a heavy dose of The Smiths.
The Basics Paul's Casablanca, 305 Spring Street, New York, New York 10013. Thursday – Sunday, 10 p.m. until late. Cocktails start at $18.
Inside the Opening Night Party for Paul's Casablanca with Purple Magazine
Banks Prepares for a Magical Guggenheim Gala