Irish Spirit: Pauric Sweeney
Pauric Sweeney weaves an unexpected lineage into his handbags.
---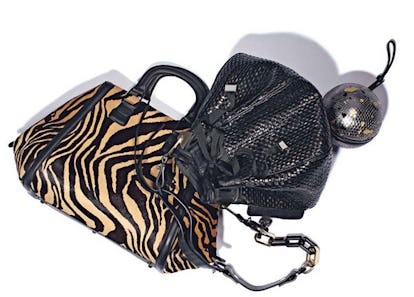 Bag designer Pauric Sweeney, who hails from the wilds of County Donegal, Ireland, is quick to acknowledge that his homeland, while a breeding ground for all kinds of artists, isn't known for churning out fashion stars. "Creatively, Ireland developed an ability to pass on history, to tell stories. We have our writers," Sweeney, 37, says. "It's very open; it's very expressive. But no big handbag history, no."
Not yet, at least. Sweeney, who left Ireland when he was 18 and now lives and works in Florence, Italy, sees his bag collections—which have landed in more than 100 stores worldwide, including such top guns as Harvey Nichols and Bergdorf Goodman—as the locus of his design career. He operates out of a stunning multiroom atelier overlooking the Piazza Santa Croce, and though he plans to expand into sunglasses and furniture, it's the hobos and totes and clutches that are his raison d'être.
The son of department store owners ("a rural department store," he clarifies), Sweeney initially set out to study architecture at Philadelphia's Temple University. Frustrated with the rigidity of building design, he turned to clothes. His first show was held at the Louvre during Paris Fashion Week in September 2000, and he sewed his way into London Fashion Week a few seasons later, falling in with the city's cool design crowd of the early aughts (Sophia Kokosalaki, Julien Macdonald). He began tweaking modern staples like trenchcoats by adding patchwork and sculpted shoulders; critic Suzy Menkes declared one of his early shows an "arresting narrative of suburbia-to-subversive."
By 2004, however, Sweeney had tired of the catwalk circus. "My last show in London was held at the Royal Opera House, and I had designed some handbags to go with the collection," he recalls. "Backstage someone commented on the bags, and I realized I really, really enjoyed putting [my] creative energy into that. With ready-to-wear you create the total look, but from an artistic point of view, the composition of an object became more interesting for me."
It's entirely calculated, then, that Sweeney's bags have an architectural aesthetic. Many, for instance, have a curved body, evocative of a Frank Gehry building. This fall season—for which Sweeney made about 200 styles, including leather doctor's bags and messengers—turns out to be his favorite to date. Surprisingly, he says that the recession, which hit small labels like his hard, has had an inspiring effect. "Things started to melt a little bit globally, and I saw it as an opportunity to put more time back into the creativity," he explains. An instinct, no doubt, his countrymen would approve of.
Styled by Brooke Magnaghi