Pedro Almodóvar Reveals What Really Happened at Madonna's Truth or Dare Party in Madrid
The filmmaker divulges the truth behind that scandalous Madonna: Truth or Dare dinner party he threw for the musician in Madrid.
---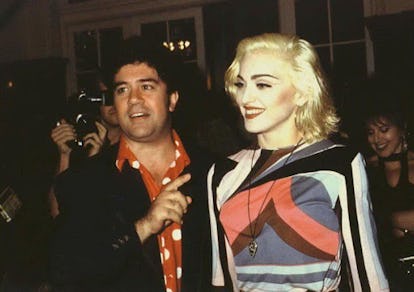 Pedro Almodóvar and Madonna in Madrid, 1990. Courtesy of The Film Experience.
Amid the coronavirus pandemic, there has been no shortage of film recommendations, book recommendations, and at-home spa-treatments. But there's also been a healthy amount of celebrities revealing backstories to iconic moments. Pedro Almodóvar, for example, has been writing memoir essays while Madrid is on quarantine lockdown.
The latest entry involves anecdotes about his first time at the Oscars, meeting Jane Fonda (who was "obsessed" with getting the filmmaker to do an American remake of Women on the Verge of a Nervous Breakdown), and a sordid dinner party with Madonna.
The story goes like this: while Madonna was filming Dick Tracy, she called up Almodóvar at his hotel to invite him to the set to meet Warren Beatty and the film's costume designer Milena Canonero. A year later, in 1990, the musician called Almodóvar again to hang out during the Madrid leg of her provocative Blond Ambition tour.
The director took matters into his own hands to throw a big flamenco party for Madonna while she was in town, inviting La Polaca, El Polaco, Loles León, Bibiana Fernández, and Rossy de Palma.
The filmmaker noted that since the debut of Antonio Banderas in Tie Me Up! Tie Me Down!, global audiences, but especially American critics, had quickly grown to be obsessed with the actor. Madonna was one of his fans, too.
She insisted Almodóvar invite Banderas, to which he obliged, but under one condition he kept hidden from the musician—he would extend the invitation to the actor's then-wife Ana Leza as well. Leza also happened to be a big fan of Madonna, but the musician didn't care. Madonna seated Leza at a table far away from her, as she was flanked by Banderas and Almodóvar on each side.
The dinner party was filmed by a member of Madonna's team. She told Almodóvar it was "for a keepsake," even though during the party, Madonna kept asking Almodóvar to translate her questions for Banderas. "It seemed strange to me, but a good host does not ask about certain things," the filmmaker wrote.
Some of Madonna's questions included telling him, "Ask Antonio if he likes hitting women," and "if he likes women to hit him." She didn't include Banderas's answers—"I am a Spanish gentleman and I'll do whatever a lady asks me to do"—in the final cut of her filmmaking project, which turned out to be Madonna: Truth or Dare.
"That night in 1990, he didn't speak a word of English. I say this because a year later the film Madonna: Truth or Dare premiered, and a great part of it is filmed at my party at the Palace," Almodóvar wrote. "Antonio's harassment was one of the main storylines and she, obviously, edited in how she dispatched Ana Leza with only one sentence. At the end of the dinner, Ana dared to get close to our table and told the divine blonde sarcastically, 'I see you like my husband, it doesn't surprise me, all women like him, but I don't mind because I am very modern.' To which Madonna replied: 'Get lost.'"
Five years after Truth or Dare, Madonna and Banderas were co-stars on the big screen in Evita.
The rest of the essay includes appearances from Beatty and Annette Bening, and a quarantine book recommendation. And in case there are any doubters of the veracity of his anecdote about Madonna, Almodóvar insists that everything he wrote about that dinner party is a true story: "There had to be a pandemic for the world to know what that dinner was like in reality."
Related: The Power of Tilda Swinton Has Convinced Pedro Almodóvar to Make Films in English