Penelope Cruz Is a Mourning Donatella Versace in New Assassination of Gianni Versace Trailer
The resemblance is uncanny.
---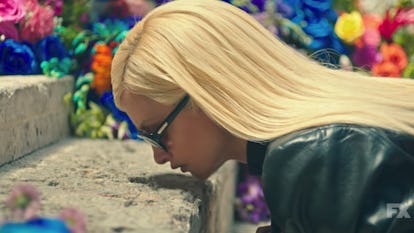 FX Networks/YouTube
After a few teases, we're finally getting a peak of a character in action on The Assassination of Gianni Versace: American Crime Story.
In the new teaser trailer for the Ryan Murphy anthology series, audience get their first real look at Penelope Cruz's portrayal of the fashion house's fabulous matriarch, Donatella Versace. In the trailer, a platinum-haired Cruz is dressed to the nines as she kneels in front of the Versace family's infamous Miami mansion, now known asCasa Casuarina, and kisses its steps before making her way into the home. With an abundance of floral arrangements surrounding her, it's obvious she's mourning her brother Gianni following his assassination, but exactly how long after his death is up to the viewer.
As previously reported, The Assassination of Gianni Versace: American Crime Story will air on FX early next year, and the series will chronicle the tragic death of Versace, who was shot and killed by Andrew Cunanan outside his mansion in July 1997. But despite Murphy, a respected (albeit a bit kooky) Hollywood figure involved, the Versace family still had their trepidations — especially since they're extremely protective over Gianni's legacy. In fact, Donatella had candid discussions with both Murphy and Cruz about how her family would be depicted.
"I think we've been very respectful to his family, particularly," Murphy recently explained. "Donatella had some requests about how the children were depicted in the show. I listened to that. As a father, I understood. I wasn't interested in going there, out of respect for her." As for Cruz, she and Donatella shared a similarly open conversation. "I did have one conversation that was between she and I," Cruz told Entertainment Weekly earlier this year. "I don't want to say the details, but it was a long conversation … That was very important to me. I think she knows that the way I'm playing her, that I truly love her and respect her."
FX will hopefully share the finalized premiere date for the series soon.
Related: Watch the Haunting First Teaser for The Assassination of Gianni Versace
Every Time Penelope Cruz Has Worn Versace On the Red Carpet
February 2007: Celebrating Versace at the Rodeo Drive Walk of Style Awards, Cruz wore a black and navy gown with lace-up detailing.

Getty Images
February 2007: Attending the 2007 Academy Awards, Cruz had a princess moment in a strapless, blush-tone gown.

Getty Images
March 2007: For the 57th Sanremo Music Festival in Italy, Cruz opted for an skin-tight olive green gown.

Getty Images
February 2009: After winning an Academy Award for Vicky Christina Barcelona, Cruz hit the Vanity Fair after-party in a one-shouldered cream gown.

Getty Images
February 2010: For the 2010 Goya Awards, Cruz dressed in a sculptural white column gown.

Getty Images
September 2012: Cruz opted for a soft pink hue and thigh-high slit at the Toronto Film Festival.

Getty Images
September 2012: The actress draped herself in crimson at the 60th San Sebastian International Film Festival.

Getty Images
November 2012: With actor Sergio Castellitto, Penelope Cruz attended a photocall in Italy for Venuto al Mondo.

Getty Images
November 2012: At the Venuto al Mondo premiere, Cruz stepped out in a vibrant, turquoise gown.

Getty Images
February 2016: The actress attended the Madrid premiere of Zoolander No. 2 in metallic and white draped dress.

Getty Images
February 2016: Liquid gold came to mind as Cruz stepped out for another premiere of Zoolander 2 in slinky metallics.

Getty Images
February 2016: Channeling Audrey Hepburn, Cruz matched a strapless black ballgown with demure bangs.

Getty Images
November 2016: The actress loves a good one-shouldered gown, and her outing at the La Reina de Espana was just another one of her memorable looks.

Getty Images
February 2017: Cruz attends the 2017 Goya Awards in a asymmetrical black dress with matching pumps and a pair of gold earrings.

Getty Images
Ferbuary 2017: Another golden goddess moment for Cruz, this time at the 2017 BAFTAs.

Getty Images
Penelope Cruz Takes W's Screen Test: