Donatella Versace Had Concerns About American Crime Story
Concerns Ryan Murphy shared.
---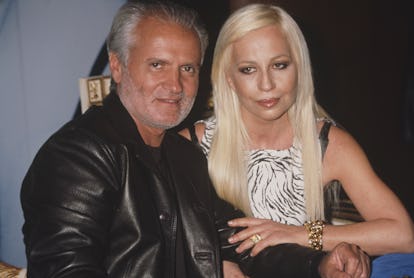 Rose Hartman
Donatella Versace and her company have been notoriously protective over Gianni Versace's legacy, so you might wonder how the Versace family actually feels about his death being the subject of the upcoming American Crime Story: The Assassination of Gianni Versace. It hasn't been the first time the murder has been fictionalized, but it might be the most high profile effort to date.
The Versace family and company have not publicly commented one way or another; the reality may be closer to resignation. In fact, Donatella Versace herself communicated her concerns to producer Ryan Murphy, concerns, in fact, that he agreed to respect.
"I think we've been very respectful to his family, particularly," Murphy said during a recent Television Critics Association event. "Donatella had some requests about how the children were depicted in the show. I listened to that. As a father, I understood. I wasn't interested in going there, out of respect for her."
Her children Allegra and Daniel were not even teenagers at the time of their uncle's death. Now as adults, the pair make appearances at Versace events, but otherwise both keep relatively low profiles. Neither, for example, even have public Instagram accounts. Though, Murphy did famously portray the Kardashian sisters as children in the first season of American Crime Story, one understands why Versace would have been concerned.
Versace herself however will be in the show, and she's being played by friend (and frequent wearer of Versace) Penélope Cruz. Yes, Cruz did talk to the designer before accepting the role.
"I did have one conversation that was between she and I," Cruz told Entertainment Weekly earlier this summer. "I don't want to say the details, but it was a long conversation…That was very important to me. I think she knows that the way I'm playing her, that I truly love her and respect her."
While the Versace family is signaling at least some level of quiet acceptance, others being portrayed in the show have been openly critical.
Antonio D'Amico, who was Gianni Versace's partner and will be played by Ricky Martin, was initially angered by the idea of the show.
"There has been so much written and said about the murder, and thousands of suppositions, but not a trace of reality," he said in an interview last month.
He also dismissed set photos he had seen of Martin, in character, reacting to the death, saying "Maybe it's the director's poetic license, but that is not how I reacted."
Martin told Paper magazine that following the comments he reached out to D'Amico himself and told him, "I'll make sure people fall in love with your relationship with Gianni."
Related: American Horror Story: Cult Trailer: Sarah Paulson Is a Hillary Mom, Evan Peters Is the Alt-Right
See What's Trending in W Video: