American Horror Story: Cult Trailer: Sarah Paulson Is a Hillary Mom, Evan Peters Is the Alt-Right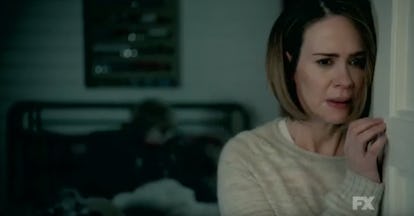 Image via FX
We already knew American Horror Story: Cult would somehow be about the election and a cult of clowns. Now, with a brand new trailer and an official website, we finally have some idea of how that even begins to make sense.
Sarah Paulson plays "Ally," a Hillary Clinton-mom living a quiet suburban life in Michigan with a partner played by Allison Pill who absolutely freaks out during election night once she realized that Donald Trump has won. Evan Peters, meanwhile, plays Kai, who we can't help but imagine is supposed to be some sort of Alt-Right fanatic (he starts humping his television on election night). According to Entertainment Weekly, Ally starts seeing clowns everywhere after the election and not even her therapist (played by Cheyenne Jackson) can help.
For whatever reason, Kai decides he has it out for Ally and convinces Billie Lourd's character to get a job as the couple's nanny. Of course, she starts pushing this poor lady's clown fears even further to the brink.
Wait, is it possible this season is just one long metaphor for trolling? Is the unusual choice of bringing back Twisty the Clown as some sort of worshipped icon a stand in for Alt-Right mascot Pepe the Frog? Watch the trailer and decide for yourself.
Oh, right, actual killer clowns armed with things like baseball bats and nail guns figure are in it as well. There are so many clowns in this thing.
Missing from the trailer? Supporting cast members like Billy Eichner, Lena Dunham, Colton Haynes, Emma Roberts and France Conroy.
You may have to start watching the show on September 5th to find out how they figure into all of this. Bet on Ryan Murphy to drop even more teasers before, though.
Related: The American Horror Story: Cult Opening Features a Creepy Trump and Other Clowns
See What's Trending in W Video: