Billy Eichner Would Argue That Janet Jackson Is Actually "Very Underappreciated"
As the new season of Difficult People premieres on Hulu, the Emmy-nominated actor and comedian explains his obsessions.
---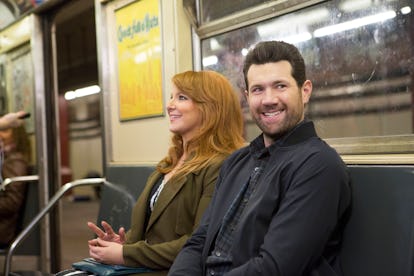 KC Bailey/Hulu
Judging by the fact that he was just nominated for an Emmy for yelling at people on the street for his show Billy on the Street, and also stars on Difficult People, whose third season, which brazenly eviscerates Woody Allen and the Trump administration, just premiered on Hulu this week, one would assume that Billy Eichner can be, well, a difficult person. But in real life, the actor and comedian is in fact much softer than you think: "I often play angry and bitter on TV, but I'm actually a bit sentimental," he said recently—hence his pronounced appreciation for internet boyfriend John Cho, who not only agreed to play his boyfriend on Difficult People's new season, but was also "was lovely and incredibly game in spite of the fact he had to make out with me many times and deal with my stubble."
When's he not making out with Cho, though—or preparing to appear in the new season of American Horror Story—he's also advocating for more appreciation of Janet Jackson, and soundtracking his life with the likes of not just Janet, but also Pink and Diana Krall. Find out what else the very busy Eichner has been up to lately in his time off the street in his culture diet, here.
What's the first thing you read in the morning?
I check my email and text messages first, and then I usually check Twitter.
What books are on your bedside table right now?
The new Letterman bio by Jason Zinoman, A Portrait of Bowie (which is about David Bowie obviously) and Thanks, Obama, David Litt's new book about his experience as one of President Obama's speechwriters. (David also contributed material to the most recent season of Billy on the Street.)
What TV shows have been keeping you up at night?
I'm currently on a steady diet of MSNBC's primetime lineup, with some Golden Girls reruns on Hulu as a palate cleanser.
What's the last movie you saw in theaters?
The Beguiled. I loved it.
What's the last thing you saw at the theater?
A Doll's House, Part 2 on Broadway.
What's the last piece of art you bought, or ogled?
As in fine art? Like a painting? That's not really my thing. Although I'm about to decorate a new place in Los Angeles so I have to figure out something to put on my walls. I like fine art but I don't necessarily want to look at the same thing every day.
What's the last museum exhibition that you loved?
I haven't been to a museum in a while. I'm very busy!
What release are you most eagerly anticipating?
A lot of things, of course! I'm a big Pink fan. She just announced a new album coming out in October that I'm really excited about. And, selfishly, the new season of American Horror Story, which I'm on and which is called Cult. Unlike with Billy on the Street or Difficult People, this time I won't be seeing the episodes until they air so I'll be watching along with the fans for the first time and that will be really exciting. I can't wait to see how it turns out.
What's the last song you had on repeat?
The new Pink single, "What About Us."
There are some great songs on this season of Difficult People's soundtrack. Do you have a favorite?
The brilliant Aimee Mann wrote a new song for Julie [Klausner] that is featured later in the season and it's really gorgeous.
What's the last concert you saw live?
It's been a while since I've been to a concert, but I think it was Sia at the Hollywood Bowl. I'm seeing Janet Jackson live for the first time in October, which I'm really excited about. I've never seen Janet live. You forget how many hits she has. In a certain way, she's very underappreciated.
How do you get your news?
A lot of places… MSNBC, CNN, NPR, and of course Twitter, which leads you all over the place.
Do you read your horoscope?
No. I used to but I don't anymore.
What are your favorite social media accounts to follow?
Rep. Maxine Waters on Twitter. I love her.
What's the last thing you do before you go to bed?
Strangely enough, I tend to listen to the headlines on NPR where they give you a quick synopsis of current news stories. It's a lot of bad news delivered by some very comforting voices. If not that, I just listen to music. I really like the new Diana Krall album for that time of day. I often play angry and bitter on TV but I'm actually a bit sentimental.
Related: American Horror Story's Season 7 Theme Has Been Announced
See W's most popular videos: