Adam Scott Became an Actor (Mostly) So He Could Be on Letterman
The Fun Mom Dinner and Wet Hot American Summer star on his culture diet obsessions.
---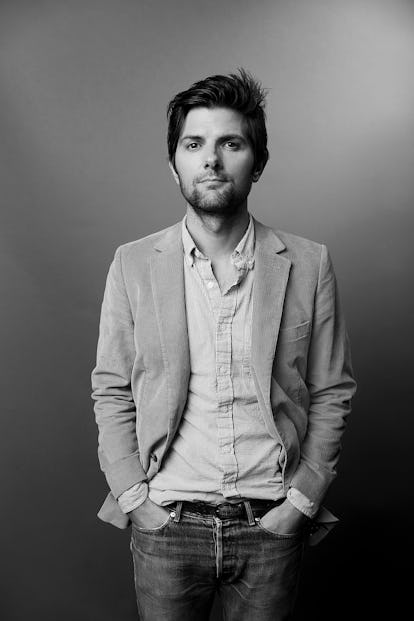 Mark Davis/Getty Images for Sundance NEXT
Throughout HBO's Emmy-nominated limited series Big Little Lies, the actor Adam Scott, who played the perfectly likable husband of Reese Witherspoon's Madeline, could reliably be found in at least one of two states: neglected by his wife, and rocking a healthy dad beard. The latter did disappear in the final episode—conveniently for Scott, who then went on to film Fun Mom Dinner, his new movie out now, and to replace a formerly baby-faced Bradley Cooper in Netflix's remake of Wet Hot American Summer, which came out this weekend, too.
In Fun Mom Dinner, which Scott and Paul Rudd executive produced—and which their partners Naomi Scott and Julie Rudd produced and wrote, respectively—Scott is still playing a (much more classically) less-than-ideal husband, but this time, he's the one leaving his wife, played by Katie Aselton, "a little in the dust"—hence her going off with to party with Toni Collette, Molly Shannon, Bridget Everett, and Adam Levine.
IRL, though, Scott, who has two kids with Naomi, claims to being a pretty fun dad himself. Find out what else has been keeping him busy lately, from The Handmaid's Tale to belting out songs from School of Rock, in his culture diet, here.
In Fun Mom Dinner, like Big Little Lies, it's the women who are dominating on-screen. It's great. I think women are way more interesting, so as a viewer, I appreciate it, but then also as an actor it means I get to have some time off, which is great, because they're carrying the load of the movie. And Naomi is the best producer out there—that's not a biased opinion. Everyone who works for her, I'm not exaggerating, comes up to me and say she's the best producer they've ever worked with. Her sets are high-quality, very happy sets, and everything is taken care of; there isn't one stone unturned. I couldn't be prouder of her.
Would you say that you're a fun dad? I would say most of the time I'm a fun dad, but, you know, any dad has to be kind of a dick sometimes. Which is a bummer, but you have to, or you're not being a real dad.
Moving into the culture diet questions, what's the first thing you read in the morning? Either Politico, the Huffington Post, or the New York Times's politics page on my phone.
What books are on your bedside table right now? I'm reading two books: the David Letterman biography [by Jason Zinoman] that just came out, and Ready Player One [by Ernest Cline], which I've wanted to read for a couple of years. There's a movie version of it [by Steven Spielberg] coming out soon, which finally got me geared up to get the book read.
You're a big Letterman fan, right? Yeah, yeah yeah. Information on his early life in comedy is a bit scarce, so it's great to have this comprehensive biography. He's the best; 70 percent of why I wanted to be an actor was to be on his show one day, so it's great to to read up on him.
What TV shows have been keeping you up at night? I'm really enjoying Ozark, [Jason] Bateman's thing, the new Netflix show. It's really good. It's terrifying and great. The Handmaid's Tale, of course, and Quarry, which is a Cinemax show I discovered recently that's like a year old. And of course Game of Thrones—every week, I get excited.
What's the last movie you saw in theaters? Spider-Man, with my kids. It was so good. So, so good. It's weirdly good.
What was the last thing you saw at the theater? I was in New York a couple of months ago and saw Hamilton. I hadn't seen it; I was the very last person to see it. Rarely does something live up to the hype, but it was great.
What's the last piece of art you bought, if you buy art? You know, we do, but my wife is the one that knows who it is and all of that. We have lovely paintings and some photographs in our house, and I wish I had the info on them off-hand, but I just don't.
What's the last museum exhibition that you loved? We were just on a European trip with our kids, so we went to the Louvre, which is hard not to be impressed by—I mean, they've got maybe one or two pieces in there that are okay. You know what was really impressive, too—and this isn't even the Louvre, is it? We went all over the place, so I'm getting it all mixed up—but seeing David [by Michelangelo] in-person. Just the size of it and the significance of it—it all kind of hits you when you're seeing something like that.
What release are you most eagerly anticipating right now? I'm excited for the new Arcade Fire record and new U2 record. And I'm so behind with movies, but I'm really excited for Star Wars: The Last Jedi.
What's the last song you had on repeat? Yesterday I was listening to John Lennon's first solo record, Plastic Ono Band. It's so profoundly sad. The songs, like that song "Mother," is an incredible song, but it is so fucking sad. Oh, also my daughter is doing School of Rock—the Broadway musical version, by Andrew Lloyd Webber—so the songs from that have been on repeat because she's learning them, and I think I'm learning them right along with her. By the end of next week, I'll know the entire soundtrack by heart.
What was the last concert you went to? I went to U2's Joshua Tree tour.
How do you get your news? Online, definitely—either Twitter or the New York Times, Politico, Huffington Post.
Do you listen to any podcasts? I do. I really like Homecoming and StartUp. I listen to Rachel Maddow. I don't have a chance to watch the show every night, but I listen every day to the podcast version, so I never miss a second of Rachel Maddow. The New York Times's The Daily is also great.
Do you ever read your horoscope? I don't. I never do.
What sign are you? I'm an Aries.
Do you have any favorite social media accounts to follow? Joe Mande is great on Twitter, really funny. And I'm just continually nauseous—well, the funny thing about Donald Trump's Twitter is that, in addition to everything else, he's just not clever. Twitter is at best when people can have a clever turn of phrase here and there, but he's just nauseatingly boring when it comes to writing on Twitter. The worst.
What's the last thing you do before you go to bed? Floss, floss, floss. Gotta floss. No, I usually check the kids before I go to bed. They've gone to sleep a few hours earlier, but I always give 'em one more check before I go to bed.
Related: Big Little Lies' Madeline is Peak Reese Witherspoon
See W's most popular videos: