Yoko Ono Is Finally Getting Songwriting Credit for "Imagine," Decades After John Lennon Admitted He "Sort of Omitted to Mention Her Contribution"
Ono, who co-produced Lennon's "Imagine" and its album of the same name, is finally getting credit for her work.
---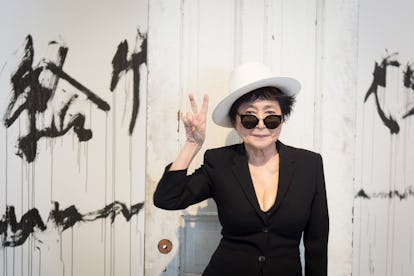 Newspix/Getty Images
In 1971, John Lennon released "Imagine," his legendary idealistic anthem that would go on to become the best-selling single of his career. It was at that time, too, that Lennon "was a bit more selfish, a bit more macho," as he told a BBC interviewer nearly a decade later, two days before he was murdered in 1980. Which is why, he continued, he "sort of omitted to mention" the songwriting contributions of his wife and collaborator, Yoko Ono.
Lennon went on to say that the song "should be credited as a Lennon-Ono song, because a lot of it, the lyric and the concept, came from Yoko." He also explicitly stated that it was "right out of" Ono's landmark 1964 conceptual artist book, Grapefruit, where "there's a whole pile of pieces about 'imagine this' and 'imagine that.'" But for 46 years, Lennon remained the song's sole credited songwriter.
Finally, though, the ball seems to be rolling on giving Ono her due. At a music industry event in New York on Wednesday, where "Imagine" was being honored with the National Music Publishers Association's "Centennial Song" award, the group's chief executive, David Israelite, announced that he would "correct the record some 48 years later, and recognize Yoko Ono as a co-writer." (The process is currently underway, though yet to be completely finalized.)
Ono, after all, did co-produce "Imagine" and its album of the same name. And she's still equally as prolific now that she's 84: In between rereleasing her own 11 LPs, Ono will soon be starring in a new Wes Anderson film with Scarlett Johansson and Tilda Swinton, not to mention staying enduringly on-brand by soon flying a message of peace high above New York's skyline in response to today's political climate.
In short, she seems to be doing much better at being a peacekeeper than Lennon, who, around the same time he came clean about Ono's credit, admitted to having a history of abusing women, ever did when he was alive.
Related: Yoko Ono Let an Old Simpsons Joke Slip Into Her Latest Art Exhibit
See Kendall Jenner, Performance Artist, Channel Icons Like Marina Abramovic and Yoko Ono: