Tilda Swinton, Yoko Ono and Scarlett Johansson Join Wes Anderson's Isle of Dogs
The Grand Budapest Hotel director said his next feature is about animated dogs voiced by celebrities, including the one and only Yoko Ono.
---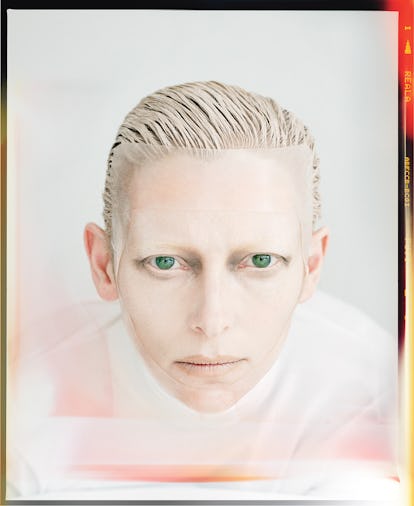 Photo by Tim Walker
To soundtrack his holiday ad for H&M, Wes Anderson chose John Lennon and Yoko Ono's classic "Happy Xmas (War Is Over)," and apparently that wasn't the only collaboration between Anderson and Ono on tap.
The director formally announced his next project today. It's an animated film called Isle of Dogs, and true to Anderson's style, the voice cast is made up of a roster of A-list talent from all over the arts and entertainment spectrum. Most notably is the edition of Ono, her first voice acting role in a major film. It's also her first acting gig since appearing as herself in a 1995 episode of Mad About You. She might have got a kick out of her appearance on The Simpsons, but she didn't even voice herself that time.
The rest of the cast is made up of Anderson regulars including Tilda Swinton, Frances McDormand, F. Murray Abraham, Jeff Goldblum, Harvey Keitel, Bob Balaban, Edward Norton, and, of course, Bill Murray, who has appeared in every single one of the director's films since 1998's Rushmore.
In addition to Ono, newcomers to the Anderson-verse include Scarlett Johansson, Bryan Cranston, Courtney B. Vance, Liev Schreiber and Greta Gerwig. The cast also includes Akira Ito, Akira Takayama and Koyu Rankin.
Anderson made the official announcement today in a vlog-style video that includes a cameo from Norton. The actor plays "Rex," who he clarifies is "one of the lead dogs." There's about a second-long preview of what "Rex" looks like in the preview as well.
The world isn't exactly hurting for more animated movies with celebrities voicing talking dogs. We already have All Dogs Go To Heaven, Cats & Dogs, Oliver and Company, The Secret Lives of Pets, Beverly Hills Chihuahua…well, let's just say, it's not exactly and undermined genre. (Although Pets was one of the year's top-grossing movies.) What exactly is Wes Anderson going to bring new to the format aside from Yoko Ono?
Well, it takes place in England, and that's about all Anderson had to say about the actual plot.
Anderson is also raffling off the chance for a fan to voice one of the dogs in the film. The $10 raffle tickets will benefit Martin Scorsese's Film Foundation so there's that.
This will be Anderson's first film since 2014's Grand Budapest Hotel and his first animated feature since 2009's Fantastic Mr. Fox. No word on when the film will be released, but production is already underway.