Star Wars: The Last Jedi's First Trailer Is Finally Here
Hold on to your lightsabers.
---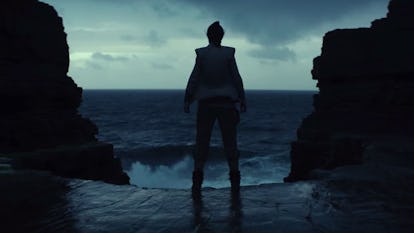 Star Wars/Youtube
Feminist hero Daisy Ridley and your space bae Oscar Isaac and John Boyega are coming back. A two-minute teaser trailer for Star Wars: The Last Jedi dropped Friday, and fans are already going wild.
Of course, the trailer doesn't offer much information on the plot of the film, instead opting for snippets of ambiguous footage and dialogue. Shots include Ridley's Rey emerging from a cave and showing serious command of the force, a dramatic cliff (yes, the same cliff on which an aging Luke Skywalker was perched at the end of The Force Awakens), and galactic battles galore. We also catch a glimpse of what seems to be Rey training with a lightsaber under the watchful eye of Skywalker, and a few quick shots of everything from Adam Driver's Kylo Ren to the Millennium Falcon to Finn (Boyega) in some sort of hibernation. Plus, there's a split-second look at the late Carrie Fisher as General Organa.
The dialogue in the trailer is sparse. All that's heard is a presumable tutorial between Skywalker and Rey: "Breathe, just breathe, now, reach out," Skywalker says. "What do you see?"
Rey replies, "Light. Darkness. The balance," and all seems hopeful until later in the teaser, when Skywalker boldly states, "I only know one truth. It's time for the Jedi to end."
The film is called Star Wars: The Last Jedi, after all. As fans pointed out when the movie's title was revealed earlier this year, the plural form of Jedi is Jedi, and several foreign translations of the movie's title revealed that the word is, in fact, intended to be plural, meaning there could very well be more than one last Jedi.
As reported by E! News, the teaser was first shown to the public during the Star Wars Celebration in Orlando, Florida, on Friday morning, day two of the three-day festival. The movie's director Rian Johnson and cast members, including Boyega, Ridley, and Mark Hamill, presented the trailer to the crowd. The event was live-streamed on the Star Wars YouTube channel, ensuring that Star Wars nerds around the world could watch it as soon as possible.
Besides the drop of the trailer, the Star Wars Celebration has also brought beautiful tributes to the late Carrie Fisher, who filmed her scenes as Princess Leia for The Last Jedi before she died.
Star Wars: The Last Jedi is set to arrive in theaters December 15.
Related: Post Star Wars, Daisy Ridley Lines Up a Role as a Heiress-Turned-Spy
Oscar Isaac Has a Soft Spot for Jessica Lange and Movies on Airplanes: