Laura Harrier Isn't in Spider-Man: Homecoming Just to Look Pretty for Peter Parker
Harrier's feminist interpretation of the character is re-imagining the part of the love interest in superhero movies: "She's not there just to look pretty and hang out with Peter."
---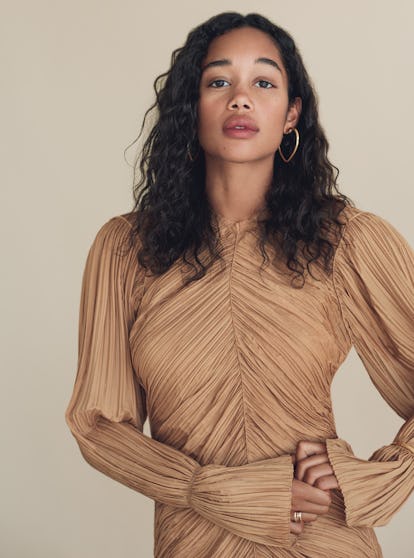 Photograph by Bruno Staub, Styled by Clare Byrne; Hair by Shin Arima for R+Co at Frank Reps; Makeup by Asami Taguchi for NARS at Frank Reps; Digital Technician: Jordan James; photography assistant: Evan Browning; fashion assistant: Emma Litvack
Laura Harrier may star as Peter Parker's love interest in the upcoming Spider-Man: Homecoming, but had it not been for the fact that one afternoon, Harrier, then a teen growing up outside of Chicago in Evanston, Illinois, decided to come straight home after high school, the actress may never have ended up on-screen at all.
It was then that a family friend who worked as a location scout and was over shooting her parents' house caught sight of Harrier—and, with the suggestion of an agent, effectively launched her modeling career.
Even after moving to New York, though, Harrier was getting restless simply posing on-camera. "It was just kind of this weird job I fell into that wasn't the plan at all," as she described the gig on a recent afternoon. And so she abandoned her catalogue work and studies at New York University's free-flowing Gallatin School of Individualized Study in favor of a two-year intensive drama program, then re-emerged ready to act.
A few soap operas later, Harrier realized she'd made it on, of all places, the dance floor, where she was getting down to 2 Chainz with the director she'd just shot an HBO pilot with: Steve McQueen.
"That was my first real job," Harrier, 27, recalled of Codes of Conduct, a drama by the 12 Years a Slave filmmaker. "I was like, 'What is this? What has my life become?'"
Never mind that the pilot never actually ended up airing: Harrier had officially caught the acting bug, which she showcased the next year, with Natasha Lyonne as her mom, in Carrie Brownstein's short The Real Real alongside Kim Gordon, Rowan Blanchard, and Mahershala Ali. At that point, though, her even bigger breakthrough was still under wraps: Earlier in 2016, she also found herself getting callbacks and screen tests with the Spider-Man crew, much to her disbelief.
"It literally didn't cross my mind ever that I was going to get this role, ever," Harrier said.
And so, in the six weeks Harrier waited to hear back about whether she'd end up playing Liz Allan, essentially Mary Jane's high school-era predecessor, she begrudgingly, impatiently put her life on hold. "I was living my normal life, obviously, but I also couldn't do anything. I couldn't talk about it or tell anybody," she recalled. Which is why, when the big day came, quite unlike the type A high school student she plays, Harrier decided to play hooky.
"I was like, f— this, I'm not waiting by my phone, I'm just going to get a massage," she said with a laugh. "Afterwards, I checked my phone and had all these missed calls from my agent, and then I don't even remember. I think I just sat on the floor and was like, holy s—."
Fast forward a few months later, and Harrier found herself in Atlanta finally meeting Tom Holland, aka Peter Parker, and Zendaya, her character's high school classmate who ended up being Harrier's "buddy through the whole film." Indeed, it was thanks primarily to Zendaya—or "Z," as Harrier calls her—that "even though Spider-Man is a huge blockbuster, it really didn't feel like that," Harrier said. "It felt like we were making this weird, funny, high school movie. Like just hanging out with a group of friends."
Thankfully, those friends were there for Harrier both when she was navigating difficulties like keeping her cool around Michael Keaton and Robert Downey Jr., then doing her own stunts—because, as Harrier reminded, Liz isn't your typical surface-level Mary Jane.
"She's not there for the boy," Harrier said. "There are a million things that are her focus: school, her career, college applications, all these things, but definitely not the boy. She's not there just to look pretty and hang out with Peter." (Still, as for the stunts, Harrier would have preferred to use her double, whom the crew seemed mysteriously determined not to turn to: "I didn't really have a choice. They were like, you're doing this," she recalled with a laugh.)
As the film's July 7 release date finally approaches, a high school reunion with Zendaya and Holland—the latter of whom last teased Harrier endlessly for her tears when shooting wrapped—will soon be in order.
In the meantime, however, Harrier has been keeping busy: Last month, she flew out to Kyoto to hang with Nicolas Ghesquière at Louis Vuitton's cruise show, having adapted quite quickly to the fashion world after starting out with the cream of the crop: Her very first show was a coveted front-row spot at Raf Simons' debut at Calvin Klein earlier this year.
Most days, though, Harrier can be found at home in the somewhat removed, industrial area of Red Hook, or else in her studio in Greenpoint where she does ceramics—a hobby she took up again when the anxiety about the Spider-Man role was getting to her.
She still has worries, but nowadays, they're quite different: "I just hope I can still take the subway, honestly," she said of the unknown fandom that awaits her following the film's release. "I live in Brooklyn, so that would suck."
Laura Harrier Is the Real Star of Spider-Man: Homecoming—And the Red Carpet
Laura Harrier in Chanel at a Chanel Fine Jewelry Dinner in honor of Keira Knightley in New York, September 2016.

Dimitrios Kambouris/Getty Images
Laura Harrier in Proenza Schouler at the 2016 CFDA/Vogue Fashion Fund Awards in New York, November 2016.

Jamie McCarthy/Getty Images
Laura Harrier in Dior at the 2016 Guggenheim International Pre-Party with Dior in New York, November 2016.

Dimitrios Kambouris/Getty Images
Laura Harrier in Coach at Coach's 75th anniversary women's pre-fall and men's fall show in New York, December 2016.

Owen Hoffmann/Getty Images
Laura Harrier in Jil Sander and Khaite at Raf Simons's debut show for Calvin Klein Collection in New York, February 2017.

Gilbert Carrasquillo/Getty Images
Laura Harrier in Louis Vuitton at the fall 2018 Louis Vuitton show during Paris Fashion Week, March 2017.

Bertrand Rindoff Petroff/Getty Images
Laura Harrier at a Bvlgari breakfast at Baselworld 2017 in Basel, Switzerland, March 2017.

Venturelli/Getty Images
Laura Harrier in Sies Marjan at Bvlgari cocktails at Baselworld in Basel, Switzerland, March 2017.

Venturelli/Getty Images
Laura Harrier in Paco Rabanne during a press conference for Spider-Man: Homecoming in São Paolo, Brazil, May 2017.

Mauricio Santana/Getty Images
Laura Harrier in Louis Vuitton at the resort 2018 Louis Vuitton show at the Miho Museum in Koka, Japan, May 2017.

Koki Nagahama/Getty Images
Laura Harrier at the CONQUE Comics Convention in Queretaro, Mexico, May 2017.

Victor Chavez/Getty Images
Laura Harrier in Rosie Assoulin at the 2017 CFDA Fashion Awards in New York, June 2017.

Dimitrios Kambouris/Getty Images
Laura Harrier in Prabal Gurung at a New York photo call for Spider-Man: Homecoming, June 2017.

Rob Kim/Getty Images
Laura Harrier in Calvin Klein by Appointment at the premiere of Spider-Man: Homecoming in Hollywood, California, June 2017.

Allen Berezovsky/Getty Images
Laura Harrier in Brock Collection at a Spider-Man: Homecoming discussion at Build Studio in New York, June 2017.

Monica Schipper
Laura Harrier in Louis Vuitton at a New York screening of Spiderman: Homecoming, June 2017.

Jason Kempin/Getty Images
Laura Harrier in Dior and Bvlgari at the Bvlgari Party at Scuola Grande della Misericordia in Venice, Italy, June 2017.

Venturelli/Getty Images
Laura Harrier in Dior and Bvlgari with Lily Aldridge and Bella Hadid at the Bvlgari Party at Scuola Grande della Misericordia in Venice, Italy, June 2017.

Venturelli/Getty Images
Watch W's most popular videos: