Andrew Garfield Lip-Synchs to Whitney Houston While Dressed in Drag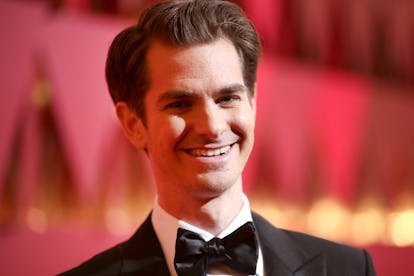 Christopher Polk/Getty Images
The "Greatest Love of All"? That would be Andrew Garfield, dressed in drag, nailing a Whitney Houston lip-synch, of course.
Garfield turned up at Tuesday night's "Werq the World Tour" in London to give his very best impression of the legendary performer.
Armed with a wig and a pair of skinny jeans, the actor gyrated his hips through a lip-synched rendition of "I'm Every Woman." At one point, he treated the audience to a back flip, which, based on the video posted to Twitter, looks like it deserves a solid 10/10 score. The actor stayed in character for the entire song, complete with fierce Whitney-esque facial expressions and all kinds of swagger, making a convincing case for the fact that he is, apparently, every woman (and that it's all in him, etc., etc.).
Garfield was joined on stage by some of the most fabulous alumni from RuPaul's Drag Race, the real stars of the "Werq the World Tour" traveling show. The cabaret has been described as "overflowing with fierceness," and Garfield certainly brought his A-game for his big debut.
Later he met with Drag Race judge Michelle Visage and Laverne Cox, who also happened to be in the audience.
Then he got up close and personal with Drag Race contestant Detox.
Of course, Garfield isn't the only Spider-man actor to notably lip sync recently. New Spider-man Tom Holland memorably showed off his own skills to Rihanna's umbrella before the MTV TV & Movie Awards.
Nor is he the first celeb to lip sync alongside drag queens. Back in February, Cate Blanchett showed up at New York City's Stonewall Inn and put on a show for charity alongside some of the historic bar's resident wig-wearers.
Related: RuPaul's Drag Race Episode 10: Where's Bianca Del Rio When You Need Her?
Carmen Carrera: Showgirl: