RuPaul's Drag Race Episode 10: Where's Bianca Del Rio When You Need Her?
On this episode of RuPaul's Drag Race one of the queens desperately needs some tough love.
---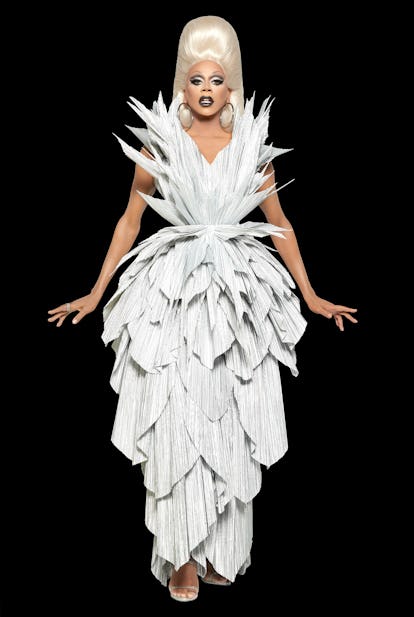 Courtesy of VH1
As the seasons of RuPaul's Drag Race have worn on, one thing that's noticeably softened is the amount of drama and animosity between queens. Obviously, it's not gone completely, but that aspect has seemed muted over the past few seasons, and never as prominently than in the current season. Producers have been accused by certain sensitive segments of the fan base of instigating too much drama in the past, and perhaps have responded by changing both how they pit queens against each other and the types of personalities they cast. Likewise, the contestants themselves have seen how the fan base has negatively reacted to previous villains, and have decided to remain on their best behavior.
Whatever the case may be, the opening scene of this episode makes me wish we had a true bitch in the mix. Never has Drag Race needed it more.
After last week's mask-gate tragedy, the queens return to the workroom temporarily stunned until, of course, Nina's pulls focus back to her. It seems like at this point even she's sick of her own nonsense. Yet the queens react remarkably supportive and kindly even if this is the 50th odd time they've been through this before. Sure, they're sick of it, as Sasha points out, but so is the audience. This aired the Friday night of Memorial Day weekend. No one needed that.
It really makes you wish for a queen from seasons past like Bianca Del Rio, Detox , Willam or even Phi Phi O'Hara was there to put Nina in her place. She either needs some Del Rio-grade tough love or an actual tough bully (aside from her own inner saboteur) to make us feel sorry for her instead of just continually shaking our heads at home.
As for the actual main event, we get the annual makeover episode: the recurring challenge that's not particularly anyone's favorite but is usually entertaining enough to keep around. This year the show goes in house to find its makeover subjects by enlisting the crew, seemingly all straight guys who nonetheless actually know the queens and have more than an idea about what drag is. These episodes in the past have had an awkward aspect of gay men just trying to prove their humanity to straight dudes, and, if nothing else, the choice of the crew eliminates that while still retaining the magic that is the awkwardness of straight men doing drag.
We'll give you five seconds to reminisce about the wedding you planned to either Josh or Rizzo last night. We'd give the daddy-loving types some time, too, but most of the other men appeared to be married or otherwise spoken for and we just can not support such adulterous shenanigans.
Moving on straight to our weekly power rankings or where each queen seems to stand in the competition and how they did this week.
1. Trinity Taylor
It seems only right that Trinity should hold down the top spot at least one week, and it has never been more appropriate than this week. The queen has surpassed our earliest expectations, and even when she's faded into the background she's jutted back into the spotlight time and time again. While the look she chose for her and Glittefer Days was basic by Trinity standards, it may as well be advanced drag for a straight man. It's one thing to put your guy in a flow-y dress, and quite another to put him in a bathing suit and the requisite duct tape.
2. Shea Coulee
While Shea still seems like the most obvious winner, she will not get through this competition Bianca or Violet-style without having to lip sync. After a near flawless performance so far, we're introduced to two of Shea's weaknesses: attaching a wig to someone else's head, and, frankly, giving a killer lip sync. No question she deserved that win, but it was hardly something to write home about.
3. Sasha Velour
Ah, Sasha really, really wanted her first solo win. Not only did she pick what seemed like Ru's favorite crew-member, she had quite a few tricks up her sleeve (and on her back) as well. And she almost had it.
4. Peppermint
Peppermint's fatal miscalculation: she decided to play matchy-matchy with the silhouettes of the dresses without a thought in the world for how those patterns would play together (take it from Destiny's Child outfits: it's almost always better to go the opposite route). Still, we would very much attend any bingo night hosted by Wintergreen, the makeover queen who deserves her own trophy.
5. Alexis Michele
For those of you outside of New York City (or, uh, Miami Beach) when Zaldy likened Alexis's costume to Ricky's NYC that's somehow worse than saying "Go back to Party City where you belong," because Ricky's doesn't even have a costume section quite as in depth as Party City's.
6. Nina Bo'nina Sasha Pivovarova Brown
We'll just remember the times we watched the show in a bar earlier in the season and the crowds went absolutely crazy anytime Nina walked down the runway and leave it mostly at that. She made her mark, so here's hoping she finds some healing and feels some of that love.
Related: RuPaul's Drag Race Episode 9 Power Rankings: The Inner Saboteur is the Real Villain of This Season
Bella Hadid, Jessica Chastain, and Elle Fanning Lead the Charge at the 2017 Cannes Film Festival
Bella Hadid in Alexandre Vauthier and Bulgari at the premiere of Ismael's Ghosts opening the Cannes Film Festival in Cannes, France, May 2017.

George Pimentel/Getty Images
Jessica Chastain in Alexander McQueen at the premiere of Ismael's Ghosts opening the Cannes Film Festival in Cannes, France, May 2017.

George Pimentel/Getty Images
Marion Cotillard at the premiere of Ismael's Ghosts opening the Cannes Film Festival in Cannes, France, May 2017.

Anthony Harvey/Getty Images
Robin Wright in Saint Laurent by Anthony Vaccarello at the premiere of Ismael's Ghosts opening the Cannes Film Festival in Cannes, France, May 2017.

Anthony Harvey/Getty Images
Julianne Moore in Givenchy couture at the premiere of Ismael's Ghosts opening the Cannes Film Festival in Cannes, France, May 2017.

George Pimentel/Getty Images
Lily-Rose Depp in Chanel at the premiere of Ismael's Ghosts opening the Cannes Film Festival in Cannes, France, May 2017.

George Pimentel/Getty Images
Uma Thurman in Atelier Versace and Bulgari at the premiere of Ismael's Ghosts opening the Cannes Film Festival in Cannes, France, May 2017.

Ki Price/Getty Images
Marion Cotillard in Y/Project at the photocall for Ismael's Ghost at the Cannes Film Festival in Cannes, France, May 2017.

Anthony Harvey/Getty Images
Elle Fanning in custom Vivienne Westwood at the premiere of Ismael's Ghosts opening the Cannes Film Festival in Cannes, France, May 2017.

George Pimentel/Getty Images
Aymeline Valade in Pallas at the premiere of Ismael's Ghosts opening the Cannes Film Festival in Cannes, France, May 2017.

ALBERTO PIZZOLI/Getty Images
Susan Sarandon in Alberta Ferretti at the premiere of Ismael's Ghosts opening the Cannes Film Festival in Cannes, France, May 2017.

Gisela Schober/Getty Images
Naomie Harris in Gucci at the premiere of Ismael's Ghosts opening the Cannes Film Festival in Cannes, France, May 2017.

George Pimentel/Getty Images
Jessica Chastain in Roksanda at the jury photocall at the Cannes Film Festival in Cannes, France, May 2017.

Anthony Harvey/Getty Images
Fan Bingbing in Elie Saab couture at the premiere of Ismael's Ghosts opening the Cannes Film Festival in Cannes, France, May 2017.

Pascal Le Segretain/Getty Images
Director Maren Ade at the premiere of Ismael's Ghosts opening the Cannes Film Festival in Cannes, France, May 2017.

Pascal Le Segretain/Getty Images
Charlotte Gainsbourg, center, in Saint Laurent at the premiere of Ismael's Ghosts opening the Cannes Film Festival in Cannes, France, May 2017.

Andreas Rentz/Getty Images
Hailey Baldwin in custom Twinset at the premiere of Ismael's Ghosts opening the Cannes Film Festival in Cannes, France, May 2017.

Venturelli/Getty Images
Daria Strokous in Dior at the premiere of Ismael's Ghosts opening the Cannes Film Festival in Cannes, France, May 2017.

Gisela Schober/Getty Images
Emily Ratajkowski in custom Twinset and Bulgari at the premiere of Ismael's Ghosts opening the Cannes Film Festival in Cannes, France, May 2017.

Ki Price/Getty Images
Sara Sampaio in Zuhair Murad couture at the premiere of Ismael's Ghosts opening the Cannes Film Festival in Cannes, France, May 2017.

Ki Price/Getty Images
Eva Herzigova in custom Roberto Cavalli at the premiere of Ismael's Ghosts opening the Cannes Film Festival in Cannes, France, May 2017.

Epsilon/Getty Images
Uma Thurman in Giuseppe Zanotti ready-to-wear and Tod's at the premiere of Loveless at the Cannes Film Festival in Cannes, France, May 2017.

Venturelli/Getty Images
Julianne Moore in Chanel couture at the premiere of Wonderstruck at the Cannes Film Festival in Cannes, France, May 2017.

Antonio de Moraes Barros Filho/Getty Images
Amber Valletta in Mulberry at the premiere of Wonderstruck at the Cannes Film Festival in Cannes, France, May 2017.

Pascal Le Segretain/Getty Images
Elle Fanning in Temperley London at the Cannes Film Festival in Cannes, France, May 2017.

Jacopo Raule/Getty Images
Adriana Lima in Naeem Khan bridal at the premiere of Loveless at the Cannes Film Festival in Cannes, France, May 2017.

George Pimentel/Getty Images
Emily Ratajkowski in Brock Collection at the Cannes Film Festival in Cannes, France, May 2017.

Jacopo Raule/Getty Images
Michelle Williams in Louis Vuitton at the premiere of Wonderstruck at the Cannes Film Festival in Cannes, France, May 2017.

Epsilon/Getty Images
Thylane Blondeau in Michael Kors Collection at the Cannes Film Festival in Cannes, France, May 2017.

Marc Piasecki/Getty Images
Sara Sampaio at the Cannes Film Festival in Cannes, France, May 2017.

Marc Piasecki/Getty Images