Cate Blanchett Lip Synced With Some Drag Queens Last Night at Stonewall
Oscar winner Cate Blanchett does not need Lip Sync Battle. She just needs some serious contour, drag queens, and a good cause.
---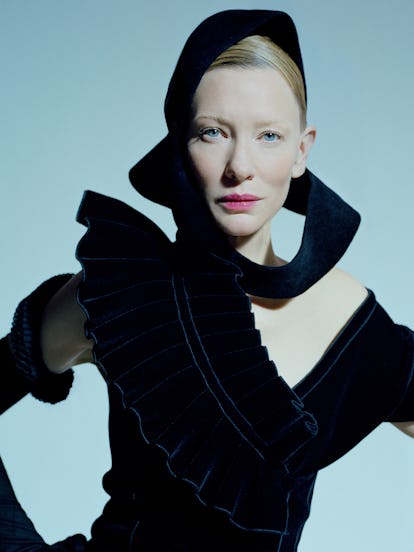 Cate Blanchett isn't like most other stars.
Celebrities attempting to lip sync their way through songs for fun (and publicity) are all over the place right now. Mostly on Jimmy Fallon's The Tonight Show or its Spike TV spinoff Lip Sync Battle, but neither seem quite right for Blanchett's lip syncing debut.
This is the woman who picks up awards after films like they were mints after dinner, who is the co-artistic director of the Sydney Theatre Company, who still finds time to lend her talents to cutting-edge video art, and who is currently starring on Broadway in The Present.
Naturally, Cate Blanchett decided to jump on the lip sync train by doing it in the most culturally and artistically authentic way possibly. Because who first pioneered lip syncing as a performance art in the first place? That's right, drag queens.
So, of course, Blanchett decided to debut her lip-moving talent alongside queens last night at a gay bar—and not just any gay bar, but the historic Stonewall Inn in New York City. Yes, the actress put on a pair of her biggest chandelier earrings, her blingiest gold push-up bra, and her boldest red lipstick to take the bar's stage last night and mouth her way through "You Don't Own Me."
She later appeared on stage, in a pussy hat from the Women's March on Washington no less, to appear as back-up for a queen performing a politically-tinged parody of Adele's "Hello." "Until you listen to us, we'll never leave you alone," mouths said queen. "When I call Paul Ryan he never seems to be home."
And here's some clearer footage of Blanchett meeting and greeting fans after the show (as any respectable drag queen does). If you've ever wanted to see Blanchett in contour more over-the-top than a Kardashian, here's your chance.
Blanchett, as it turns out, was not lip syncing for her own life, but rather for the lives of children. The special performance was a benefit for the Newtown Action Alliance, a group started by residents of Newton, Connecticut after the 2012 massacre at Sandy Hook Elementary School to provide resources and comfort to those affected by gun violence.
Watch: Cate Blanchett Saw Her First Sex Scene in Third Grade:
Photos: Cate Blanchett is Already Getting Lifetime Achievement Awards
Cate Blanchett. Photo by bfa.com.
Ralph Fiennes and Cate Blanchett. Photo by bfa.com.
Rooney Mara. Photo by bfa.com.
Diane Kruger. Photo by bfa.com.
Martin Scorsese. Photo by bfa.com.
Bobby Cannavale and Rose Byrne. Photo by bfa.com.
Sarah Paulson. Photo by bfa.com.
Jane Krakowski. Photo by bfa.com.
Raj Roy. Photo by bfa.com.
Jill Kargman. Photo by bfa.com.
Vanessa Traina Snow. Photo by bfa.com.
Lily Donaldson. Photo by bfa.com.
Todd Haynes. Photo by bfa.com.
Linda Fargo. Photo by bfa.com.
Jen Brill. Photo by bfa.com.