The First Trailer for Spider-Man: Homecoming Is Here
There's a new Spidey in town, and he's bringing Zendaya and Laura Harrier with him.
---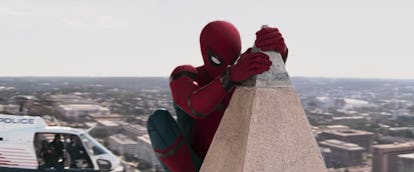 Courtesy of YouTube/Jimmy Kimmel Live
Over the last decade and half, we've seen a lot in the way of Spider-Man, the nerdy, web-shooting, wall-climbing Marvel classic. Tobey McGuire first introduced us to a film version of the masked vigilante back in 2002 and ruled the box office with Kirsten Dunst as his Mary Jane for three films. More recently, though, Spidey fans have seen Andrew Garfield (plus his real-life ex-girlfriend Emma Stone as Gwen Stacy) don the red and blue suit in the slightly different, alternate universe version, The Amazing Spider-Man and its sequel.
But now, we're in for a reimagined, younger Peter Parker in the latest Spider-Man film: Spider-Man: Homecoming. Twenty-year-old Tom Holland plays the title character — we caught a glimpse of him in Captain America: Civil War — and from the looks of the first trailer, released online Friday, we're in for something unique. Like past films, there's tons of web-slinging, building-swinging, villain-foiling and pining after a new teenage beauty. This time around it's the character of Laura Allan, a character who has bounced around the comic books for decades, but is only now making her big screen debut. She's being played by former soap opera actress Laura Harrier, who you might remember from one of Kenzo's recent experimental web viral videos. Zendaya is also in tow too, playing a character named Michelle. For lack of a better explanation, she seems something like the Hermoine to Peter Parker's Harry Potter. Considering all the accolades and interesting work both Dunst and Stone have gone on to since it's worth keeping an eye on both Harrier and Zendaya's film career. There's just something about those spider women.
Oh, right, there's also the fact that this film is connected to Marvel's official cinematic universe. There's even some words of wisdom from Robert Downey Jr. in his Iron Man role. On how to become an Avenger, Stark advises, "Just don;t do anything I would do. And definitely don't do anything I wouldn't do. There's a little gray area in there and that's where you operate." Helpful.
Naive Peter, naturally, takes this to mean that he should go after the major bad guy, the Vulture, played by Michael Keaton, a former Batman, in order to impress the team of famed heroes. It's probably the closest we'll get to Spider-man vs. Batman on the big screen.
While we wait for Spider-Man: Homecoming to hit theater on July 7, 2017, check out the full first trailer, below:
See W's most popular videos: