The Art Director
With his new film, 12 Years a Slave, the artist Steve McQueen is suddenly Oscar material.
---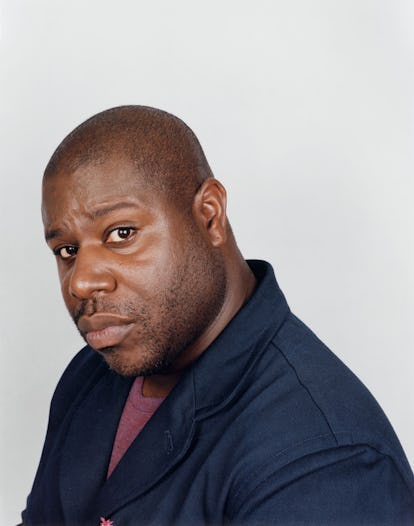 Photographer: Stefan Ruiz Stylist: Michael Kucmeroski
"I don't see much of a contrast between the art world and the movie world," said the artist Steve McQueen on a crisp Saturday in early fall. He was sitting in the wine bar of the Conrad hotel in downtown Manhattan, and he should have been tired. He was near the end of a whirlwind two weeks of promotion and screenings at festivals from Telluride to Toronto, where his new film, 12 Years a Slave, won the top audience prize, a very good indicator of Oscar success. But McQueen was exuberant and free with his opinions. Like most directors, he has a keen sense of what interests him and what doesn't—his mind is fast and certain. "For me, the discussion of art versus film is meaningless," he said. McQueen, who has intense, dark eyes that are difficult to read, was wearing a royal blue knit double-breasted jacket and wide black trousers that were cropped to show at least five inches of lower leg. The contrast between the whimsy in his attire and the gravity of his tone was intriguing. "My first film was Hunger," he said, referring to his 2008 project based on the story of the IRA activist Bobby Sands, who starved himself to death to protest the treatment of the Irish at the hands of the British. "That subject could have ended up a sculpture, but the subject was asking to be a narrative. So it ended up a feature film, and that was that. For me, art is poetry, and film is a yarn—a novel, if you like. I didn't go into film because I wanted to make films; the subjects I was interested in wanted to be films."
By "films," McQueen means feature-length movies that are shown in theaters, as opposed to galleries or museums. As an artist, he has made predominantly short films, appearing in many of them. McQueen, 44, grew up in West London. His parents, who are from the West Indies, moved to London in the early '60s. "My history is about the diaspora, the spread of the black man to the West," he said, drawing a connection with Solomon Northup, the protagonist of 12 Years a Slave. "The only difference between me and someone from America is my relatives moved to London," McQueen said. "Slavery was global; it was not just in the States."
When he was a teenager, McQueen played soccer and, briefly, worked as a model for magazines like i-D. He started to think about film as an art student at Goldsmiths college, University of London. "I had a Swiss girlfriend named Anouk Sugar, after the French film star Anouk Aimée, and she took me to art house films," he recalled. "Until then, going to the movies was only a way to get girls—it was a ritual that allowed you to get to first base. But when I went to the movies with Anouk, I started looking at images. It changed me. We watched everything from Jean Renoir to Rainer Werner Fassbinder to Jean Vigo to Billy Wilder. To be young and in love and watching films, that was an amazing thing."
In 1993, McQueen enrolled in film school at New York University. He lasted three months. "I left," McQueen said, with his usual lack of self-doubt. "I wanted to experiment, and they wouldn't allow it. I was used to art school, where you rummage around and make mistakes and find yourself in the process." But the experience seemed to have inspired him. That year he conceived Bear, a black and white 16-millimeter short focused on a wrestling match between two naked black men, one of whom is McQueen. The film is a compelling mix of homoeroticism, malevolence, and race; it straddles the thin line between love and hate, aggression and seduction—themes that have echoed throughout his work. In 12 Years a Slave, the plantation owner Edwin Epps (played brilliantly by Michael Fassbender, who has starred in all three of McQueen's full-length features) is repulsed by his deep attraction to Patsey, a slave on his plantation. Epps's lust curdles and turns into rage; the tension is signature McQueen. In Bear, the two men might kiss passionately or beat the living daylights out of each other. Both outcomes are possible.
McQueen's preoccupation with warring emotions continued to play out in successive short films like Five Easy Pieces (featuring a woman on a tightrope), Deadpan (in which a house collapses around McQueen, leaving him standing in rubble), and Charlotte (an intense close-up of McQueen poking his finger into Charlotte Rampling's eye). "Some people said her eye looked like a vagina," McQueen said about the latter. "I was trying to say that tenderness and violence can be very close together."
In 1998 he made a kind of art action film. He outfitted an industrial metal barrel with three cameras and rolled it through the streets of Manhattan. The resulting room-size triptych allowed the viewer to experience the world from inside the moving oil drum. Drumroll, as the piece is called, is considered to be one of the reasons McQueen won the 1999 Turner Prize, Britain's most prestigious art award, beating the artist Tracey Emin, who was the front-runner that year. "Tracey had entered the competition with a stained, unmade bed surrounded by the detritus of sex and drink," said a friend of both artists who did not want to offend either. "Steve's work, meanwhile, commented on larger issues of race and strife. It felt more urgent and less privileged."
To underscore that point, McQueen, who was living in Amsterdam with his wife, Bianca Stigter, a cultural critic, and their two children, went to Iraq as an official "war artist" in 2003. Soon after, he created Queen and Country, a series of stamps commemorating 160 servicemen who had lost their lives in the war. Each stamp juxtaposed a photo of a dead soldier with the head of Queen Elizabeth. While the stamps were shown in museums, they were never turned into postage, as he had planned. "That was my goal," McQueen said, at the time. "The fact of the matter is, we sent people to war, and they died in that war. I'm just visualizing their memory."
Hunger was a similar attempt to pay homage to a man who died for a cause. "I was fascinated by Bobby Sands," McQueen told me. "I wanted people to remember that story. The hard part was finding the right actor to play Sands." During casting, McQueen met Fassbender, who is half Irish and had strong opinions about Sands's legacy and the script. "At first, I didn't like Michael. I thought he was cocky—who is this guy telling me about my movie?! I went, 'Next!' But my casting director asked him to come back; we put him at the end of the queue, and when he read the second time, he was amazing. I was won over. To me, he's the best actor of his generation."
McQueen said he took to filmmaking naturally. Despite his lack of experience in the long form, he did not storyboard Hunger or prepare in any particular way. "I could see the film in my head," he said matter-of-factly. "As an artist, you are often alone, but I found I loved being with the cast and crew." He smiled. "Of course, I still like doing things my way."
Hunger premiered at Cannes in 2008, where it received a thunderous standing ovation. "When we walked up the steps of the Palais, we were unknowns, and after that movie screened, our lives were instantly changed," Fassbender told me. "I turned to Steve and said, 'This is as good as it gets.' " Despite the fact that the film was not in official competition at the festival, McQueen won the Camera d'Or, the top prize for a first-time feature filmmaker. He followed it up in 2011 with Shame, starring Fassbender as a sex addict and lost soul. The film, which divided critics and audiences with its clinical depictions of sex, was a chilling portrait of urban dislocation. At that time, McQueen said, he already had 12 Years a Slave in the back of his mind. "I had this idea of a free man who gets pulled down from the North and is sold into slavery in the South. My wife said, 'Why don't you read this book, 12 Years a Slave?' And there was my idea!"
The narrative of the film mostly follows Northup's memoir, which was first published in 1853. But McQueen and his screenwriter, John Ridley, also brought in many of the themes that had resonated in McQueen's early short films: Principally, how do you hold on to your individuality in an -irrational, violent world? "There are so many things that make life difficult," McQueen said. "Being human is not easy. And by the word 'human,' I mean being aware of your unique personality and sense of self." -McQueen's larger comment, on slavery as a universal metaphor for injustice, is crystallized in one particularly terrifying scene: After a small fight with an overseer, Northup is hung from a tree by a noose and is left to dangle precariously, his feet barely touching the ground, for an entire day while his fate is decided. In the background, other slaves go about their chores, children play, and plantation life carries on. People like to believe that under such circumstances they'd be superheroes, but, ultimately, they wouldn't, McQueen insisted. "They would think instead about their own survival. That's what can do: It can strip humanity from anyone. If art can make that point, then I've done my job."
Chiwetel Ejiofor An extremely versatile actor, Ejiofor, 36, has appeared as a drag queen in Kinky Boots, a CIA agent in Salt, and a jazz pianist in Melinda and Melinda. To play the role of Solomon Northup, a free man who is duped and then sold into slavery, Ejiofor, who is English, prepared for 10 months. In one of the movie's most powerful scenes, he is left for what feels like an eternity to hang from a tree by a noose, his toes barely touching the ground. "When we filmed that sequence, it was around 108 degrees," Ejiofor recalled. "In that moment, I understood how slavery decimated men's will and their souls.
Prada suit and shirt; Balenciaga shoes.
Adepero Oduye In 2011, Oduye, who grew up in Brooklyn, won awards for her portrayal of a young lesbian struggling with her identity in the film Pariah. In 12 Years a Slave, she plays Eliza, a free woman who, like Northup, is sold into slavery. Separated from her young children, she refuses to accept the circumstances of her life. The 35-year-old actress, who had auditioned to be an extra in Pariah, brings a stubborn sense of misery and outrage to Eliza's plight. "Her situation would destroy anyone," Oduye said.
Vionnet gown.
Michael Fassbender 12 Years a Slave is Fassbender's third collaboration with Steve McQueen: In Hunger, he starved himself to play the IRA activist Bobby Sands; in Shame, he portrayed a successful New York advertising executive who is addicted to sex. This time, the 36-year-old Irish-German actor appears as Edwin Epps, a violent, alcoholic, and deeply religious Louisiana plantation owner who receives the slave Northup as payment on a debt. Instead of making Epps an unmitigated horror, Fassbender portrays him as a conflicted, seductive, and vindictive man who longs to rule his world absolutely. "Epps fears Solomon," Fassbender said. "He knows that Solomon may be smarter than he is. His violence stems from that sense of inadequacy."
Dior Homme suit and shirt; Tom Ford shoes.
Lupita Nyong'o McQueen saw more than 1,000 aspiring actresses in his search to cast Patsey, the beautiful beleaguered slave who is both the object of Epps's adoration and the source of his torment. "I had almost given up," McQueen explained. "And then Lupita walked in. Immediately, I knew she was the one. She had the innate grace that I was looking for." Nyong'o, 30, who was born in Mexico, raised in Kenya, and is a graduate of the Yale School of Drama, had not yet acted in a feature film. The role has been a runaway success for her in more ways than one: Lately, she has become a darling of the fashion world—and a particular favorite of Prada.
Chanel dress.
Styled by Felicia Garcia-Rivera. Hair by Anna Bernabe for Hanz de Fuko Haircare and Chanel Homme; grooming by Jordan Long for Clarins at Exclusive Artists; makeup by Fulvia Farolfi for Chanel; manicures by Alicia Torello for Zoya at the Wall Group.