Zendaya Is Next, Next, Next!
One of W's 3 April 2016 cover stars mouths off.
---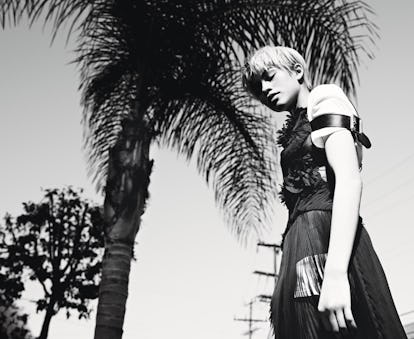 Zendaya Coleman, 19, who goes by her first name (pronounced Zen-DAY-a), is known to tweens everywhere as the hip-hop dancing star of Shake It Up and the ­ultra-cool spy in K.C. Undercover, both on the Disney Channel. But after walking the red carpet at the 2015 Academy Awards in a slinky, off-the-shoulder, white Vivienne Westwood gown and cascading dreadlocks, she became a lightning rod for diversity in fashion. Commenting glibly (or, as some declared, in a hostile and racist way) about her look, E! News anchor Giuliana Rancic said, "I feel like she smells like patchouli. Or weed." Zendaya responded on Instagram with: "There is already a harsh criticism of African-American hair in society without the help of ignorant people who choose to judge others based on the curl of their hair."
Read Lynn Hirschberg's interviews with Shipka's cover co-stars Willow Smith and Kiernan Shipka.
Suddenly Zendaya found herself both a youth spokesperson and a fashion icon. Luckily, she has the looks (she's nearly six feet tall and both tomboyish and elegantly feminine), style (she effortlessly fuses street fashion with couture), and personality (she's eloquent and direct) to hold the world's interest. When she was growing up in Oakland, California, Zendaya's father, who was a teacher, wanted her to be the first woman in the NBA. But she had other plans, landing Shake It Up before she was even a full-fledged teenager.
She showed up to our shoot accompanied by her mom and their 14-week-old miniature Schnauzer. "His name is Noon," Zendaya told me. "My last dog was named Midnight, and he died not long ago. I think, more than anything else, my dog's death has made me grow up. I find myself thinking about the world in a more serious way."
Lynn Hirschberg: Tell me about your special-edition Zendaya Barbie. I'm really jealous. Zendaya: After my Oscar moment, Mattel contacted us. They specifically wanted to make a Barbie that looked like me, in my exact outfit from the Oscars. I was so excited that Barbie wanted to diversify their brand. Now all little girls can have a Barbie that looks like them. My Barbie is in a box. I never let anyone touch her.
LH: Did you play with Barbies? Z: I didn't. They didn't look like me, so I didn't play with them. As a kid, my main interest was dancing. When I was 8 years old, I was in a hip-hop troupe.
Dream Teens Zendaya, Willow Smith, and Kiernan Shipka Mouth Off
LH: What was your first audition? Z: A school play: James and the Giant Peach. I tried out for the lead, but I ended up being cast as the silkworm. I didn't have any lines, but you know what? I killed it. [Laughs] I was a worm, but I was reacting and giving face, and I was the best dang silkworm there ever was.
LH: I first saw you when you were a contestant on Dancing With the Stars. You came in second, but I thought you should have won. Z: Thanks. I'm not going to lie: It was a really, really hard thing to do. But now I can say I'm ballroom-trained.
LH: Did they try to cover you in sequins? Z: Everything is really bedazzled. The only thing I refused to do was get a spray tan. I said, "Guys—I'm half-black. I naturally glow from melanin."
LH: You are currently recording an album. What is your go-to karaoke song? Z: Anything by Michael Jackson. I know all the lyrics. But not "Man in the ­Mirror"—that song makes me too emotional. I'll just start crying.
LH: Is there a film that makes you cry? Z: Fruitvale Station. Coming out of Oakland, the story of Oscar Grant III, who was killed by a police officer, had a lot of resonance for me. And my mom taught at Fruitvale Elementary School. I remember his death. They had to shut my school down because of riots. I think it's important for people to see that film.
LH: Who in the movies do you have a crush on? Z: In the non-weirdest way possible, Johnny Depp! Leonardo DiCaprio! Idris Elba! I have talent crushes. My room used to be full of Michael Jackson posters. Now I have a poster from the musical The Band Wagon.
LH: Fred Astaire and Cyd Charisse—you have legs like hers! Z: I like to study her moves. It's my dream to be in a movie like that. I feel like if I can do hip-hop and something more classical, it would be the best. I mean, why limit yourself? I feel like I can do anything.
Find out who W's three cover stars–Zendaya, Willow Smith, and Kiernan Shipka–have crushes on here: