Exclusive: 2 Chainz Collaborates With Trouble Andrew, aka GucciGhost, on a Line of Apparel
To coincide with the release of his upcoming album, "Pretty Girls Like Trap Music."
---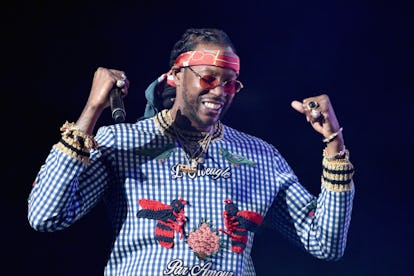 Earl Gibson/BET/Getty Images
Depending on who you talk to, 2 Chainz is arguably just as much a household name as, say, Gucci. The soon-to-be 40-year-old rapper may not have the same shimmer as the Italian fashion house, nor the label's sugar-coated hits, but he's got similar staying power, and has been a steady influence in hip-hop since the beginning of his career in the late 1990s. He's a beloved lyricist and artist, as opposed to a personal brand, and he's been low-key collaborating with Kanye West since the beginning rather than sitting front row at Yeezy fashion shows.
In 2017, however, 2 Chainz and Gucci have a lot more in common than legacy. To coincide with the release of his upcoming album, Pretty Girls Like Trap Music, the rapper has teamed up with Gucci's favorite graffiti artist, Trevor Andrew, a.k.a. the GucciGhost, on an exclusive line of merch. The resulting hoodies, shirts, and baseball hats feature 2 Chainz's name in the now-signature GucciGhost dripping font, all painted in the now-ubiquitous Millennial pink. In sum, they're the physical embodiment of bait, but the album title already told you that.
2 Chainz has been here watching the whole time, and now he's giving you exactly what he, and you, know you want.
The paths of GucciGhost and 2 Chainz are also not dissimilar. Both began their careers as humble artists, only to find themselves embraced by big names and big brands when the zeitgeist saw fit. They also occupy this now sought-after space between high and low, glossy and messy, and continue to avoid the mainstream demands and needs while simultaneously profiting off of them.
Pretty Girls Like Trap Music, which drops June 16, features just about every big name in music right now—Gucci Mane, Migos, Travis Scott, Nicki Minaj, Swae Lee of Rae Sremmurd, Drake, and Pharrell Williams—proving both 2 Chainz's lasting reverence in the music industry as well as his knack for natural collaborations.
As for the 2 Chainz x GucciGhost merch, you can get your hands on it at a pop up location this Wednesday, June 7 from 3 – 6 p.m. on 54 Green Street in New York City. Starting Thursday, June 8, the pieces will also be available for purchase online, but only for 24-hours at a time.
See what's trending on W video: