The Party Never Stops For Rae Sremmurd
With the release of their second album "SremmLife 2" today, brothers Khalif "Swae Lee," 23, and Aaquil "Slim Jxmmi" Brown, 24, are more "turnt up" than ever before.
---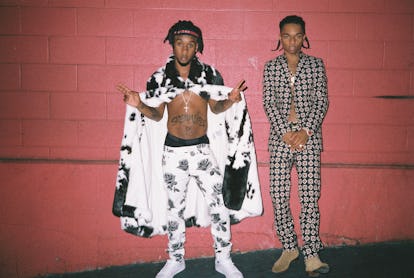 "We know you came here to get turnt," said the DJ opening for Rae Sremmurd at the "SremmLife 2" album listening party hosted by VFiles a few weeks ago in New York. "But we need you to not get this turnt." He explained that on the ground floor of this particular Soho loft was New York Lighting Co., and that when the crowd jumped up and down, they shook the ceiling below, which was lined with fragile chandeliers. His plea fell to deaf ears, however, when brothers Khalif "Swae Lee," 23, and Aaquil "Slim Jxmmi" Brown, 24, took the stage, jumping. They opened with one of their new singles, "Start a Party," and the crowd became more lit than, well, a lighting store, turning the hardwood floor into a trampoline.
After producer Mike WiLL Made-It signed the brothers in 2014 to his label Ear Drummer Records, their party-friendly singles "No Flex Zone" and "No Type" quickly made it to the top of the charts. It all seemed preordained, but Rae Sremmurd's road to fame was by no means easy.
Born in California, the Brown brothers moved around a lot; their mother was in the U.S. Army, and they never had a relationship with their father. In middle school, the family settled in Tupelo, Mississippi with a new stepfather, who sold drugs to support them. Swae Lee and Jxmmi kept out of trouble though, focusing on making music. "We made tracks together in our room," said Swae Lee. Eventually, they started a group (with one other member) called Dem Outta St8 Boyz, sharing their homemade music videos with a small audience on YouTube.
When their mother and stepfather's relationship went south, Swae Lee and Jxmmi continued to tune everything out with music. One day, they decided to leave their stepfather's house for good, and moved to an abandoned home they found nearby. It had electricity, but no hot water. It was there that the teenagers threw some notorious parties, which they would now now call "SremmLife" parties.
"SremmLife is doing what you want," declared Jxmmi. "If you like reading books, that's your SremmLife. If you like throwing glass at the wall and that turns you up and gives you energy — SremmLife."
"SremmLife is being yourself," echoed Swae Lee. "You're not comparing yourself to nobody else. You're living life. You're turnt up."
It was the SremmLife attitude that kept the brothers pressing forward. In 2011, when Swae Lee was 18, they decided to move to Atlanta in the hopes of making more hip-hop connections. They fell in with Mike Will's crew, the Eardrummers. With his help, they started to land more serious gigs, but eventually Jxmmi was forced to return to Mississippi to get a job. He worked 12-hour days in a factory, feeding king-sized mattress covers through a sewing machine.
After eight months, Jxmmi quit his job and the boys gave Atlanta another go. This time, they had a breakthrough musically, and finally, in 2014, Mike Will signed them and officially changed their name to Rae Sremmurd.
Photo by Gunner Stahl. Produced by Biel Parklee.
Photo by Gunner Stahl. Produced by Biel Parklee.
Photo by Gunner Stahl. Produced by Biel Parklee.
Photo by Gunner Stahl. Produced by Biel Parklee.
Photo by Gunner Stahl. Produced by Biel Parklee.
Photo by Gunner Stahl. Produced by Biel Parklee.
Photo by Gunner Stahl. Produced by Biel Parklee.
Photo by Gunner Stahl. Produced by Biel Parklee.
Photo by Gunner Stahl. Produced by Biel Parklee.
Photo by Gunner Stahl. Produced by Biel Parklee.
"Hey! Mike Will!" The now mega-producer appeared in the lobby of the Dream Downtown, where Rae Sremmurd and co. were staying for their "SremmLife 2" New York press tour. He made faces at Swae Lee and Jxmmi through the window and they giggled like toddlers being entertained by a parent. Next to Mike Will stood the brothers' manager, Migo, who's also been with them since their days in Atlanta.
"We ain't strangers on the scene now; the whole world knows us," Swae Lee said with a smile. It was the day after the "SremmLife 2" VFiles event and he wore skinny jeans and suede Saint Laurent boots, despite the New York summer heat. Each of his fingers was adorned with an enormous ring; around his neck hung a diamond-encrusted gold chain that read, "Swae is bae."
"Our sound is more grown," added Jxmmi, who manspread next to Swae Lee in Hood by Air jeans and a green Gucci jacket with a snake on it. On his head, he wore Gucci ski goggles like a headband. (Asked if he had ever been skiing before, he said yes, and that he really f—ing hated it.) "The first album was an introduction to us," Jxmmi continued. "'SremmLife 2' is like, "'Guess who it is?'"
The first "SremmLife" album, which dropped in 2015, was rich with hits. Early singles like, "No Flex Zone" and "No Type" solidified Swae Lee and Jxmmi's platinum status and landed them remixes with Nicki Minaj, Drake, and Young Thug. Last year, Swae Lee even co-wrote the hook of Beyoncé's "Formation."
"My only regret is when all those female stars brought me out, I should have just kissed them instead of being so nice," said Swae Lee.
Today, the brothers live together in their own house in Encino, California with plenty of hot water. In Swae Lee's room, he has a painting of himself hanging over his bed and two wooden cutouts. One says: "This is the life." The other: "This is happening." Jxmmy, however, was overwhelmed by the prospect of decorating, and decided instead to buy the entire "Batman vs. Superman" action figures collection.
"My style is eccentric," said Jxmmi, who can often be found in a pink fur Gucci coat. "I really want to be a part of the Gucci show this year," he continued. "If they could make that happen, that would be great. Look, I know I look amazing in Gucci."
When it comes to fashion, Jxmmi also wants to make "SremmWear" merch. "My merch would say: 'I wear condoms,'" he declared. "Another one would say, 'Free the pot!'"
Swae Lee, on the other hand, goes on about quality and fit. This dichotomy in taste also translates to real life — Jxmmi is the talker while Swae Lee is more thoughtful. For example, when asked who inspires them musically, Swae Lee said Adele, and Jxmmi said himself.
Clearly, SremmLife has changed considerably from what began in the basement of an abandoned house. Thanks to the success of their first album, the brothers are now living the high life — although flying private makes them nauseous. ("My stomach, bro!" said Swae Lee.)
And yet despite all this acclaim, there still exists a significant contingent of old-schoool critics, artists, and fans who believe that young, seemingly happy-go-lucky rappers like Rae Sremmurd are tainting the history of hip-hop. They can't freestyle, they say. They don't write their own lyrics, they say. They're just in it for the fame and the parties. One of Rae Sremmurd's fiercest critics, New York radio host Ebro Darden, called for Complex to strip their debut album of its number three ranking on its best of 2015 list. He also wrote on Twitter: "Just swag rappin in 2016 is zzzzzz."
"I want to tell them we're not gonna stop," said Swae Lee of his haters. "We're working just like you are. We're just cool guys trying to be successful."
"'If I was you, I would hate on us too," added Jxmmi with a laugh. "We have way too much swag! We're too fresh! We're doing too much major stuff in this generation. We're like the Renaissance."
True to the SremmLife mantra, Rae Sremmurd doesn't give a f— what you think. That won't change, despite their claims to having grown: "I got no more shyness," said Jxmmi. "I'm more expressive. I have more confidence. More dexter-i-t-y!"
As evidenced by the louder, grittier sound of "SremmLife 2," the party has swollen significantly as well. In comparison, their first album feels like an excellent pre-game with more laidback tracks like, "This Could Be Us," that unfurl languidly like a slow puff-puff.
In "SremmLife2," Swae Lee and Jxmmi are shouting over their own music; their youthful high pitch now hits a scratchy, breathless peak. They've also recruited artists like Lil John to help them "set the roof on fire" — a lyric in their first single that repeats over and over.
"The last album wasn't as ratchet," said Jxmmi of "SremmLife." "This one is just fun!"
"'SremmLife 2′ is ratchet, but it has more than that," added Swae Lee. "You can hear us hitting melodies and different types of beats. It's R&B, pop, rap, everything."
At the end of the day, a good party is still a good party, though. "You need a higher ratio of women to guys. Alcohol. Balloons. And beer pong," said Jxmmi. "Beer pong is life."