Kendall and Kylie Jenner Get Trolled By Arcade Fire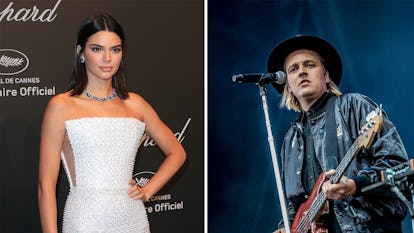 Antonio de Moraes Barros Filho / Getty Images/Photonews/Getty Images
Who's upset with Kendall and Kylie Jenner today? Apparently Canadian Indie Rock heroes Arcade Fire, because apparently it was just their turn.
If the long holiday weekend is affecting your memory, you may or may not recall that last week Kendall and Kylie faced some significant backlash over their "vintage" T-shirt collection. The Kendall + Kylie label T-shirts—which featured glamorous photos of the sisters juxtaposed next to or over musical icons such as the Notorious B.I.G., Tupac Shakur, Led Zeppelin, Pink Floyd, and Black Sabbath—were immediately met with swift disapproval from the public, with many voicing their disdain for the clear appropriation at play.
Sharon Osbourne, the wife of Ozzy Osbourne, and Voletta Wallace, the mother of the Notorious B.I.G., criticized the sisters in pointed social media posts, and now another of the musicians featured in the shirts, popular indie rock band Arcade Fire, is also fighting back. Though, in a more creative way.
As first reported by The Independent, Arcade Fire used its London show on Sunday evening to sell an official band T-shirt that looked an awful lot like the designs Kendall and Kylie originally debuted. The T-shirt in question features Kendall's face superimposed with the logo from the band's new album, Everything Now, and costs $25, all of which will be donated to charity. (It certainly beats the $125 the Jenners had originally priced their shirts at.)
For what it's worth, the sisters have released a statement to apologize for the T-shirts, which have been permanently pulled from their website. "These designs were not well thought out and we deeply apologize to anyone that has been upset and/or offended, especially to the families of the artists," the statement read. "We are huge fans of their music and it was not our intention to disrespect these cultural icons in any way … we will use this as an opportunity to learn from these mistakes, and again, we are very sorry."
Related: Diddy Keeps "Accidentally" Shading Kylie and Kendall Jenner on Instagram
Kendall Jenner Gets Real: "I'm Weird, I Love My Tits Being Out":