Emmy Awards 2017: Ladies and Gentlemen, Meet the Beautiful People of This Year's Emmys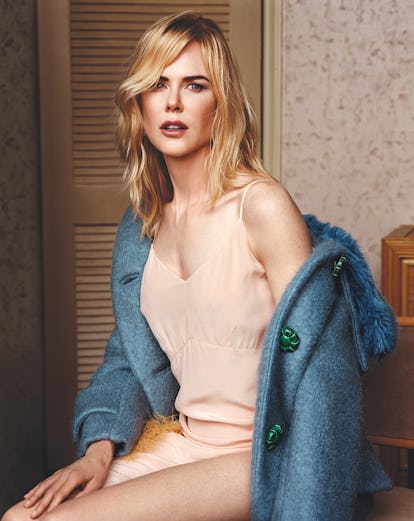 Photographs by Alasdair McLellan, Styled by Edward Enninful; Hair by Shay Ashual at Art Partner; makeup by Diane Kendal for Marc Jacobs Beauty at Julian Watson Agency; manicures by Casey Herman for Dior at the Wall Group. Set design by Stefan Beckman at Exposure NY.
Without a doubt, 2017, like 2016, has been a great year for television, which means that it will most likely be an even better year for the Emmy Awards—especially for the actors and series who have more a chance this time around given Game of Thrones's ineligibility. In fact, it's the newcomers who are already shining with the awards's nominations, which were announced on Thursday: FX's Atlanta and its creator and star Donald Glover, for example, scored several nominations, as has Hulu's timely series The Handmaid's Tale, whose star, our reigning queen of men on TV, Elisabeth Moss, is up against Viola Davis, Claire Foy, Keri Russell, Robin Wright, and Evan Rachel Wood for Best Actress in a Drama. And, Game of Thrones or not, HBO is still standing out: When it comes to limited series, Laura Dern, Reese Witherspoon, Shailene Woodley, and Nicole Kidman all managed to get nods for Big Little Lies. Revisit all four's best moments in W plus more of the nominees, including Thandie Newton, who gave arguably the best robot performance of all time in Westworld; Julia Louis-Dreyfus, who once again stood out in Veep; and Riz Ahmed, who made his mark on both The Night Of and Girls, here.