How Elisabeth Moss Became Our Queen of Men on TV
In The Handmaid's Tale, as well as in Mad Men and Top of the Lake, the actress thrives in worlds dominated by men. And that's totally by her own design.
---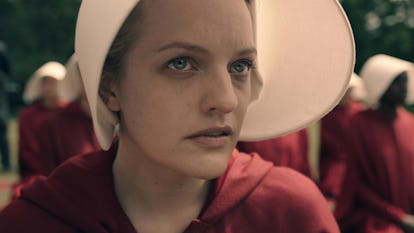 Courtesy of Hulu
For most of the Handmaid's Tale, Hulu's series based on Margaret Atwood's 1985 dystopian novel, we see its star, Elisabeth Moss, in essentially just one outfit: a sweeping scarlet red robe and obscuring white bonnet that mark her as a handmaid, or an enslaved concubine whose sole purpose is to service her "commander," a man named Fred. There are, however, some flashbacks to a pre-totalitarian time, which is how, in episode three, we end up with Moss as basically Peggy Olson in Mad Men: As her character leaves her office with a box full of her things after being fired along with the rest of her company's women, it's a strikingly sad reversal of one of Moss's most famous empowering scenes as Peggy, as she strutted her way into her new office wearing sunglasses, a cigarette dangling from her lips.
The two series are set in entirely different worlds and decades, but it's no surprise that Moss should thrive in both (she earned six Emmy nominations for Mad Men, and earned another last week for The Handmaid's Tale). Gilead, the dystopian society ruled by men where the Handmaid's Tale takes place, is, after all, an extreme version of the environments Moss's most well-known TV roles find her in: surrounded by—and nonetheless standing out from—men in power, such as when she climbs her way to the top of the cut-throat corporate environment in Mad Men, somehow never sleeping with Don Draper in the process.
The same is true in Top of the Lake, Jane Campion's crime mystery on the Sundance channel. The first season found Moss—in the role of a detective that won her a Golden Globe in 2014—investigating the rape and disappearance of a pregnant 12-year-old girl, in the company of the some of the same men who gang-raped her (and impregnated her) at 15. She's also fending off aggressively persistent flirtations from her boss at the police station, while rekindling her flame with a former high school sweetheart, but Moss's character, Robin, somehow still manages to not by defined by the men around her.
As Offred, Moss doggedly retains a pre-Gilead identity and the spirit for resistance despite living in a police state; the Handmaid's Tale seems to be a prototypical example of one of Moss's "strong female characters." Moss only signed onto the series after ensuring it would pack as much punch as the novel—and after ensuring that she could be a producer on the series, too, a role she first took on in 2015 with her film Queen of Earth. ("As a woman in this industry, I think it's so important to take ownership of your career and ownership over the projects you do," she told me in April.)
Nowhere is Moss in more control than in her Handmaid's Tale scenes where the actress, as Offred, boldly—and at times stupidly—pursues her fling with her commander's driver, Nick, asserting her sexuality in a show that routinely subjects her to taking part in a monthly ritual in which her commander rapes her while she lies patiently in the lap of his wife. And yet, for every scene Moss is forced to have an unwelcome and unpleasant sexual encounter, the actress seems to balance them out with another in which she exerts control: I realized recently while revisiting Top of the Lake that I'd rarely seen Moss's nipple—and in fact, the actress went over every frame of onscreen nudity in the show with its director, Jane Campion, who allowed her to remove whatever she wasn't comfortable with.
It's a policy Moss has said she's carried over to the rest of her projects, too: "Everything that involves nudity I have 100 percent approval, otherwise I don't do it," Moss said at this year's Cannes Film Festival, where the second season of Top of the Lake premiered. "That way is actually better for the filmmaker, because you actually end up getting more than you would if you just ask the actor to take her clothes off."
Related: Margaret Atwood, Elisabeth Moss, and the Women Behind the Disquietingly Vital The Handmaid's Tale
Watch video interviews with Nicole Kidman, Millie Bobby Brown and more of this year's nominees here: