Kiernan Shipka Is Next, Next, Next!
One of W's 3 April 2016 cover stars mouths off.
---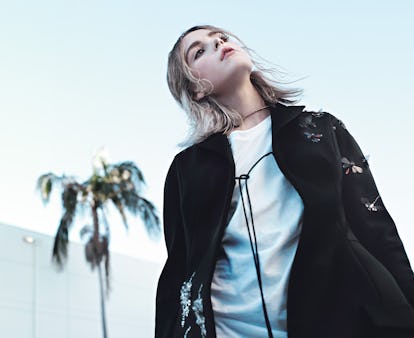 Kiernan Shipka is an old soul in the body of a 16-year-old girl. She's the type of person who goes to Paris for a Dior show, falls in love with the city, and then decides to learn French. Which she did. Immediately. Although she has been acting since infancy ("I did some Gerber-baby action") and has always been homeschooled ("I was a kindergarten dropout"), Shipka, who stars in the upcoming thriller The Blackcoat's Daughters, does not come across as a hothouse flower. On the contrary, she is remarkably adult: While I could easily be Shipka's mother age-wise, speaking with her is like talking to a very smart, optimistic peer with excellent taste.
When she was 6, Shipka, who is blonde and petite and has huge brown eyes that convey both curiosity and empathy, auditioned for the part of Sally Draper on Mad Men. She grew up in the show—going from a small, lisping, adorable moppet in 1960 to the only person that her father, the show's antihero, Don Draper, truly trusted in 1970. The heroines of Mad Men—including Sally—represented the potential of America, a glimpse at a brighter future, run by sharp, knowing women.
Matthew Weiner, the series' creator, replaced the actors who played her brothers as they aged but kept Shipka in her role. "She was a kind of heartbeat for the show," he told me. "And the only sequel to Mad Men that I can imagine is continuing the story of Sally Draper. I want to know what happens to her. And that is because of Kiernan."
Lynn Hirschberg: What was the audition for Mad Men like? Kiernan Shipka: I was 6, and before any audition, I would get so excited. I was obsessed: I liked learning lines. That was fun for me. I remember my first day on set. I was supposed to run into the scene with a plastic bag over my head, and my mother on the show says something like, "Your clothes better not be on the floor." No one seemed to worry about the potential safety hazard of a 6-year-old with a plastic bag over her head! That was probably a little bit of foreshadowing, the darkness that was ahead for Sally.
LH: The scene where Sally walks in on her father during an illicit tryst was deeply troubling to me. Did you actually see what Sally saw? Weren't you too young to watch the show at all? KS: I didn't see what Sally saw. I think Jon Hamm was on his phone rather than in bed! But I didn't watch Mad Men until I was 13—when I was home sick and watched all the seasons on Netflix. It was a lovely treat.
LH: Until Season 4, Sally didn't get much hair or makeup. And, then, it was kind of an explosion of style. KS: Mad Men introduced me to the power of fashion. I realized that style could tell a story. In the last season, Sally wants to impress a boy, so she dresses up. In the scene, I had to smoke a cigarette—and I'm not a pro in the slightest. They used these herbal cigarettes, and during the first take, I smoked it backwards.
LH: During the run of the show, you were homeschooled. Do you feel that you have missed out on any part of a regular school experience? KS: Not really, but I do want to go to the prom. Or several proms, hopefully. That's my goal. I've been to the Emmys, but prom—that's where it's at. [Laughs]
LH: You just celebrated your sweet 16. That's kind of like a prom. KS: I would say it was my favorite birthday! I wore pants and a top by Giamba, and it was a lot of fun. There was food and boys and everything, but it wasn't a prom!
LH: Do you have a movie crush? KS: I love Eddie Redmayne. I first saw him in Les Mis; I thought he was so, so good. And then The Theory of Everything came out, and he was spectacular. And he's great in The Danish Girl. I love his commitment to his roles. He has great style too.
LH: What is your favorite love scene in a movie? KS: Recently, I saw Frances Ha, and the friendship/love scenes between Greta Gerwig and Mickey Sumner rang so true to me. Even when they drift apart, their connection is still there.
LH: What was the first movie you remember seeing? KS: When I was 6 or so, I had Harry Potter, The Wizard of Oz, The Sound of Music, and Air Bud on heavy rotation. I think I watched them all once a day.
LH: How did Air Bud get in there? KS: It was about a cute dog! Who doesn't love a cute-dog movie? I loved the whole Harry Potter squad, but Air Bud made me cry and cry.
Find out who W's three cover stars–Zendaya, Willow Smith, and Kiernan Shipka–have crushes on here: