See the Chilling First Trailer for Top of the Lake: China Girl
Starring Elisabeth Moss, Nicole Kidman, and Gwendoline Christie.
---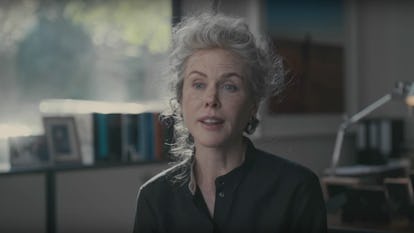 Sundance Channel via Deadline Hollywood/Youtube
The critically acclaimed series Top of the Lake is returning for a second season after a four-year hiatus, and the first trailer for the new season promises a chilling storyline, captivating performances from Elisabeth Moss and Nicole Kidman, and another directorial masterpiece from Jane Campion.
The first season of the Sundance series followed Moss as Detective Robin Griffin, who returned from Sydney to her remote hometown in New Zealand to help investigate the pregnancy, disappearance, and attempted suicide of a 12-year-old girl named Tui. The visually stunning crime drama returns with events set, appropriately, four years after the initial season. Griffin is attempting to rebuild her life when the body of a girl washes up in a suitcase on the shores of Bondi Beach. The new season will follow Griffin as she attempts to identify "China Girl," locate her killer, and bond with the daughter she gave up for adoption (whose adoptive mother is played by a nearly unrecognizable Kidman).
Both Moss—who won a Golden Globe for her performance in season one—and Kidman are coming off hugely popular series: For Moss, it's her haunting performance in the dystopian drama The Handmaid's Tale; Kidman is fresh off the runaway success of HBO's Big Little Lies. Kidman also recently played the role of an adoptive mother in the Academy Award nominee Lion.
It's also a reunion of sorts for Campion and Kidman that is more than 20 years in the making. The pair first worked together on 1996's Portrait of a Lady and had planned to reunite with 2003's In The Cut, which the pair spent years developing together. Ultimately, however, Kidman dropped out of the project due to personal reasons. She was replaced in the lead role by Meg Ryan, but still remained on as a producer. Still, Top of the Lake belongs to Moss, and Kidman's part is merely recurring.
Season two of Top of the Lake: China Girl—which also stars Game of Thrones and Star Wars fan-favorite Gwendoline Christie—premieres in September.
Related: Nicole Kidman Will Have Four Projects at Cannes 2017
At 49, Actress Nicole Kidman Is Still Quite Impressionable:
Nicole Kidman's 13 Most Transformative On-Screen Roles, From Big Little Lies to Eyes Wide Shut
In 1990's Days of Thunder, Kidman's first role opposite soon-to-be husband Tom Cruise, she plays Dr. Claire Lewicki, a doctor charged with nursing Cruise's NASCAR driver character to recovery in the aftermath of a horrific crash. Though a critical flop, Days of Thunder marked Kidman as one to watch — and it still has a cultish fan base nearly three decades later.

Getty
Kidman and Cruise's second co-starring effort was Far and Away, the Ron Howard period piece about two Irish immigrants in turn-of-the-century America. Another film that was a popular success but a critical non-starter, Far and Away nevertheless found Kidman once again utterly transformed into the Irish émigré Shannon Christie.

Getty
Arguably Kidman's most important role to date came with To Die For, the darkly funny crime comedy about an aspiring television anchor (Kidman, as Suzanne Stone). It earned the actress her first Golden Globe (she had previously been nominated, but lost to Mercedes Ruehl in The Fisher King) and, as a bonus, also features a 17-year-old Casey Affleck in his first role.

Getty
Kidman is luminous in the already overstuffed Batman Forever, which premiered later in 1995 with Val Kilmer as the titular Batman. She plays Batman's love interest Dr. Chase Meridian, a psychologist — and though Batman Forever was far from Kidman's most complex or lauded role, it still finds her again transformed, this time into the quintessential damsel in distress (albeit one with a PhD).

Getty
In the last of Kidman's three roles opposite Tom Cruise, she plays his art curator wife Alice Harford in Stanley Kubrick's Eyes Wide Shut. It's an eerie, complicated role, in which Alice deals with her own suspicions and dissatisfactions while Cruise, Dr. William Harford, undertakes a kind of sexual odyssey.

Getty
Kidman was nominated for Best Actress at the 2002 Academy Awards for her starring turn in Moulin Rouge! opposite Ewan McGregor. It turns out, Kidman is also a capable singer in addition to a transcendent actress.

Getty
It's not just Kidman's capable acting that sees her so transformed in 2003's The Hours — the film that earned her her first and only Oscar thus far. It's also her prosthetic nose that completes her evolution into the writer Virginia Woolf.

Getty
Nowhere is Kidman's skill better on display than in the minimalist Lars Von Trier masterpiece Dogville, in which Kidman plays a woman on the run from the mob who hides out in the small town of Dogville, Colorado. With a set simply demarcated by lines on the floor, the film makes the most of its all-star cast, with Kidman at the center of it all.

Getty
Adapted from the 1997 novel of the same name, Cold Mountain earned an Oscar not for Kidman, but for supporting actress Renée Zellweger. Nevertheless, Kidman is in top form as a young society woman surviving Civil War-time hardships in the eponymous town of Cold Mountain.

Getty
With The Hours and Cold Mountain behind her, Kidman embarked on an early-'00s period of creative triumph. Two years later, she appeared in an entirely different kind of film, starring as an actual witch — Isabel Bigelow — playing an on-screen witch — Samantha Stephens — in 2005's Bewitched opposite Will Ferrell. The film itself was widely deemed a failure of an adaptation of the original sitcom — but Kidman was singled out as the movie's redeeming factor.

Getty
Kidman earned her third Oscar nomination for Rabbit Hole, the 2010 drama co-starring Aaron Eckhart and Dianne Wiest about a couple coping in the aftermath of their child's death. Rabbit Hole also marked the feature debut of Miles Teller.

Getty
Last year, Kidman found herself back in the awards season conversation as Sue Brierley, the adoptive mother of Saroo Brierley, a young Indian man — played alternately by Dev Patel and Sunny Pawar — searching for his birth family. An extremely '80s perm is just the start of Kidman's on-screen transformation.

Getty
Kidman is one part of the all-star cast roped into HBO's Big Little Lies, the limited series also starring Reese Witherspoon, Shailene Woodley, Zoë Kravitz, and Laura Dern. Kidman plays Celeste, the stay-at-home mom and wife of Alexander Skarsgard, whose picture-perfect marriage and children bely a fraught narrative of domestic abuse.

Getty