Emmys 2017 Predictions: Why Atlanta Is the Most Significant, Singular Show on TV
Donald Glover's FX series is a genre onto its own.
---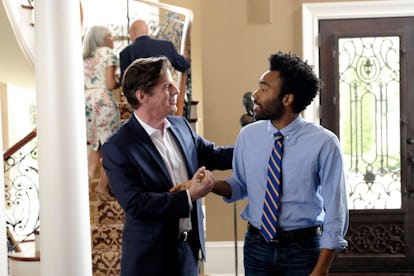 Copyright 2016, FX Networks.
At this point, it goes without saying that there is a lot more to be won than just statuettes when black art receives the awards-show recognition it deserves for its excellence. In January at the 2017 Golden Globes, Atlanta creator and star Donald Glover's win for Best Musical or Comedy TV Series, as well as Best Actor in a Musical or Comedy, marked a potential turning point in the mainstream TV sphere. When the 2017 Emmys nominations are announced on Thursday morning, it's even more important that Atlanta make a similarly strong showing. Not least because, historically speaking, the members of the television academy are less attentive to the new and daring, and not as liable to be progressive in their voting.
In the 90's, black sitcoms from The Cosby Show to Girlfriends were everywhere, but the new millennium arrived, and suddenly the TV landscape was whitewashed all over again. Even more specifically: Where did the black sitcoms go? Right now, shows like Insecure and Chewing Gum have been well-received and growing in popularity thanks to streaming services, but even major network programs like NBC's The Carmichael Show—a series that most firmly plants itself in the sitcom genre—has been cancelled too swiftly, leaving fans to wonder what will take its place in an otherwise bland comedy block.
Atlanta, meanwhile, genuinely exists in a league of its own, and demonstrates the necessity of giving artists some space, allowing them to work according to their own process, and even according to their own pace.
A quick review, in case you haven't seen it: Atlanta begins with Earn, a Princeton dropout, quitting his dead-end job to manage his rapper cousin, Paper Boi (played by the Yale-trained Brian Tyree Henry), along with the scene-stealing Lakeith Stanfield's Darius, in order to help Paper Boi rise in Atlanta's rap scene. On the surface, it might appear to be a simple rags-to-riches tale, but never before has this narrative been explored with such sensitivity, hilarity, unpredictability, and absurdism all at once, and set to a soundtrack that transports the viewer right into the ATL. It's notable that there are almost no white characters on Atlanta, and the ones who do drop in tend to be the most buffoonish, a reversal of the roles typically occupied by minority characters in mainstream shows. There are so many nuanced cultural references embedded in the consciousness of Atlanta that might fly right over the heads of some viewers, but for those who do catch the subtleties, a feeling stirs within. Black art like this, in its real-ness and its rarity, has the power to be both familiar and new all at once.
In addition to its execution of a point of view, Atlanta is exemplary for its ability to stretch and ultimately break the typical forms audiences are conditioned to believe television must take. In its first season, the series somehow—this almost never happens—managed to have each episode one-up its predecessor. Dipping his toes into absurdism at various points throughout the series, Donald Glover, his director Hiro Murai, and the writing team has created so many standout episodes in one season that it's difficult to declare any one the best. But the seventh episode, "B.A.N." (short for Black American Network), allows viewers to immerse themselves in the self-contained world of a public access talk show roundtable on the plight of a "transracial" teen; the satire is masterful, and there are even fake commercials that send up the real ones targeting black American consumers.
This razor-edge performance of race, gender and class is at the crux of Atlanta, and in "B.A.N." it's clear that Glover has landed on his sweet spot: to be able to lay with and manipulate the stereotypes of black working-class Americans within the framework of a comedic narrative, while simultaneously calling for a major fragmentation in genre. It's TV that can be genuinely called experimental, and better and more appealing for it.
Young creators look up to figures like Donald Glover, Insecure's Issa Rae, and Chewing Gum's Michaela Coel, not only for the importance of black representation in popular entertainment, but because the art they create really does touch a nerve in a way that other material does not. The weirdos among us can find comfort in a series like Atlanta, where its main character seems to be at his most content when he's lying on his back listening to Beach House, eschewing his myriad of problems.
Atlanta is a clear result of network executives taking a step back. Glover recently made headlines when it was revealed that Atlanta's second season would be pushed to 2018 due to Glover's involvement with a new Star Wars project, but it will be worth the wait if only because Atlanta is a show without a clear precedent or contemporary, a space for social commentary via compelling art, and groundwork for TV-making moving forward. It's completely a genre unto its own, and the best proof we have that black art for black viewers is imperative right now. Besides, if all that plus a majestic guest spot by Migos can't convince the TV Academy to nominate Atlanta, what will?
Related: An Appreciation of the Most Thrillingly Absurd Characters in Donald Glover's "Atlanta"
Watch video interviews with Nicole Kidman, Millie Bobby Brown and more of this year's nominees here: