Michaela Coel's Netflix Show Chewing Gum Is the Gross and Delightfully Rude British Comedy You Should Be Watching
Meet the actress and writer behind the breakout comedy, whose second season premiered on Netflix this week.
---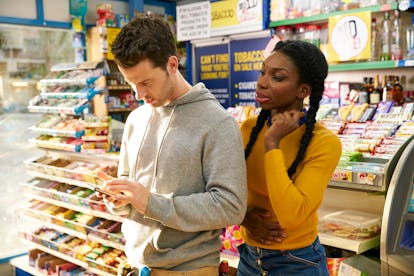 Mark Johnson
"Why do you lie so much?"
This is the question posed to Tracey, the larger-than-life protagonist of Chewing Gum, at the end of the premiere of the Netflix show's second season. Tracey makes a practice of weaving complicated, patently false tales in response to the simplest questions—it's just her method of deflecting from actually feeling anything.
"I don't know," she tells her ex-boyfriend, Connor. In the first moments of the second season, which premiered on Netflix Tuesday, Chewing Gum finds its leading lady, played by the show's writer, creator, and theme song co-composer Michaela Coel, returning to an affordable housing complex in Tower Hamlets, London, after a three-month leave of absence. She's single, homeless, on the outs with friends and family, and squatting in the bodega where she works. That's where Connor tracks her down, months after their split. It's an almost-tender moment in a series that is allergic to them. When vulnerability emerges, it's all the more conspicuous among all the gross-outs (a memorable season-one arc involves a plan to resell used dildos; season two kicks off with some violently orange vomit).
Chewing Gum premiered on the British channel E4 (the network best known for teen hits Skins, Misfits, and The Inbetweeners) in 2015 and came to Netflix late last year, where it won a strong American following. It's an adaptation of Coel's one-woman show Chewing Gum Dreams, which she wrote as a drama student at the Guildhall School of Music and Drama and premiered at London's Yard Theatre to a sold-out, five-day run during her senior year.
"I'd been in drama school for three years and we had never told a single story like it," Coel recalled on a recent afternoon. "We hadn't done anything about black working class life, and that is who I am."
Coel grew up in Tower Hamlets in a council estate much like that of Tracey. She was raised in a working-class, predominantly white and Bangladeshi neighborhood by a single mother, a Ghanaian who immigrated to the United Kingdom in her early twenties. Coel participated in youth theater as a child in lieu of daycare, a luxury her family could not afford, but remained largely uninterested in theater for much of her childhood. She converted to Pentecostalism as a teenager and, on May 22, 2006—a date now known as her "creative birthday"—she wrote a poem called "God's Next Top Model," which she then performed at a local pub. This kicked off a short career on London's open mic circuit, where she met the actor, playwright, and director Ché Walker, who referred Coel to Guildhall. (Coel is currrently filming Walker's film Been So Long, a screen adaptation of his musical of the same title.)
At Guildhall, she encountered peers of varying backgrounds and experiences seemingly at odds with Pentecostal teachings. Plus, she was celibate. "I'd go to church and it kind of felt like I was lying just by being there because I stopped believing everything," she said. "And then I met this Italian guy who gave me sex and then that was it. Then I was done."
Chewing Gum Dreams is a collage of Coel's memories of secondary school. In the play, Tracey is 14, not the 24-year-old woman in the TV series. Still, Coel is wants to make it clear that Chewing Gum is not autobiography. "I think in order to create that character, I'm not sure you can be like her now," she said. Tracey has an almost childlike naivety, powered by a teenage sex drive. (One of the show's ongoing narratives is Tracey's still unfulfilled quest to lose her virginity.) She's a bit of a narcissist, with questionable morals. She lies, a lot.
Chewing Gum focuses on the messy intersections of ethnicity, class, sexuality, and faith, taking relish in probing the most sensitive corners. (Towards the end of the first season, Tracey's hyper-devout sister becomes engaged to Tracey's closeted ex-boyfriend.)
In the second season, Tracey takes a bit of a backseat, allowing Coel to flesh out existing secondary characters and introduce new ones, including Tracey's new best friend Ola, who has his share of ethnically dubious moments. Plus, Coel added, "it's more gross."
Since the series took off, Coel has also been plugging away at other projects, including Been So Long, a small part in Black Mirror alongside Bryce Dallas Howard, and a leading role in the E4 series The Aliens. But she continues to shepherd Chewing Gum.
"If you thought it was too gross for you before, I would suggest you don't watch the second season," she said. "It's not for you."