The American Horror Story: Cult Opening Features a Creepy Trump and Other Clowns
The opening credits for 'American Horror Story: Cult' feature Donald Trump and Hillary Clinton in cosplay form.
---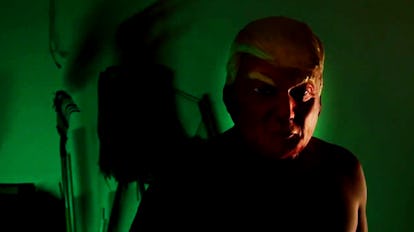 The next season of American Horror Story, as the subtitle suggests, is about a cult. Except, it's also, per producer Ryan Murphy's numerous interviews, somehow also about the 2016 election. How those two themes co-exist precisely is still unclear. FX's release of the opening credits for the season today offers few clues to what to actually expect plot-wise, but definitely reaffirms that politics are a major theme.
Indeed, amidst shots of bugs crawling out of dead people's bodies and green gas bombs, there's two (naked?) people putting on cartoonish Donald Trump and Hillary Clinton masks. Underscoring the political themes, there's also a tiny toy figurine of what we presume to be George Washington and someone trying to wash blood off of a stained American flag.
Really, though, those presidential allusions serve as merely a side player to all the actual clowns in the trailer. There's clowns in coffins. Clowns juggling knifes. Clowns holding axes. Clowns pulling bloodied organs out of a hat. Clowns on merry-go-rounds. It seems the rumors that the titular "Cult" may somehow be inspired or worship Twisty the Clown from the Freak Show season were on to something.
Watch the creepy opening for yourself here:
Murphy, never shy to exploit the zeitgeist, made headlines when he announced that the show would be election-themed, but clarified that the show begins on election night. After suggesting that viewers should expect both Clinton and Trump to appear, he eventually said they'd be doing so not as characters played by actors but rather through archive footage.
Now we know they'll be appearing in cosplay form in the opening credits as well.
Though, AHS opening credits often aren't literal. They're usually just a collection of suggestive and shocking imagery that don't necessarily reflect the plot too much.
In more practical matters, the sequence confirms that Sarah Paulson, Evan Peters (supposedly in his biggest role to date), Cheyenne Jackson, Billie Lourd, and Alison Pill get top billing. Colton Haynes, Billy Eichner, Lena Dunham, Frances Conroy, Emma Roberts, Mare Winningham, Leslie Grossman, Adina Porter and Chaz Bono are all expected to appear in supporting, recurring, and guest roles.
Other AHS regulars like Angela Bassett, Finn Wittrock, Lily Rabe, Denis O'Hare, Chloë Sevigny, Wes Bentley, Kathy Bates, Gabourey Sidibe and Leslie Jordan appear to be taking this season off (in some cases because they're working on other Murphy-produced projects). Though, last minute guest star appearances and cast additions are not unfamiliar to fans of the franchise.
Here's to hoping Kathy Bates shows up as Steve Bannon, somehow.
Related: Sarah Paulson and Holland Taylor Won't Be Sharing the Screen Anytime Soon
See What's Trending in W Video: