Sarah Paulson and Holland Taylor Won't Be Sharing the Screen Anytime Soon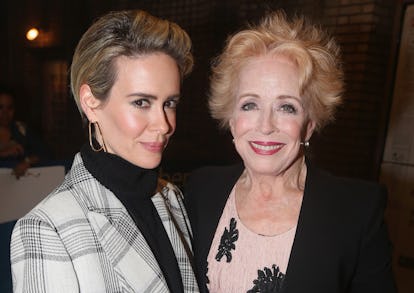 Bruce Glikas
True to the couple's low-key offscreen vibe, Holland Taylor recently revealed that, unfortunately, she has no plans for the foreseeable future to bring her relationship with Sarah Paulson onscreen. It's mostly because of Ryan Murphy.
In an interview with Entertainment Tonight, when asked whether she'd ever consider joining Paulson in the upcoming American Horror Story: Cult or another one of Ryan Murphy's blockbuster shows (Paulson has become something of a muse for Murphy, appearing in all seven seasons of AHS as well as The People v. O.J. Simpson: American Crime Story), Taylor said it would be up to Murphy, who would likely not be on board with the idea. "It's probably not a dream of Ryan Murphy's to have us do something together," she said, admitting that featuring an IRL relationship onscreen could potentially harm a TV show's storyline.
Taylor is also not especially interested in joining the AHS ensemble cast due to her general aversion to the horror genre. "I'm really frightened by this kind of thing. I find this genre so disturbing, but some people have a real appetite for it," she told ET. In fact, her upcoming role in the TV adaptation of Stephen King's Mr. Mercedes is the 74-year-old's first ever horror project — and her character, "nosy" neighbor Ida Silver, is actually the lightest and most comical in the show.
Taylor told ET that she initially refused to read the (considerably scarier) parts of the script that did not involve her. "Some people like to scare themselves to death; I do not want to scare myself to death," she said. Eventually, however, she came to appreciate the thrill of the horror genre. "It's so dark, these are really twisted characters, and they're so well-crafted that you can't help it. So I've been reading them," she said.
That experience has undoubtedly given Taylor newfound appreciation for her girlfriend's work. "[AHS] is one of the great things you could ever be in," she told ET. It's certainly worked out well for Paulson, 42, who has been dating Taylor since late 2015: She has received a Golden Globe Award and five Emmy nominations for her work with Murphy. During her acceptance speech at the 2016 Primetime Emmys for the "Outstanding Lead Actress in a Limited Series or Movie" award for her role as lead prosecutor Marcia Clark in American Crime Story, Paulson gave Taylor a sweet shout-out, saying, "Holland Taylor, I love you." Taylor responded on Twitter that night, writing, "Yes!!! YES!!! YES!!! YES!!! YES!!! YES!!! 'Maria, Marcia, Marcia.'"
Related: Sarah Paulson Won't Be Typecast, On Screen or Off
See What's Trending in W Video: