Penelope Cruz Talks Producing and "Ma Ma"
After producing Ma Ma, Penelope Cruz hopes to spend more time behind the camera.
---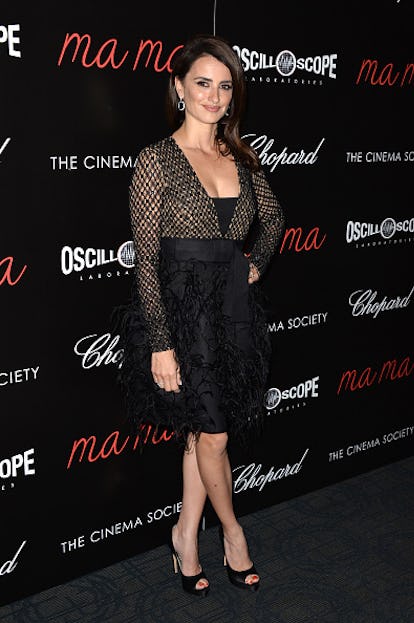 Penelope Cruz has made her mark in film as the bombshell seductress, but her latest role in Ma Ma, written and directed by Julio Medem, attempts to show a different side. In it, she plays Magda, a mother diagnosed with breast cancer, one who's struggling to stay afloat as she loses her job and her husband.
"She goes into survival mode. She doesn't want to transmit this fear to her boy, and she keeps moving forward like nothing is happening, like nothing is changing in her world," Cruz said Monday night at The Cinema Society and Chopard's New York premiere of the film. "But everything is falling apart."
She underwent a dramatic transformation for the role, shaving her head and going makeup-free. "When I read the script I felt I needed to play this woman. The movie sometimes has moments that are hard to watch, but that's the way it is," she said. "It's also very luminous and has a lot of life."
Cruz was certainly luminous last night in Michael Kors Collection, where she spoke about producing Ma Ma and moving behind the camera. "It's not really my first producer credit but it's the [first] time I have done everything from day one–[Julio Medem] and myself. We had to finance the film, we had to go to Cannes for the pre-sales, we did everything."
It might not be her last time in that role. "I actually thought it was going to be harder than it was because I thought it was going to take us maybe like, a whole year to put the finances together. Then the pre-sales worldwide were very successful and it was not a very expensive film to make. In a few months we were shooting and we were very surprised. We didn't take that for granted. It was like a miracle," she said. "I would like to do it again. I don't want to do it every year because it takes a lot of your time and it's very stressful and you know at any moment it could fall apart."
Eventually, she's also interested in directing. "I do commercials, I have a lingerie line with my sister for Agent Provocateur–our line is called L'Agent. I directed two of the short films for the campaigns," Cruz said. "And now I just did a documentary about children with leukemia. So I keep doing little things here and there but I'm not ready yet to do a feature film. But I don't know, maybe ten years from now, eight years from now…"
For now, though, she's looking to upcoming film projects, including 2017's Escobar, which she'll star in alongside her husband Javier Bardem.
Asked if she's excited to work with her husband, she answered pragmatically, albeit in her ever-charming Spanish accent.
"We will shoot in the fall. So I will tell you then."
Watch W's most popular videos here:
Penelope Cruz: Queen of the Screen
Patricia Underwood beret. Mikimoto cultured pearl necklace with 18k yellow gold clasp.

Beauty note: Dreamy lashes are a reality with showstopping Lancôme Hypnôse Show Stopping Star mascara.

Photographer: Mert Alas & Marcus Piggott Stylist: Edward Enninful
Photographer: Mert Alas & Marcus Piggott Stylist: Edward Enninful
Agent Provocateur lace corset. Harry Winston platinum and diamond bracelets.

Beauty note: Eyes—and the delicate skin surrounding them—glow with Lancôme Génifique Light-Pearl Eye-Illuminating Youth Activator.

Hair by Pablo Iglesias for Art Lab Aveda; makeup by Charlotte Tilbury for CTilbury Makeup; manicure by Lorraine Griffin. Set design by Happy Massee at the Wall Group. Fashion assistants: Felicia Garcia-Rivera, Katy Younger-Hadwiger.

Photographer: Mert Alas & Marcus Piggott Stylist: Edward Enninful
Photographer: Mert Alas & Marcus Piggott Stylist: Edward Enninful
Hair by Pablo Iglesias for Art Lab Aveda; makeup by Charlotte Tilbury for CTilbury Makeup; manicure by Lorraine Griffin. Fashion: Givenchy by Riccardo Tisci stretch wool turtleneck. Yves Saint Laurent gloves; Lynn Ban 18k gold-plate and lapis necklace. Beauty: Lancôme Teint Miracle Foundation in Buff 2W; Le Crayon Khôl in Black Coffee; Le Crayon Poudre in Brunet; Color Design 5 Pan Palette in Blush Sweetness; Hypnôse Doll Lash Mascara in So Black!; Blush Subtil in Blushing Nude; Rouge in Love Lipcolor in Roses in Love.

Photographer: Mert Alas & Marcus Piggott Stylist: Edward Enninful