Permanent Collection
After hosting Art Basel for a decade, Miami finally gets a big contemporary museum to call its own.
---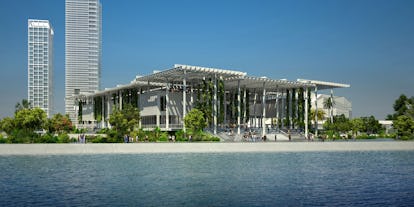 For art-obsessed tycoons, nothing says "I've arrived" more than an eponymous museum—think of the Whitney in New York or the de Young in San Francisco. Now Miami real estate mogul Jorge Pérez is getting his own art shrine, thanks to his $40 million -contribution of cash and artwork—not to mention ongoing gifts of art. Opening in -December, the newly minted Pérez Art Museum Miami (PAMM) is in fact the 2.0 version of the Miami Art Museum, which had languished for years in a nondescript downtown neighborhood.
The ecofriendly building, designed by the Swiss starchitects Jacques Herzog and Pierre de Meuron, is meant to bring a sense of gravitas to a city more often associated with mojitos and bikinis than weighty cultural pursuits. Strategically situated right off the causeway to South Beach, PAMM is the centerpiece of a 29-acre park that also includes public gardens, waterfront plazas, and outdoor sculptures; construction has already begun on an adjacent science museum and a planetarium, expected to open in 2015. PAMM's facade, which is overgrown with cascading vegetation and appears at first glance to float off Biscayne Bay, was inspired by Stiltsville, the cluster of homes built atop wooden pilings in the bay in the '50s.
Though the highlight of the opening is "Ai Weiwei: According to What?" the first major American retrospective of the Chinese dissident artist's oeuvre, the curators will also make an ongoing effort to highlight American artists and themes that are regionally relevant, says PAMM chief curator Tobias Ostrander. Amelia Peláez, one of the most important Cuban modernist painters, is also featured; Hew Locke, a British artist of -Guyanese descent, installed dozens of ship replicas that allude to Miami's history as an entry point for immigrants.
"This building is the symbol of a more mature city," says Ostrander, pointing out that although Miami has well-known family collections like the Rubell, the Margulies, and the de la Cruz, there has been a noticeable lack, until now, of a world-class contemporary art museum. "Miami Basel is in its 11th year, and the fair has turned the city into an art-market center," he says. "But an institution like PAMM makes us relevant in a more permanent way."
Photos: Permanent Collection
A rendering of the museum seen from the bay. Courtesy of the artist and Pérez Art Museum Miami.
Hew Locke's Ark, 1994.Courtesy of the artist and Pérez Art Museum Miami.
Henryk Berlewi's Reklama Mechano, 1924. Courtesy of the artist and Pérez Art Museum Miami.
Ai Weiwei's self-portrait, Williamsburg, Brooklyn, 1983. Courtesy of the artist and Pérez Art Museum Miami.