From Skiing to Surfing: How One Label Made an Adventurous Transition
This summer, the ski wear brand Perfect Moment is launching surf and swim collections. Here, the brand's co-founder Jane Gottschalk explains why.
---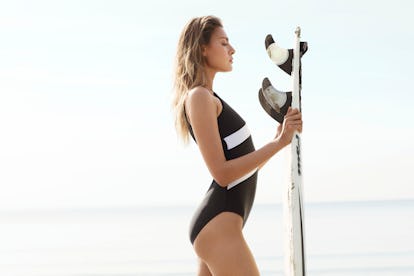 The outdoorsy label Perfect Moment was founded over a decade ago by skier and extreme sport documentary film director Thierry Donard and entrepreneur Jane Gottschalk in Chamonix, France. Now, the brand's debut swimwear collection is gaining a cult following, thanks to its sporty silhouettes and bold colors. The move may surprise fans of the cult label, but Gottschalk explains that it makes perfect sense. "Although ski has always been central to the brand's DNA, Thierry also regularly films surfing on the island of Tahiti," she says, citing Donard's love of adventure as one of the main reasons for delving into swim. "As the brand matured, it was a natural next step to develop a summer collection." Here, Gottschalk talks about the pros of an active lifestyle, her love of Ibiza and why barely there bikinis are out of style.
What was your particular interest in swimwear?? A surf and swim collection was the natural choice for us and we wanted to create a collection that talked about everything to do with a surfer's life. The collection is primarily surf wear, and intended to perform in action. However, we wanted to ensure that the collection included a few fashion pieces that could compliment the collection, which is why it includes everything from rash suits and bikinis to bombers and board shorts. It's important to note that you don't have to be a surfer to indulge in this collection – it's about living the surfer dream, having fun with friends, enjoying a beach holiday and keeping active throughout the summer.
What were the main pieces you began with? Ski wear has always been at the heart of the brand – we wanted to design high-performance activewear that also had a bit of an edge and would really stand out from the crowd. One of the first pieces we created was the Queenie jacket – the rainbow stripe detailing around the top of the jacket gives it a real nostalgic '70s feel, which we all love, and this jacket is now synonymous with the brand's identity. Our logo is a red star, and this symbol is always present in our collections, as are prominent colored stripe details. The Nordic swimsuit is definitely central to the spring 2016 collection. The neoprene fabric and snug, comfortable fit make it perfect for surfing, while maintaining that crucial retro edge. Color always has, and always will play a big part in our collections. What style do you find is still popular with your customer? The Queenie jacket and Aurora Flares are very much the hero pieces in the winter collection, and sell out the quickest every season! From Spring/Summer 2016, the Nordic Swimsuit is the most popular piece in the collection. It comes in a full range of two-tone color-ways, but the black and white/navy and red have definitely seen the most interest. We've also had a great reaction to the mesh bomber jackets, especially the Ibiza Bomber, they look great over the top of swimwear.
What swim trends are you seeing among women right now? I definitely think that there's a move away from the barely there bikini towards more retro shapes, like high wasted bikinis and geometric one-pieces.
What is the key to great fit? A good fit is of paramount importance to us. Because the brand is designed to perform during high intensity activity, it's so important that clothing is comfortable and allows the wearer to relax and focus on the activity in hand. In order to ensure a perfect fit, we do multiple fittings, as well as performance tries with athletes and real women – it is still a work in progress and takes a huge amount of time. Has there been a favorite moment since you launched? The first time I saw a perfect stranger on the slopes wearing a Perfect Moment look was quite an amazing and humbling feeling. I couldn't believe someone had actually gone online and bought it. My four girls were cheering–I think they were more delighted (and possibly surprised) than I was.
Is there a certain beach that inspires you? Es Vedra in Ibiza – this was the inspiration behind the 'Ibiza Print', which can be seen throughout the spring / summer collection. Thierry shoots his documentaries in Tahiti, with some of the world's best surfers. To see these guys in action, in the most beautiful of surroundings, is extremely inspiring. Where are you excited to travel this summer? Every year, we spend the summer in Ibiza – it's a great opportunity to unwind and spend time with family. If one of your swimsuits could be packed by a style icon and taken anywhere, who would the icon be and where would she go? Tamu McPherson in Ibiza, the spiritual home of Perfect Moment. Talk to me about your plans for the future. What's next? As our main focus has always been ski, and this is our first summer, surf and swim season, we will be looking forward to launching our second for spring/summer 2017. We're planning some exciting new prints, shapes and fabrics –it will be the perfect summer beach wardrobe!