How Perfume Genius Found the Transgression—and His Most Daring Music Yet—in Self-Care
On his triumphant fourth album, No Shape, the long-tortured Mike Hadreas stops to embrace the present.
---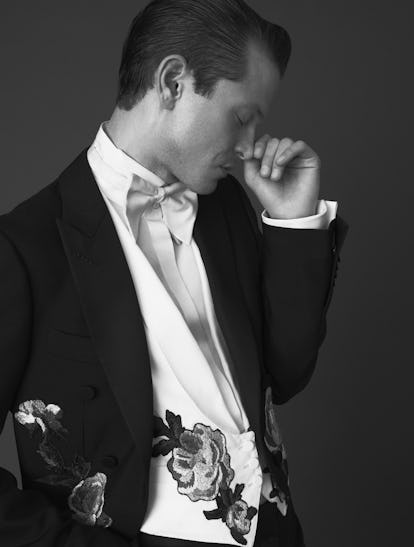 styled by Sam Walker. Produced by Biel Parklee. Grooming by Linda Shalabi for Oribe at See Management. Fashion Assistant: Alex Pastore. Production Assistant: Alex Hodor-Lee.
For a minute and 10 seconds, "Otherside," the opening track on Mike Hadreas's new album No Shape, is vintage Perfume Genius: a legato piano arpeggio, his quivering voice hovering over the top before the tiny dark ballad bursts open, sparkling and shimmering, with a bass line you can feel in your bones. It's the first signal that something has changed since Hadreas's previous Perfume Genius album, 2014's Too Bright.
Just a week after I heard No Shape for the first time, I sat across from Hadreas at a Brazilian restaurant in Greenpoint, Brooklyn on a sticky afternoon in March. He wore a green turtleneck sweater and a long overcoat of a slightly darker green, his hair still sculptural from the photo shoot he had just left. (He surveyed his reflection in a window outside the studio and observed that the look was kind of a lot.)
"I'm trying to be good," Hadreas said, skimming the menu. "I've eaten poorly my whole life—it's nice to do something on purpose, even if it doesn't change anything. I still feel better because I'm treating myself well." He has long felt a general unease about his body and mind—it's a theme that has shown up throughout his work, but comes into focus on No Shape.
That anxiety ranges from the existential to the circumstantial (earlier in the day, he'd walked under a construction site as something came crashing down several stories overhead). Even the album title, a morsel of a lyric from the track "Wreath," gestures at this. "A lot of the album is about my being into not having a body, the idea of transcending it," he said. "I feel kind of limited and locked into my body and brain—I'm not super into it all the time. I like the idea of something taking a different shape than the one I feel like I'm stuck with." He laughed. "I also like it being like, There is no specific one you need to have."
With No Shape, he wanted to make something big and ambitious. Though he had started writing and demo-ing it in the first half of 2016, it took several months to find the right mood for the project. Towards the end of the summer, he began the song that would eventually become the record's first single, "Slip Away," which was released in March.
"Up until that point, a lot of what he had been writing had been dark, almost in the same vein as a lot of Too Bright," Alan Wyffels, Hadreas's longtime boyfriend and musical collaborator, said on the phone several weeks later. "I came home one day, and he played that song for me. I was obsessed with it. I was like, 'This is a hit. This is amazing.' It was so different from anything else."
Hadreas, too, felt it was a turning point. In fact, nothing he had written before that point would make it onto the final record. After "Slip Away," he pushed himself to make something "truly uplifting," without being trite.
"I want everything to feel brave, and I also want it to feel really rebellious and defiant," he said. "To steal those good moments, that felt more badass to me than all the darker, creepier, disturbing shit I had been writing before—even though that stuff is more seemingly edgy or badass." There's still a discord at the heart of even the tenderest songs; "Wreath," for all Hadreas hoped to evoke the warm nostalgia of hearing a Cyndi Lauper tune as a child, still clashes, as he explained, with the grim inevitability of aging and death.
He recorded No Shape during the fall in Los Angeles, rather than the dark, remote English studios where he'd laid down his previous work, with the assistance of producer Blake Mills, who's also known for his work with Sky Ferreira, Conor Oberst, and Laura Marling. The result was a fuller sound with more moving parts. He brought more musicians into the studio, including Natalie Mering, the singer-songwriter who records as [Weyes Blood](http://www.wmagazine.com/story/weyes-blood-natalie-mering-burberry http://www.wmagazine.com/story/palomo-spain-was-the-most-exciting-show-at-new-york-fashion-week-mens-and-it-wasnt-even-mens-wear), to collaborate on "Sides," the tenth track on No Shape. "He takes himself with a grain of salt," Mering told me shortly after she had returned from Marfa Myths, where Weyes Blood and Perfume Genius played together. There's an immediacy and self-awareness to both of their work, which is perhaps what allows them to make genuine, earnest work that doesn't sound hokey: "He's like me, where we make these emotional imprints," Mering said. "He's very practical and real."
"My first album was the first songs I'd ever written," Hadreas explained. "I sort of trust myself as a musician to experiment more and to know when things are more effective when they're spare and when a song can hold up to a lot of different instrumentations. So I'm more willing to go for it."
Hadreas has been writing and recording as Perfume Genius for more than a decade, but No Shape finds him, for the first time, confronting the present. His first two albums, 2010's Learning and 2012's Put Your Back N 2 It, are filled with the kinds of sparse, gutting piano ballads that the first moments of "Otherside" echo. Then, Hadreas was just getting sober, and his struggles with addiction and depression consumed much of his early work; those albums look backwards, detailing what he'd already been through in an attempt to unravel those experiences.
He met Wyffels shortly before he signed with Matador Records and the release of Learning. A mutual friend hoped Wyffels, who had recently gotten sober, would lend Hadreas an empathetic shoulder to lean on. Music has been a part of their relationship from the start: Hadreas, who earned a record deal on the strength of several tracks uploaded to Myspace, had never played a live show before. When he set out on tour, he called on Wyffels, a classically trained pianist, to help him stage the shows.
"I had the biggest crush on him and he had the biggest crush on me, but we both didn't think that the other person felt that way, and we felt like it was maybe inappropriate to pursue," Wyffels recalled. "One day, it just all came out. From that moment on, it was full-on teen romance." They've been together for the past eight years, and now share a home in Tacoma, Washington, where Hadreas writes and Wyffels works as a piano teacher.
The third album, Too Bright, turned that early Perfume Genius sound on its head. As its title suggests, it scraps the minimalism of the previous releases in favor of a brasher, fuller landscape. It resonates with those people who have been told they take up too much space, make too much noise, demand too much—and it strikes back against that voice. On "My Body," an apocalyptic bass drones behind Hadreas's falsetto: "I wear my body like a rotted peach, you can have it if you handle the stink," you hear through massive distortion. (There's that corporeal unease again, supported by a doomsday sound that almost recalls early U2.)
Then, there's "Queen." The breakout single from Too Bright, it has a slow-burning swagger, both reclaiming and dismantling homophobic stereotypes. "Don't you know your queen, cracked, peelin', riddled with disease?" Hadreas demands. "Don't you know me?"
"I wrote it to be kind of cheeky but also kind of dead serious," he explained. "I thought people would maybe only take it one way or the other, and I feel like people felt both sides." He toured for much of 2014, stepping out from behind the piano for the first time and "letting myself kind of freak the f— out on stage," he said. "It felt so much more like an extension of the writing because it felt more creative. It wasn't so cerebral. … I could kind of lose myself for a minute."
The experience "upped what I thought I was capable of doing" on stage and in the studio, he added. "It kind of changed everything, to be honest."
Shortly after the release of Too Bright, Hadreas spoke with Rolling Stone about what comes next: "Maybe there's a weird-ass commercial they can put me in or something," he said—prophetically, as it turned out. Last year, Prada commissioned a Perfume Genius cover of Elvis's "Can't Help Falling in Love" for [the label's new unisex fragrance campaign](http://www.wmagazine.com/story/prada-new-fragrances-ansel-elgort-mia-goth http://www.wmagazine.com/story/exclusive-inez-van-lamsweerde-channeled-diana-vreeland-in-a-new-series-of-still-lives) starring Mia Goth, Dane DeHaan, Mia Wasikowska, and Ansel Elgort.
"They wanted a specific kind of sexiness, kind of dark," Hadreas said, spearing a forkful of salad. "But it's a hard thing for a man to be sexy—in general, but also singing—without it being campy. Hopefully I did it. I don't want to give myself too much credit." He laughed. "Like, 'It's hard for a man to be sexy, but I did it on this song.'"
The resulting cover might not sound out of place on No Shape: "I wanted to take some of that classic-dude swagger," he said of the record, pointing to both Elvis and Bruce Springsteen—as well as the Bulgarian Women's Choir—as inspiration. Like Springsteen, Hadreas often uses the small ideas to talk about the biggest ones. Plus, as Wyffels pointed out, songs like "Die 4 U," with its breathy falsetto, are really pretty sexy.
The campaign made a fitting match for Hadreas, who, as Perfume Genius, has also refused fashion's gender conventions. "When I started to allow myself to not be locked into wearing men's clothes, things kind of opened up," he said. "It feels very kind to drape yourself in something that feels special."
For the No Shape tour, he was eyeing looks by brands like [J.W. Anderson](http://www.wmagazine.com/gallery/jw-anderson-fall-2017/all http://www.wmagazine.com/story/yproject-glenn-martens-lvmh-prize-fall-2016-paris-fashion-week), Y/Project, and Palomo Spain—he noted that the blush-pink suit he wears in the video for "Slip Away," styled by Solange collaborator Mindy Le Brock, recalls a bit of the Palomo aesthetic. The fashion photographers Inez Van Lamsweerde and Vinoodh Matadin, who shot Perfume Genius for W in 2015, helped create the No Shape album cover. And Hadreas has recently gotten his hands on a pinstriped, off-the-shoulder look by the womenswear designer Jacquemus—"Victorian workwear," he described it—to wear on tour.
Visually, Hadreas looked towards science fiction and fantasy for No Shape, referencing '80s cinema like the David Bowie film Labyrinth and Ridley Scott's Legend. The performance, the look of the whole thing, is an extension of the music—a different approach to getting outside his own head. No Shape, more than Learning or Put Your Back N 2 It or Too Bright, is an effort to be present, to recognize that not every defeat has to feel like one, to reconcile feeling bad and doing good, to not take things—his boyfriend, especially—for granted. Hadreas likened it to swimming: You step out of the pool, the world is still garbage, but that doesn't invalidate what happened before. It's okay to not feel okay all the time.
"That's what's confusing to me—how I can still feel so anxious and scattered and disconnected, but then when I look at it, I've been doing the right thing and living decently and being pretty nice to people. I've been kind of a good dude for a while, so why don't I feel like one?" Hadreas told me. "I'm trying to find a way to shake some of that buzzing anxiety and all the shit I tell myself to keep me down, all the shit in the world that is trying to keep me from feeling a little more free. I don't know, sometimes there's a spiritual way to do that. Sometimes, it's just practical. Sometimes, it's just eating—when you're freaked out and scared, you're actually just hungry. But all the stuff that I have to do to be more present or in the moment just seems so basic. I'm so terrified that when I remove all these problems—all these things that I think are such a big deal—when I'm left along with myself, I'm just normal. That's terrifying to me."
He laughed softly and went on: "So the music is a way for me to bring magic and drama into my actual, everyday life, and have all those little things and connection be as sacred and beautiful and fantasy as where I let my brain go when I avoid it."
In between recording sessions last fall, Hadreas wrote one last song, a closing statement for No Shape: "Alan." It bookends the record, which ranges from sensual to mournful to boastful, with another incredibly tender moment, a missive to his boyfriend.
"I'm here," Perfume Genius sings. "How weird."
Valentino Sala Bianca 945 Haute Couture dress, bra, and clutch; Ben-Amun by Isaac Manevitz earrings; (from top) Inez and Vinoodh rings, model's own ring (throughout); Falke tights (throughout); Saint Laurent by Hedi Slimane sandals. On Perfume Genius: Jacket, trousers, and medals from Kaufman's Army & Navy, New York; hat from Western Costume Company, Los Angeles; Sermoneta Gloves gloves; belt from Uncle Sam's Army Navy Outfitters, New York; his own shoes (all throughout).

Photographer: Inez Van Lamsweerde and Vinoodh Matadin Stylist: Edward Enninful
Diane von Furstenberg dress; Alexander McQueen shirt; YSL from Stone & Strand vintage earrings; Max Mara bow; Falke tights (throughout); Saint Laurent by Hedi Slimane sandals. Beauty note: Hit refresh with Bareminerals Complexion Rescue SPF 30 in Vanilla.

Photographer: Inez Van Lamsweerde and Vinoodh Matadin Stylist: Edward Enninful
J. Mendel gown and boa; Lele Sadoughi necklace; Saint Laurent by Hedi Slimane sandals.

Photographer: Inez Van Lamsweerde and Vinoodh Matadin Stylist: Edward Enninful
Photographer: Inez Van Lamsweerde and Vinoodh Matadin Stylist: Edward Enninful
Escada gown; Kenneth Jay Lane earrings; Inez and Vinoodh bangles. Beauty note: Reach the height of hair perfection with Toni&Guy Hair Meet Wardrobe Casual Matt Texture Dry Shampoo.

Photographer: Inez Van Lamsweerde and Vinoodh Matadin Stylist: Edward Enninful
Photographer: Inez Van Lamsweerde and Vinoodh Matadin Stylist: Edward Enninful
J. Mendel bolero; Tom Ford gown; Silvia Furmanovich earrings; Saint Laurent by Hedi Slimane sandals.

Photographer: Inez Van Lamsweerde and Vinoodh Matadin Stylist: Edward Enninful
Photographer: Inez Van Lamsweerde and Vinoodh Matadin Stylist: Edward Enninful
Photographer: Inez Van Lamsweerde and Vinoodh Matadin Stylist: Edward Enninful
Jason Wu belted gown; Lele Sadoughi earrings; Jason Wu for Pluma bracelet; Saint Laurent by Hedi Slimane bag.
Vera Wang Collection gown; M&S Schmalberg flower; Lulu Frost earrings; Gaspar Gloves gloves; Dolce & Gabbana briefs; Saint Laurent by Hedi Slimane sandals.
Altuzarra dress; Yves Salomon coat; Eugenia Kim turban; Saint Laurent by Hedi Slimane bag; Kenneth Jay Lane bracelet. Beauty note: Nails become high-shine accessories with CND Vinylux in Clearly Pink.
Hair by James Pecis at D+V Management; makeup by Aaron de Mey at Art Partner; manicure by Deborah Lippmann at the Magnet Agency. Models: Mariacarla Boscono at Women Management, the musician Perfume Genius. Production by the Collective Shift. Creative movement director: Stephen Galloway. Studio manager: Marc Kroop. Location manager: Ernie Liberati. Lighting director: Jodokus Driessen. Digital technician: Brian Anderson. Photography assistant: Joe Hume. Fashion assistants: Ryann Foulke, Dena Giannini. Hair assistant: Holly Mills. Makeup assistant: Tayler Treadwell. Special thanks to Creative Film Cars.
See what's trending in W video: