The Persian Conquest
Three decades ago, in the wake of the Islamic Revolution, entire neighborhoods of Tehran's moneyed Jewish community fled to Los Angeles. Now, having amassed American-style fortunes and political clout, the Persians of Beverly Hills are living the ultimate California dream.
---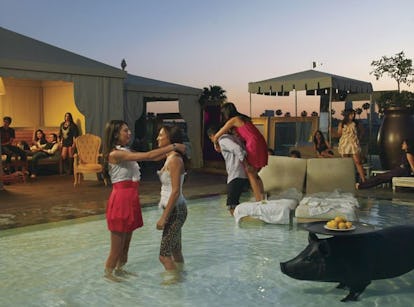 Photography by Larry Sultan
The interior decor of Sam Nazarian's $18.9 million mansion high above the Sunset Strip might be described as nightlife moderne. Glossy stone floors and glass walls are set off by glam touches like a Roy Lichtenstein print—This Must Be the Place, cheekily hung in the bathroom—and a black crystal chandelier. But what's inside the Nazarian house is secondary to the view: the city of Los Angeles spread like a vast Persian carpet laid at Nazarian's feet. It is, in more ways than one, a view from the top.
These days Nazarian hardly needs an introduction in Hollywood and Beverly Hills: At 33, he has built an empire that includes trendy nightclubs, an archipelago of restaurants and the flashy SLS Hotel, with further hotels planned for Miami and Las Vegas. His circle, however, extends well beyond the celebutantes courted by his businesses. Nazarian and his family, who like many Iranian Jews left Tehran during the 1979 revolution, are leaders of a powerful Persian Jewish elite in Beverly Hills. One hint of the community's influence in Los Angeles is a framed commendation on Nazarian's sitting room wall from Mayor Antonio Villaraigosa. "I was one of his first supporters," explains Nazarian. "We're very, very close."
Not so many years ago, Nazarian, whose family arrived in the U.S. when he was three, was taunted at Beverly Hills High School with insults such as "camel jockey." "It wasn't a very welcoming group of people," he recalls of his schoolmates. Nazarian's courtly 78-year-old father, Younes, who today sits alongside his youngest son at a table laden with crystal bowls of dates, berries, cucumbers and other refreshments—a typical display of Persian hospitality—was a successful tool-and-dye manufacturer in Iran. But in fleeing his country's political turmoil, he had to leave most of his assets behind, arriving at a run-down hotel in Santa Monica with, as Younes recalls, "four suitcases and four children." (The Nazarians are now part owners of the hotel.)
Younes and his brother, Parviz, relied on contacts with other Persian Jewish immigrants—"Our best asset in this country was our few friends," he notes—and established a factory building machine parts for such clients as the Department of Defense. Several years later, the brothers were brought into a fledgling telecom company, Qualcomm, and their millions ballooned into billions. Now Younes, like his son, is leaving footprints all over Los Angeles: He is chairman of his son's business, SBE, and he serves on boards at the Rand Center for Middle East Policy and the Los Angeles Philharmonic, in addition to being a major donor to the University of Southern California. This philanthropic spirit makes Younes something of a pioneer, notes Sam, since the older generation by and large has not adopted the American ethic—and tax strategy—of giving money to nonprofits.
A different all-American motto, however, has been fully embraced by the Nazarians and many other Persian families who have earned fortunes here: If you've got it, flaunt it. Parviz became famous in his community—and notorious in Beverly Hills—for building a mansion that exemplifies an architectural style known in these parts as Persian Palace. From the street, the Nazarian pile looks like a particularly frothy wedding cake propped up by a forest of fluted columns. The interior, according to visitors, is an extravaganza of polished marble, sweeping staircases and gilt rococo furniture, a nominally French style favored by Iran's late Shah Mohammad Reza Pahlavi. (A famous story recalls Bill Clinton's visit to the Nazarian home for a fundraiser: He supposedly remarked, "This makes me realize I really do live in government housing.")
Today many younger members of the Persian community favor a less ornate style and in this—as well as in many more-important matters—they represent a generational pivot between the Persian Jewish community's past in Tehran and its future in Los Angeles. Thirty-six-year-old Natasha Baradaran, an L.A.-born and -bred interior designer whose husband, Bob, is the only Persian partner at white-shoe law firm Greenberg Glusker, is a prime example. "Especially for women, the revolution was the best thing that could have happened," says Natasha, who earned a master's degree in international relations at Columbia University before choosing a more creative career path. "It was hard for a lot of people who lost everything. But their kids—we learned that the sky is the limit." Less insular and more civic-minded than their elders, these young parents, professionals and entrepreneurs represent some of America's wealthiest and most educated immigrant offspring. The time has clearly come—as politicians, savvy businesspeople and charity fundraisers have realized—to meet the neighbors in Beverly Hills.
In his office above Wilshire Boulevard, architect Hamid Gabbay, 66, traces the dazzling success of the Persian community in Beverly Hills back to Tehran before the revolution. The Sixties and Seventies saw a full-tilt economic expansion, fueled by the Shah's dream of westernization and financed by vast oil reserves. "The real-estate boom was incredible," explains Gabbay, who founded an architecture firm with his brother in Tehran. "We got to design a city—projects I can't even dream of now."
The country's Jewish minority thrived, at least in Tehran's educated quarters, thanks to the Shah's official policy of religious tolerance and cultural openness. But radical Muslim clerics gained strength during the late Seventies, and in January 1979 they overthrew the ailing monarch. Gabbay left in November 1978, landing a job with an L.A. firm that he had been interviewing to work for him just four months earlier. "I went to the firm," he recalls, "and said, 'I'm sorry, I can't hire you. But would you hire me?'"
Even before the revolution, a few Iranian Jews had already decamped to California. Jimmy Delshad, who made local history in 2007 by becoming the first Iranian-American mayor of Beverly Hills, left modest origins in Shiraz in 1959 and attended California State University at Northridge with his brothers. "I don't think there were more than 10 or 12 [Persian] families we knew in Los Angeles," he says.
The present-day elite Persian community in Beverly Hills, though, really got its start in the early Seventies, when four brothers of the Mahboubi clan—who had grown rich at home from their virtual monopoly on chewing gum—moved to Los Angeles and sank their money into real estate on Rodeo Drive. One of the brothers, Dar Mahboubi, backed haberdasher Bijan during the Eighties, and younger Mahboubis continue to manage the family's considerable property holdings. Another group of brothers, the Yadegars, also arrived in Beverly Hills before the revolution and began snapping up real estate. Today so many Persians own stakes in Beverly Hills' Golden Triangle, the prime streets between Wilshire and Santa Monica boulevards, that the area is known to some as "Tehrangeles." (Another Persian shopping district in Westwood has also earned that moniker.)
The area's attractions were obvious: Beverly Hills was synonymous with wealth and status, plus it delivered a beautiful climate, safe residential neighborhoods and a well-established Jewish community. But perhaps the key asset was the then top-notch school system. Sam Nazarian's sister-in-law, former psychology professor Angella Nazarian, recalls that her father bought a house here in the early Seventies so her brother could attend Beverly Hills High School. "My father had no plans of coming to the U.S.," she says over a lunch of tuna tartare in Westwood. "It was more 'This way my son can go to a really good school.'"
Later in the decade, as Ayatollah Khomeini's followers denounced the freedoms that had enabled Jewish prosperity, some in Tehran began to worry, says prominent hostess Mahroo Moghavem, whose husband was a successful appliance distributor at that time. "We thought investment in other countries would be good," she says during a brunch with friends at her home in the hills above Sunset Boulevard. "We were happy, but we thought that one day the Shah would pass away and what would happen then?"
As armed students took to the streets of Tehran in late 1978, the Moghavems whisked their children off to Los Angeles for a vacation. Events unfolding on television made clear that they would not be returning home. The Moghavems were among the lucky ones, however. Thanks to their investments outside of Iran, they were able to buy a house in Beverly Hills from billionaire John Kluge and then sink money into a development project parceling the estate of silent-screen star Harold Lloyd into a 16-home subdivision.
Although dispossessed, the thousands of Iranian Jews who flocked to Beverly Hills in the coming years had assets most immigrants lack: advanced education, business experience and, in the majority of cases, some cash in overseas accounts. Iranian Jews also landed in Israel and New York, and it's worth noting that the mass flight away from theocracy included Muslims and members of other religious minorities. But entire neighborhoods of Tehran's Jewish elite settled in Beverly Hills—something like a wholesale transplant of a social community. Initially the shell-shocked refugees found solace in local synagogues, where older members remembered the influx from Europe after World War II and welcomed them. Sympathies grew strained, however, by the differences in language and custom between the Ashkenazi Jewish community and the Sephardic newcomers. By American standards, Persian decorum at synagogue was freewheeling, even disruptive, as family members rose to greet one another and chat during services. In addition, says Delshad, Persians didn't understand that American-style membership in a prestigious synagogue like Sinai Temple meant paying annual dues and getting involved with fundraising. "The other members looked at them as freeloaders coming and taking but never contributing," he explains.
Delshad proved to be a major force in bridging these antipathies when, after 12 years of campaigning, he was elected in 1999 as Sinai's first Sephardic president. He insists that tensions have since eased and notes that Persians today account for approximately 25 percent of membership. (They constitute 20 percent of the overall population of Beverly Hills.)
In 2003 Delshad took a leave from the technology company he started in 1978 to run for the Beverly Hills City Council. Ironically, he recalls, some of the toughest votes to get were Persian: Iranian Jews had no experience voting under the Shah and were wary of joining any bureaucratic roster, even the Beverly Hills voting rolls. Delshad nonetheless prevailed and in 2007 was elected mayor, despite a major kerfuffle over municipal election ballots printed in English, Spanish and, for the first time, sinuous Farsi script. "I had nothing to do with that," Delshad insists. (Federal law does require that non-English-speaking voting blocs be provided with ballots in their own language.) "But the way they did it was to put the Persian bigger than the English," he says. "It looked like a Farsi restaurant menu. Hundreds of people called the city to object."
The outcry over the ballot—which made the front page of The Wall Street Journal—was an eruption of tensions that had been simmering for decades. A complaint sounded by Beverly Hills old-timers was that the Persians could be clannish, self-segregating and indifferent to the established norms of the community they were entering. There is some truth to that charge, acknowledges Angella Nazarian. Thanks to their wealth and numbers, Persians didn't need to adapt. Instead, they developed a self-sufficient Farsi-speaking enclave, complete with grocery stores, restaurants and even taxi services. And rather than courting the local social establishment, rich Persians stuck to their own social world, which revolved around lavish 1,000-person bar mitzvahs and weddings. "My mother really doesn't need to speak English, although she does," says Nazarian. "Cultural preservation is one part of the experience of being displaced, and as with any immigrant community, we naturally want to associate with one another. Middle Eastern countries also tend to be very tribal."
And then there was the question of taste. Some Persians celebrated the joys of American self-expression with an exuberance that was considered jarring. Fifty-year-old Fariborz David Diaan, who was born in Tehran and studied journalism at the University of Missouri before moving to Los Angeles in 1981 to pursue work in the entertainment industry, admits that he, too, was amazed by the sight of Persian money run amok. "There was a time right after the revolution when my friends in Beverly Hills would race up and down the streets to compare the Porsche Turbo with the Ferrari," recalls Diaan. "'Mine is faster than yours.'"
Diaan eventually spun creative gold from such excesses with his play Blind Date, which became a hit when it debuted at L.A.'s El Rey Theatre in 1996. The story follows a young man who borrows a friend's Ferrari so he can pretend to be rich to impress his date, a girl who in turn pretends to be a virgin despite having a boyfriend. True love nonetheless blossoms, and the couple are married in the second act by a rabbi who loudly appraises the value of her ring to the exact dollar. The groom vows to buy his bride a condo "on at least the 10th floor or above with views of the city," and she vows to deliver a child "within the next nine months, preferably a boy."
"Hardly anyone was offended," says Diaan. "Everyone thought that the joke was about someone else. But it was about almost everyone."
Outsiders were less amused by such extravagance, and quarrels erupted over the most visible Persian status symbols, their homes. Parviz Nazarian's house spawned a thousand imitations, and today nearly every street on the flats of Beverly Hills has at least one "palace." Some 200 of them were designed by builder Hamid Omrani. "When I came to Beverly Hills, there was not any architecture," says Omrani. "There were old houses belonging to the World War I or World War II era. These were not buildings that had good material or good architecture. So I said, 'Why should I match with them?'"
Public discontent with the number and scale of mansions came to a head in 2004, when the Beverly Hills City Council established a commission with the right to veto any building plan deemed out of place in the neighborhood. Omrani believes, with some justification, no doubt, that the issue was just thinly veiled prejudice. However, a driving force on the commission was Gabbay, whose own work is more understated and who takes exception to the name Persian Palace because, he says, the style "has nothing to do with Persian architecture. I never saw anything like it in Tehran."
Though Omrani still seems to resent the design commission—"If I wanted to follow what they said, then I could be in Iran and the mullahs could tell me what to do," he says—even he admits that his younger Persian clients have less ostentatious taste. He boasts of having just completed a resolutely contemporary house in Santa Monica for one couple.
Generational shift, slow though it may be, has pushed the Persian community toward the American mainstream—or at least the Beverly Hills version of it. Still, the community clings tightly to its core values of respect for family, faith, education and success, and some age-old customs remain. Friday-night Shabbat dinners are sacrosanct, and the meal can easily include 60 people. (Persians often cite such gatherings as a reason they need large houses.) Likewise, a majority in the younger generation choose to marry fellow Persians—much to their parents' relief. "They don't have to marry Persian," says Jasmine Yadegar, in a tone suggesting that she hopes her two twentysomething daughters—both of whom still live at home—eventually will. "All I want for them is to be happy and find people with the same background."
"For me," says daughter Sabrina, an aspiring fashion designer, "I think it's a lot easier to fall in love with someone who has the same ideas and experiences."
"I need to love their family, and they need to love mine," adds older sister Jessica, a documentary filmmaker. "Some of my American friends have told me that you're not dating the parents. They say you don't need to meet the parents on the first, second or third date. That's not my view. I think the longer you postpone the introduction to the family, the longer it takes you to get to know if this is someone you want to spend the rest of your life with."
Among much older women, the Iranian custom of the doreh—a semiformal circle of women who meet to eat home-cooked Persian fare, play cards and gossip in Farsi—has also proved resilient enough to make it to the 21st century. But whether the tradition survives two generations in America is an open question as women's roles change. "The younger generation works more," says grandmother Jacqueline Moradi during the brunch gathering at Moghavem's house. "In our generation in Iran, that was unheard of."
The Baradarans represent this new face of the Persian upper-middle class. Natasha, who has a busy career, doesn't attend a doreh, and Bob shares the job of raising their two young daughters. The Baradarans' circle not only includes Persian friends but also his colleagues, her clients and other parents from the girls' prestigious private schools. "I am raising kids in a city in which I was raised," says Natasha. "This is my home. I don't feel like a transplant." And why should she? After 30 years in Beverly Hills, few, if any, Persians still hope to return to Tehran. "It's a reality," says Gabbay of his community's new life in California, as he gazes out his office window at the Golden Triangle. "We are a reality."