Pete Davidson Admits That Kaia Gerber Interlude Was Not a Good Idea
Stars, they're just like us.
---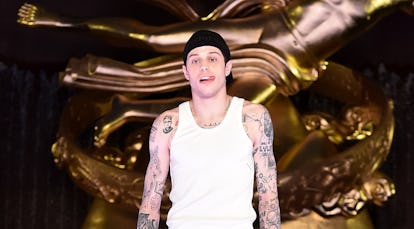 Steven Ferdman
Perception of Pete Davidson as a boyfriend is definitely up in the air, but, publicly at least, he seems to be a pretty chill ex.
Davidson swung by for a sit-down interview with Charlamagne tha God and dished on all his recent relationships. Even the ones that he never publicly confirmed while they were happening—including with the model Kaia Gerber. It turns out that, in retrospect, his feelings about the matter are likely close to yours.
"We were dating for a few months and she's very young, and I'm fucking going through a lot," Pete said of dating Kaia. "She should be having fun and shit. She shouldn't have to worry about some dude who has issues and shit."
"It just wasn't like the right place or the right time."
While photos of Gerber's parents, Cindy Crawford and Rande Gerber, outside of the model's apartment went viral and caused some alarm over the holidays, Davidson claims that the duo were attempting to help him. He says that the family is "all cool" and that they were "really helpful."
"I cry a lot. I get into deep conversations. I care about, like, your shit," the Saturday Night Live cast member said. "I like to like meet your family and know who you are." The pair apparently broke up sometime after New Year's.
Davidson went on to confirm other recent entries on his dating résumé. He thinks Margaret Qualley will win an Oscar one day, and said that his uncles were "freak[ing] out" about him dating Kate Beckinsale (whom he claims is very funny).
As for Ariana Grande, well, he hopes that people take any mention of their former engagement in their individuals works, Grande's music and Davidson's standup, in stride. "I think genuinely being hurtful is off-limits, or anything like being shitty or anything," he said. "I feel like she got her fair run and her fair stab at it, and like I said, I don't have social media and I don't have an outlet really to express my feelings, so standup's just how I do it."
So it seems that Davidson is the kind of ex who has nothing but good things to say about you after the breakup. Whether or not you want him talking about you at all is another question completely.
Related: Pete Davidson Made His Runway Debut At Alexander Wang