Peter Beard, Chronicler of African Wildlife and the Studio 54 Set, Has Died
The adventurous photographer and environmentalist, 82, was found dead near his home in Montauk, New York on Sunday.
---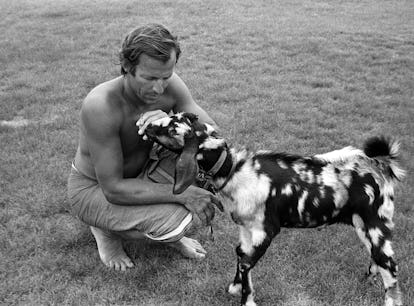 The photographer and adventurer Peter Beard was found dead in Camp Hero State Park in Montauk, New York on Sunday, 19 days after he was reported missing from his nearby home. He was 82 and had been suffering from dementia. "We are all heartbroken by the confirmation of our beloved Peter's death," his family wrote in a statement shared with the New York Times, adding, "He died where he lived: in nature."
In a statement posted on his studio's website after his disappearance, his family emphasized that he be remembered as "an extraordinary artist, an insatiable traveler, a hero of the conservation movement, a lover of life, of Africa, of adventure, of his family and friends."
The writer Bob Colacello once described him as "half Tarzan, half Byron," an original in every sense of the word. His body of work constitutes an elaborate record of an extraordinary life, spent between New York, where his exploits had been closely followed by the tabloids since his Studio 54 days, and Africa, where he dedicated himself to documenting the plight of wildlife threatened by big-game hunters and environmental degradation.
The stark aerial photographs of animal remains in his 1965 book, The End of the Game, brought global attention to the state of Kenya's Tsavo National Park, where tens of thousands of elephants were dying of starvation and stress. His candid, emotional portraits of a glitzy crowd that included Andy Warhol, Lee Radziwill (a former girlfriend), The Rolling Stones, Grace Jones and Francis Bacon are equally memorable, showing the cultural icons dressed down and relaxing by the beach in Montauk, as are his shoots for Vogue and Elle, many of which took place at Hog Ranch, his compound in Kenya. He discovered the supermodel Iman while walking down a street in Nairobi, telling a modeling agent she had been herding cattle in the fields when, in fact, she was a university student and the daughter of a diplomat.
In an Instagram post today, Iman shared a slideshow of Beard's photographs set to music. "I met Peter in Nairobi in 1975 and as destiny would have it we were forever intertwined," she wrote in the caption. "He did discover, photographed and molded me in a way as I have never been photographed before or knew anything about modeling and have never seen a fashion magazine."
The out-of-touch, slightly imperialist tone of Beard's Iman story was mirrored in many of his exchanges with the press later in his life, in which, as the Times put it, his opinions "sounded increasingly out of step with 21st-century sensibilities." An infamous lothario, his much gossiped-about encounters with women also raised eyebrows, even into his 70s.
Looking at one of his massive photographic collages was like seeing memory rendered tangible, like reaching into someone's mind and spreading the contents onto a board: Images mingled with ephemera, feathers, rocks, stream-of-consciousness captions, whirling abstractions painted with ink and animal blood. In lieu of a frame, his black and white photos were often bordered with snippets from contact sheets, colorful childlike drawings or pages from his countless journals. The spectre of death loomed large in his work, but with it came unfiltered joy, sex, shimmers of debauchery, a deep appreciation for natural beauty.
Born in New York City in 1938 to a wealthy industrialist family, he spent part of his childhood in Alabama, attended the Pomfret School in Connecticut and graduated from Yale in 1961. His first two marriages, to the socialite Minnie Cushing and the model Cheryl Tiegs, ended in divorce. He married Nejma Khanum, who continues to manage his studio, in 1986.
His first solo exhibition was at New York's Blum Helman Gallery in 1975, followed by a career-making show at the International Center of Photography two years later. His last exhibition, Peter Beard: Last Word From Paradise, was in 2016, at Guild Hall in East Hampton, New York, not far from his beloved Montauk home.
He is survived by two brothers, his wife, his daughter, Zara, and a granddaughter.